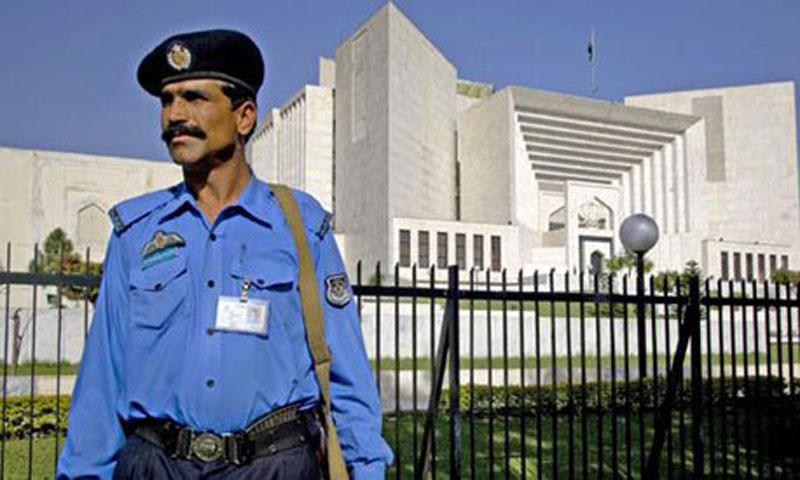 ISLAMABAD: The Supreme Court was informed on Tuesday that 514 people were under detention in five internment centres set up in Khyber Pakhtunkhwa under the Action in Aid of Civil Power Regulations 2011 which allows the civil government to confine persons accused of terrorism.
A three-judge bench headed by Justice Jawwad S. Khawaja which had taken up cases of missing persons ordered the attorney general's office to inform it on Wednesday about details and the status of pending cases of disappeared persons provided by Amina Masood Janjua, a campaigner for missing persons' cause, and the Commission of Inquiry on Enforced Disappearances.
On Jan 24, former attorney general Irfan Qadir had informed the court that about 700 suspected terrorists were under custody of the government.
The court had ordered the government to put on record the names of the commandants who were in-charge of the internment centres after it failed to receive any response on the verification of 84 missing persons allegedly detained there.
On Tuesday, Attorney General Muneer A. Malik informed the court that he had held meetings with Defence Secretary retired Lt Gen Asif Yasin Malik and advocates general of the four provinces. The secretary assured him of his full cooperation in efforts to recover missing persons.
According to a fresh list submitted by Deputy Attorney General Dil Mohammad Alizai, there are seven interment centres in sub-jails Palthom and Jail Fizaghat in Swat, sub-jail Malakand, district jail Timergara (non-functional), Frontier Corps forts in Chitral, Drosh, Mirkhai and Timergara (non-functional), district jail Lakki Marwat and district jail Kohat. Mr Alizai also submitted the names of officers who are in-charge of these interment centres — Rizwan Shah (Malakand), Ayyub Bacha (Palthom), Yousaf Gull (Fizaghat), Sabz Ali (Lakki Marwat) and Mohammad Irshad (Kohat).
He said the attorney general had constituted a three-member committee to assist the court in matters relating to missing persons. He said he himself, Additional Advocate General of Punjab Tariq Khokhar and Advocate Faisal Siddiqi were its members. The court directed the authorities concerned to arrange a meeting between Nargis with her brother Imdad Hussain who went missing from D.I. Khan last year and is believed to be detained in the internment centre in Lakki Marwat.
The court was informed that Imdad had been picked up by intelligence agencies from outside the Adiyala jail after the Lahore High Court had ordered his release.
Justice Jawwad warned there should now be no laxity of law and said the apex court had to intervene after the federal government failed to make any progress.