We concluded the 'Also Pakistan' series late last year. The series that was divided into six parts and took more than two years to research and compile.
Hours were spent going through old newspapers and magazines tucked away safely in Dawn's archives section. Politicians, sportsmen, artistes and friends were approached to share with us images that would capture the political and cultural zeitgeist of what Pakistan was like between 1947 and 1977.
A Pakistan that was a very different creature compared to what it started to mutate into from the 1980s onwards.
The series has continued to generate a lot of interest among a number of Pakistanis, including those who actually lived through the decades that we covered in the series, as well as those young Pakistanis who weren't even born then.
To most of the young ones the images and related information came as a pleasant surprise. They had little or no knowledge about a Pakistan that wasn't making the headlines for all the wrong reasons. A country where life was 'normal,' culturally rich, politically exciting and even pleasantly naïve.
However, many young Pakistanis have continued to write in and implored us to continue the series.
Recently the emails that we received in this context were so many, that we once again went sniffing and looking across the internet, DAWN's archives and personal collections of friends, families, sportsmen, artistes and politicians to construct yet another instalment of 'Also Pakistan.'
But this one not only offers some new images that we unearthed of the Pakistani political, social and cultural milieu of the 1950s, '60s and '70s, but the 1980s as well.
Images of a strange, alien place that was also called Pakistan. Enjoy.
Previous Parts:
---
Rana Liaquat, wife of Pakistan's first Prime Minister, Liaquat Ali Khan, with famous American animator, film-maker and entrepreneur, Walt Disney, in 1951.
Broadcaster, Mustafa Ali, announcing the creation of Pakistan on the radio at 12 am, August 14, 1947.
Fatima Jinnah, sister of the founder of Pakistan, Muhamad Ali Jinnah, playing with her dog at her residence in Karachi in 1959.
US Vice President, Richard Nixon, writing his comments on the visitors' book at Radio Pakistan's Karachi station in the 1950s. With him is famous Pakistani radio personality, Z A. Bokhari.
A hotel and pub in Karachi's Malir area.
A traffic constable directing traffic near the famous Metropole Hotel in Karachi in 1960. Today the hotel serves as a wedding hall and parking lot.
A 1962 tourism poster for Karachi.
Pilots and cabin crew of a PIA flight meet Chinese revolutionary leader and Premier, Zhou Enla (early 1960s).
A 1963 ad for the Tudor cigarette brand. Tudor was launched by the Pakistan Tobacco Company specifically to target the market of women smokers in Pakistan.
Current Pakistani Prime Minister, Nawaz Sharif, poses with his car as a young man in late 1960s.
Pakistanis and tourists wine and dine at Karachi's Beach Luxury Hotel in 1969.
Chairman PIA, Nur Khan, hosts a party of the airline's staff in late 1960s. Under Khan, PIA rose to become one of the top 10 airlines in the world.
A 1969 press ad of Pakistan's Murree Beer.
A bar, restaurant and ballroom in Swat, 1970.
Former Pakistan military dictator, General Yayah Khan having dinner with famous Pakistani singer, Noor Jehan in 1969. Yayah was having an affair with the popular vocalist and former actress.
The cover of a 1967 issue of the National Geographic. It had a special photo feature on Pakistan's tourist resorts, wildlife and politics. The cover shows two Pakistani women on a swing. One's from a village in the Punjab (part of West Pakistan) and the other from a village in the Bengali-dominated East Pakistan.
A winning candidate of the Pakistan People's Party (PPP) during the 1970 General Election. The PPP swept the election in the Punjab and Sindh provinces of West Pakistan.
The famous Taj Mahel Cinema in Karachi, 1970. It was torn down and turned into an apartment block in the 1980s.
One of the first Pakistani pop stars, Alamgir, in Karachi (1973).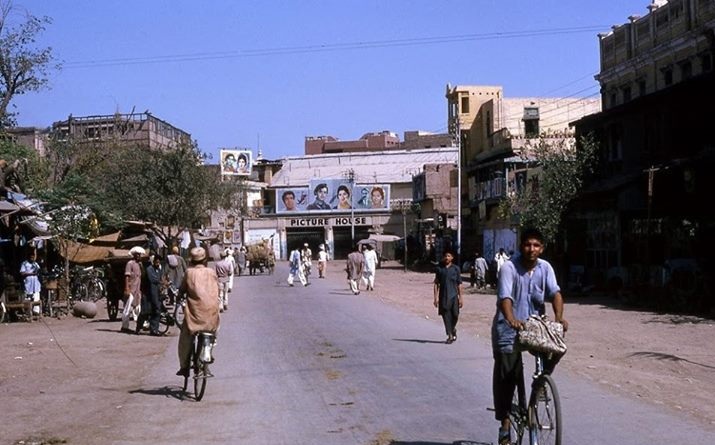 A cinema house in Peshawar, 1972.
Natives of a Sindhi village drench a European tourist with cold water from a well to beat the summer heat (1973).
Young American and European tourists with locals at a restaurant in Ziarat, Balochistan, in 1973.
Students outside the Arts Lobby at the Karachi University in 1974.
Famous Pakistani painter, Jamil Naqsh, with a model in Karachi in 1974.
Pakistani Christians pose outside a church in Lahore in 1975.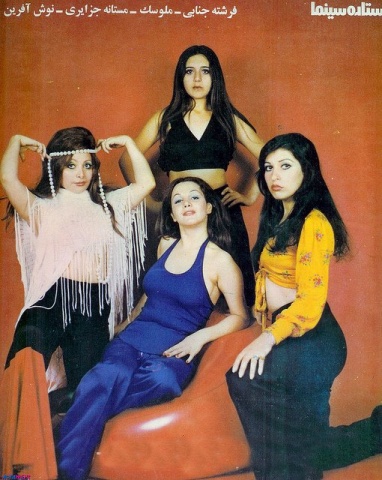 An all-girl Iranian pop band that toured Pakistan, with famous Iranian singer Madam Gagosh in 1974.
A 1975 press ad for one of Pakistan's largest selling cigarette brand, Red & White.
Western tourists enjoying a few rounds at a restaurant Karachi's Tariq Road, 1975.
Tourism peaked in Pakistan in 1974-75. Over a million tourists passed through or landed in Pakistan between these two years. The government declared tourism to be an industry. To mark the occasion, the Ministry of Tourism issued a special stamp to celebrate Pakistan becoming a popular tourist spot in the South Asian region.
A PTV host interviewing world wrestling champion, Anokhi (from Japan) who arrived in Karachi in the late 1970s to compete with Pakistan's famous wrestlers, the Bholu Brothers.
Begum Nusrat Bhutto kissing her daughter, Benazir Bhutto, in Karachi's Mid East Hospital, 1978. Benazir was arrested by the Zia regime after he toppled her father, Z A. Bhutto's government in July 1977. She developed a serious ear infection in jail and was finally shifted to the hospital for an operation. She was shifted back to jail after the operation.
Famous progressive Urdu poet, Faiz Ahmed Faiz, with legendary Indian actor, Dilip Kumar, 1979.
LP cover of Nazia and Zoheb Hassan's first album, 'Disco Dewane' (1980).
One of the first batches of the 'Afghan Mujahideen' arrives in the tribal areas of Pakistan, 1980.
Front page of the (now defunct) Pakistani English daily, The Muslim. It has a photo and story on the Pope's first ever visit of Pakistan in 1981. The Pope held a rally at Karachi's National Stadium.
Future US President, Barak Obama with a Pakistani friend in Karachi in 1982.
Canadian travellers in Multan, 1982. They were touring the world on their car.
Western tourists near the Attock Bridge in Punjab in 1982.
Famous American film actor and star, Robert Di Nero (left) during a pleasure trip in Chitral, north Pakistan.
Popular revolutionary poet, Habib Jalib, being manhandled by the police during an anti-Zia rally in Lahore in 1981.
The premier of 'Indiana Jones and The Temple of Doom' at Karachi's Nishat Cinema, 1984. In 2012, the cinema was burned down by religious fanatics.
Passengers at the Karachi Airport are shifted to another plane after a Pan Am flight they were on was hijacked by Arab terrorists and forced to land in Karachi in 1986. Pakistani commandos stormed the plane and shot dead the hijackers. Some of the passengers were also killed in the crossfire.
The Pakistan Cricket team celebrate the winning of its first major trophy, Sharjah, 1986. (from Left): Abdul Qadir, Mohsin Kamal, Javed Miandad, Mansoor Ilahi, Imran Khan, Wasim Akram and Mansoor Akhtar.
Future Pakistani Test captain, Misbah-ul-Haq with trophy at school, 1987.
Benazir Bhutto waves to the crowd at her wedding reception in Lyari, Karachi in 1986.
Hosts joke during PTV's marathon transmission of the 1988 General Eelection. Benazir Bhutto won the election.
Legendary boxer, Muhammad Ali, arrives at a college in Lahore during his 1988 visit to Pakistan.
A 1989 magazine centrefold of Pakistan's deadly pace attack of the late 1980s: Wasim Akram, Imran Khan, Waqar Younis and Aqib Javed.
Pakistani pop band, The Strings in 1989. They were part of the first wave of new Pakistani pop bands that dominated the charts in the 1990s.
Pioneers of the new wave of Pakistani pop music, the Vital Signs in 1989.
MQM Chief, Altaf Hussain, at MQM member, Farooq Sattar's wedding in Karachi.