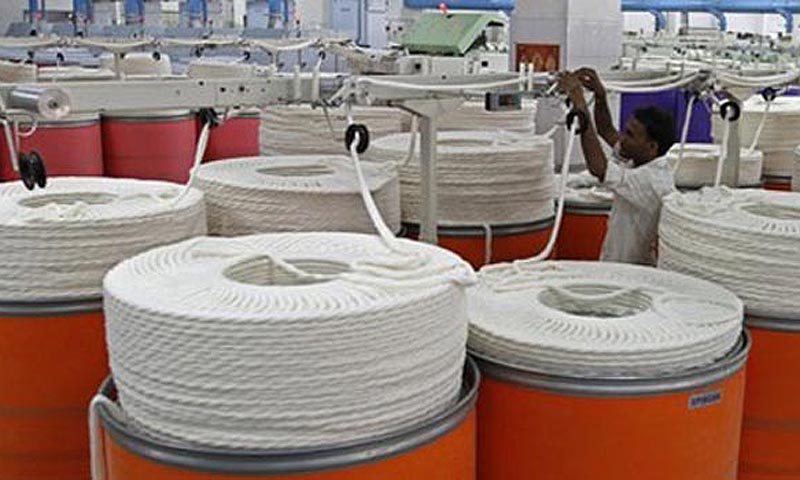 ISLAMABAD, May 21: Pakistan's overall export of textile and clothing witnessed a growth of over six per cent in the first 10 months (July-April) of this fiscal year from a year ago.
Export of textile and clothing fell by over 4pc in February 2013, rebounded in March 2013 with an impressive growth of over 13pc.
A negative growth of 0.71pc was again witnessed in April 2013 from a year ago.
Export proceeds from these sectors witnessed fluctuation in the past few months owing to energy shortages and contraction in demands from European Union and United States.
Since October 2012, export of textile and clothing rebounded because of a slight rise in demand from recession-hit key markets of Europe and the US, and improvement in domestic production.
Export of textile and clothing surged to $10.749bn in July-April 2013 from $10.127bn over the corresponding period of last year, showed data of Pakistan Bureau of Statistics here on Tuesday.
The products, which witnessed a negative growth, are raw cotton, art, silk and cotton carded.
The growth in exports was mainly driven by knitwear, bed-wear, towels and readymade garments, which are valued-added products.
Experts say exports witnessed a double digit growth because of increase in export to the European market owing to preferential market access on selected products.
The European Union preferential package on import of 75 items is in operation since December 2012.
As a result, overall exports rose to $20.146bn in July-April 2013 from $19.329bn over the same months last year, showing an increase of 4.23pc.
A sector-wise analysis showed that export of low value-added products, such as cotton yarn, was up by 26.08pc, cotton cloth 11.31pc, made-up articles 2.45pc and other textile material 31.14pc in 10 months this year over same months last year.
Export of knitwear increased by 2.36pc, bed-wear 1.03pc, towels 16.80pc.
Statistics shows that export of raw cotton declined by 68.15pc, and art, silk and synthetic textile by 26.61pc.
Industry sources said that consistent supply of gas during the period under review to textile sector produced the desired results.
The growth in yarn and fabric exports was mainly because of improved energy supply. The full capacity utilisation of production caused growth in export of home textile — towels and bed-wear as well.
This shows that in case of uninterrupted supply of energy, export of textile products would increase manifold.