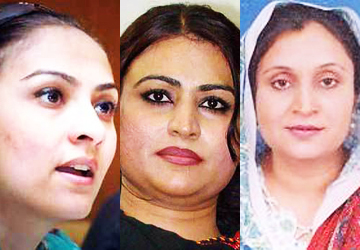 Sindh has a long history of producing strong and well-known female politicians. Jethi Tulsidas Sipahimalani and Jenubai G. Allana were among the first women who won Sindh Assembly seats on general tickets, in the pre-partition era.
Sipahimalani, who went on to become deputy speaker, played a significant role as a freedom fighter crusading for the rights of Sindhis in India after Partition.
After Partition, Sindh produced several female politicians including Begum Ashraf Abbasi, Begum Nusrat Bhutto and Benazir Bhutto.
Benazir became the first female prime minister in the Muslim World and Begum Bhutto remained her senior minister. Begum Abbasi became the first woman deputy speaker of the National Assembly.
The first woman speaker, Dr Fehmida Mirza, hails from Badin district. Dr Mirza is contesting again on a general seat. Below are brief profiles of the female candidates who are contesting general seats in the 2013 elections.
Fehmida Mirza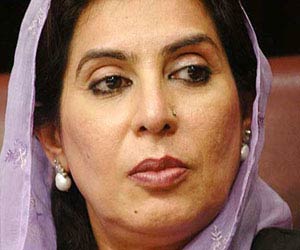 Fehmida Mirza, 57, was the 18th Speaker of the National Assembly during the previous government's tenure. She is the first woman to hold the office to date. Mirza hails from an influential Sindhi family and graduated from LiaquatMedialUniversity in 1982 after which she practiced medicine.
Before entering politics, Mirza was a successful businesswoman and leading chief executive of an advertising company based in Karachi, which focused on agricultural development in the country.
The former speaker joined PPP as recently as 1997. Her father, Qazi Abdul Majeed Abid had been a former federal and provincial minister while her uncle, Qazi Mohammad Akbar, was a long serving provincial minister. Both brothers were owners of the influential Sindhi paper Ibrat.
Mirza is the aunt of Pir Mazharul Haq, the former provincial education minister. Her husband, Zulfiqar Mirza, was previously Sindh's controversial home minister and once a close friend of President Asif Ali Zardari.
Azra Fazal Pechuho
Azra Fazal Pechuho, 57, a physician, is the younger sister of President Zardari and an influential PPP leader. She has been in the National Assembly since 2002, but was not a household name until Benazir's assassination in 2007. She then became the chancellor of Shaheed Zulfiqar Ali Bhutto Institute of Science and Technology (SZABIST). Before that her name popped up in the media when her car was fired on in Nawabshah in 2006 during a by-election. Later in the PPP government, Altaf Unnar, a former provincial minister, was arrested on the charge of being behind the attack and remained locked up for years, but is now free and a PPP candidate from Larkana.
Faryal Talpur
Faryal Talpur is another sister of President Zardari. Talpur participated in the Pakistani presidential election, 2007 as a PPP nominee and became an MNA for the first time after winning a by-election in the traditional constituency of Benazir Bhutto. Before that she was mayor of Benazirabad district. According to a Wikileaks diplomatic cables leak in November 2010, fearing attempts on his life, President Zardari told ambassador Anne W. Patterson that in the event he were to be assassinated, he had instructed his son Bilawal Bhutto Zardari(who, along with Zardari, is the co-chairman of the PPP) to appoint Ms. Talpur as the president. In August 2009, Ms. Talpur and her husband Munawar, a former provincial minister, were appointed custodians of Benazir's property and guardian of her children.
Sassui Palijo
Sassui Palijo, 37, is a young liberal politician belonging to the PPP and a writer who writes in Sindhi. She was fielded for the first time on a general seat from Mirpur Sakro of district Thatta's PS-85 in 2002 that she won the second time in 2008 by a landslide once again. In 2008, she was the only directly elected female assembly member in Sindh out of 168 assembly members. She served as the provincial minister for culture in the last cabinet. She holds a BA degree from the University of Sindh and a law degree from London.
Palijo has been an active rights campaigner. She was jailed several times during Musharraf's regime in Islamabad, Thatta, Karachi, Lahore and Thar for protesting against military rule. Palijo's mother, Akhtar Baloch, was the first female Pakistani political worker who was arrested during General Ayub Khan's martial law. Her grandmother, the late Zarina Baloch was an eminent writer, folk singer, teacher, actress, novelist and a political activist. Her father Ghulam Qadir Palijo, has been an MPA twice.
Marvi Memon
Marvi Memon is contesting a general seat for the first time, and that too from Sindh. The last time Memon held a seat in the National Assembly was on a reserved seat for women from Punjab. To the dissatisfaction of PML-Q's Punjab cadres, they were the party who sent her to the lower house and then had to see her resign from both party membership and the NA seat in 2011.
Memon was deeply disappointed over the party's decision to be part of the ruling coalition and refused to follow the party line in the passage of the 2012 budget. Memon, 41, is now a vocal PML-N leader and is contesting election on the NA-237 Thatta seat against PPP's Shams Nisa Memon and MQM's Heer Soho. She is also contesting on a provincial assembly seat against President Zardari's foster brother Awais Muzaffar Tappi.
Born in Karachi, Memon was schooled in Karachi and Paris and graduated from London School of Economics (LSE) with a major in International Relations. She became the youngest female CEO by launching the country's first satellite tracking fleet management venture. She then joined Pakistan Television to advise on media management during Musharraf's tenure. She also worked in the ISPR before finally jumping into active politics by joining the then King's Party, the PML-Q.
Heer Soho
Heer Soho belongs to Thatta and is contesting general elections against Marvi Memon. She belongs to a family known for being active in leftist politics in the 1970s and 80s. Her father Ismail and uncle Ibrahim have been associated with progressive parties and had been jailed frequently during Ayub Khan and Ziaul Haq's regimes. Both have now quit politics. Heer first became a Sindh Assembly member on a women's reserved seat on an MQM ticket and it is the first time she is contesting on a general ticket.
Khushbakht Shujaat
Khushbakht Shujaat was born on November 01, 1948 in Bhopal, India. Shujaat received a Masters degree in Journalism from KarachiUniversity in 1975. She gained fame as an anchorperson on Pakistan Television three decades ago. She has been elected as an MNA from NA-250 in the general elections on a Muttahida Quami Movement (MQM) ticket. She heads the party's cultural and literacy forum. Shujaat is married and the mother of two daughters and two sons. Besides her illustrious career as a television anchor and teacher, she is known for her debating skills. She enjoys reading, music and gardening in her leisure time.
Shazia Marri
Shazia Marri is contesting on a National Assembly seat for the first time in general elections. Previously she grabbed a seat in the Sindh Assembly on a reserved seat won by the PPP in 2002 and 2008. She was nominated and selected as a member of the National Assembly after the death of Fauzia Wahab to represent the PPP. Previously, she was the provincial minister for information and culture. Her grandfather Ali Mohammad Marri was an MP in the Sindh Assembly before the Partition of British India. Her father Ata Mohammad Marri was an MNA and a deputy speaker of Sindh Assembly. Her mother Perveen Ata Marri was an MPA as well.
Saniya Naz
Saniya Naz, 28, is the first woman contesting a provincial assembly seat from Lyari. She belongs to a working class family and is the daughter of a carpenter living on D.D. Chaudhry Road of Lyari, which was once regarded the 'Vietnam of Pakistan' for its resistance against dictatorial regimes. It now notoriously holds the unwanted label of 'Colombia of Karachi'. Sania does not hide the fact that her loyalties lie with Uzair Jan Baloch, who headed the defunct Peoples Amn Committee. She oversees the Women's Education Programme in Lyari Resource Centre housed in the famous Football House.
Veeru Kohli
Veeru Kohli is the first woman from her community who is going to contest on a general provincial assembly seat PS-50 (Hyderabad Rural). She is excited to run for a place in the Sindh Assembly so that her dream can be realised: To end bonded slavery everywhere she can. Residing in a dingy mud hut in the impoverished Hoosri neighbourhood of Hyderabad, Kohli lives with her family of agriculture workers. The 47-year-old woman previously lived her life as a bonded labour, who escaped in dramatic circumstances from captivity and then got her family and co-workers freed after staging a three-day sit-in inside a police station. She now works relentlessly to get others freed from private jails.
Hajiani Lanjo
Hajiani Lanjo is the daughter of a landless peasant from a village close to Mithi where Thar district houses its headquarters. The 35-year-old woman is the first female of her family to receive a college education. She has been a member of several non-governmental organisations before joining the Sindhiani Tehrik, the women's wing of Sindhi nationalist leader Ayaz Latif Palijo's Awami Tehrik. She is contesting on a National Assembly seat against the mighty Arbabs' candidate Naimatullah, nephew of Arbab Ghulam Rahim, and PPP's influential Sher Mohammad Bilalani. Lanjo fearlessly complained to the election commission against Arbab Rahim, former Sindh chief minister, for humiliating women in a recent public statement. Her constituents believe there are small chances of her success, but they are happy to see a woman challenging the area's influential feudal lords.
Saba Bhatti
Saba Bhatti is just 26-years-old and one of the youngest candidates in the country. Like Veeru and Lanjo, she has no political past or family to ensure her winning PS-3 of Pano Aqil in Ghotki district. Her mother, however, was a municipality councillor a few years back. She is an independent candidate contesting against PPP's influential Ikramullah Dharejo and independent Pappu Chachar. Saba's sole motto for elections is to fight against her district's infamous reputation as a part of Sindh where, more than anywhere else in the province, feudal lords enjoy the final word with complete control over the life of their constituents. She has slim chances of winning but is considered a symbolic and significant challenge to the status quo.
Women's history in the NA
Except for three women who won National Assembly seats four times from urban constituencies since the country's first elections 43 years ago, the other 51 seats held by women belonged to those who emerged from rural constituencies.
Women have won in the general elections for the Lower House just 51 times. These include 15 women who won it 36 times in total. The rest had their stint just once.
Benazir Bhutto and her mother Begum Nusrat Bhutto won the seats four times consecutively from 1988 to 1997, while Dr Fehmida Mirza and Tehmina Daultana won three times. Benazir went on to become the country's youngest and first female prime minister, while Dr Mirza created history by becoming the National Assembly's first female speaker.
Those who won twice from their constituencies were: Begum Ashraf Abbasi, Begum Naseem Wali Khan, Begum Abida Hussain, Begum Majeeda Wyne, Ghulam Bibi Bharwana, Saima Akhtar Bharwana, Hina Rabbani Khar, Samina Khalid Ghurki, Faryal Talpur, Azra Fazal Pechuho and Shamshad Bachani.
Ghurki was the first woman to be elected from the country's urban Lahore constituency in 2002. She extended her winning streak in 2008 when Raheela Baloch from Faisalabad and Khushbakht Shujaat from Karachi were also elected on general seats.
Begum Ashraf Abbasi became the first female deputy speaker of the National Assembly in 1988. Begum Naseem Wali Khan remained the only woman from Khyber Pakhtunkhwa to win a direct election. So was the case with Zubaida Jalal of Balochistan who won a seat from Makran in 2002.
The ones who have been elected just once so far are: Naseem Majeed, Shahnaz Javed, Rifat Javed, Sumera Mmalik, Rubina Shaheen Wattoo, Khalida Mohsin Qureshi, Saira Tarar, Firdous Ashiq Awan, Sumera Naz, Natasha Daultana and Khadija Bibi.
Despite the fact that a majority of the women contesting in the general elections were from rural constituencies, yet their background clearly suggested that none of them came from underprivileged families. All of them belonged either to rich and powerful families of politicians or were related to dominant feudal lords whose ambitions in politics had begun to unfold.
Figures like the Bhutto women and Begum Naseem Wali were themselves party icons with an enormous following.
-By Hasan Mansoor