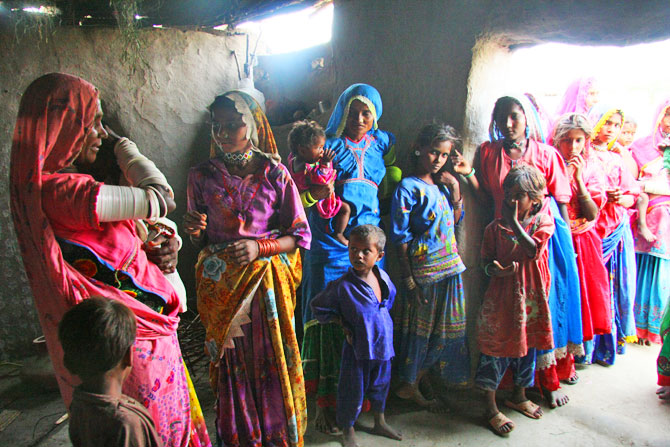 Hajra, Khatija and Sakina: three friends and neighbours living in Karachi's Lyari area. Hajra lives alone with her three daughters: her husband left her when the youngest child was merely six months old, because she couldn't give birth to a son. Khatija's husband is as good as absent: he's a drug addict. Survival, with a little daughter and a son, is one terrifying day after another. She lives in dread that her son may adopt the same path as his father. Sakina is divorced, without support from her former husband. She continues working to support her children; they're not yet at the age where they could start earning a living.
Hajra and her friends are just a few of the millions of Pakistani women whose lives are constrained by extreme poverty. Studies, and even just observation, frequently highlight women's disproportionately high representation among the country's poor. As Dr Mahbub ul Haq once put it, "Women have been reduced to economic nonentities."
Globally, poverty remains a challenge: the World Bank estimates that 1.29 billion people live in absolute poverty; the sad fact is that about 70 per cent of them are women. In Pakistan, it is no different, but without a national census, it isn't even possible to gauge the correct picture. Poverty is difficult to quantify: the methodology used by the government has been challenged by the World Bank and the UNDP, while independent organisations consider poverty to be above 28.3pc.
However, according to the Human Development Index, 2009, 60.3pc of Pakistan's population lives on $2 per day. According to Unesco, 71pc of eligible girls did not attend secondary school in 2009. Gender discriminatory practices shape poverty: as expected, more women are at the suffering end. They suffer poverty of opportunities far more than men. Poverty gives rise to social powerlessness and political disenfranchisement, and these add to the vulnerability of the poor.
The reasons for such high poverty levels are several: corruption, illicit capital flight, debt and loan conditionalities, high defence expenditures, and now, extremism. Those are the general ones.
To quote Tahira Abdullah, "Poverty has a woman's face." Women face the triple burden of child-bearing, child rearing, and domestic unpaid labour; they have been denied opportunities for growth, are without access to adequate healthcare, education or income, and simultaneously forced to live in the tight bind of culture and tradition.
Their poverty is multidimensional; not only of lack of income, but also of nutrition and health; they are denied education and the ability to earn an adequate income, their vulnerability prevents them from advancing their innate capabilities. To add to that, gender biases and patriarchal/misogynist mindsets permeate every aspect of their lives. Living with discrimination and gender-based violence is a daily reality for many.
Poverty levels in the country have crept upwards and are considered to be among the highest in South Asia. Unfortunately, the Planning Commission does not reveal the exact data on female poverty. Women bear the brunt of appallingly high socio-economic disparities; their poverty extends from the small and large denials within the home to the wider denials they experience in the community. Often they're not even recognised as heads of households; their labour in the agricultural sector is largely unremunerated; they remain exploited, deprived of income.
The Economic Survey of Pakistan barely acknowledges their presence and their contribution — the female labour force participation rate is the lowest in the South Asian region. A survey by Yasir Amin (in Economistan, April 12, 2012) noted that women's contribution to the labour force had actually shrunk from 33pc in 2000 to 21pc in 2011.
The risks of increasing poverty grow in parallel with the number of women-headed households. Single mothers are at highest risk, as are their children, who are likely to be deprived of adequate schooling and nutrition. Like most women, they have no alternative to poorly paid, informal employment.
It is no surprise that women are over-represented among the country's poor; discrimination against them exists at all levels, within the family, with its unequal gendered division of responsibilities and labour, inequality in access to healthcare, to schooling, to social protection. Tradition ordains that their mobility be restricted.
Unsurprisingly, few poor women have hope of escaping this poverty as there are so many odds stacked against them. Despite laws that favour them, even richer women are regularly denied land inheritance by emotional coercion, forced marriage and even by 'marriage' to the Quran.
The current political situation prevailing in the country presents a mixed picture for women's progress and development. On the one hand, there are several forward-looking laws and amendments, widespread provision of safety nets like the Benazir Income Support Programme and increased school enrolment for girls. On the other hand is the snail's pace at which the bureaucracy moves to implement those laws. Then again, there's society's stubbornly 'eyes shut' attitude to women's rights and progress, the lack of recognition that women's progress requires an acceptance of their constitutionally guaranteed equal status as citizens of this country.
If women are to progress and participate effectively in the economy, they must receive equal education, equal training, in rural and urban sectors and equal dignity and income. Pakistan cannot achieve progress on the efforts of less than half its population.