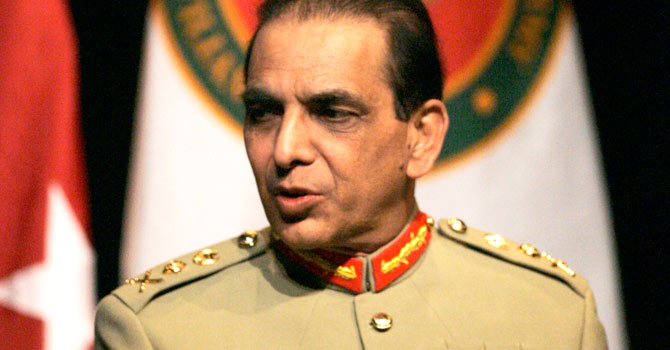 Chief of the Army Staff General Ashfaq Parvez Kayani.—File Photo
ISLAMABAD: The army chief briefed the caretaker prime minister on Tuesday on the security situation in the country and assured him of the military's support in holding elections.
"Chief of Army Staff Gen Ashfaq Parvez Kayani called on Prime Minister Justice (retired) Mir Hazar Khan Khoso at the Prime Minister House this morning," a statement by the Prime Minister's Office said.
This was the first meeting between the army chief and the caretaker premier who had assumed charge a day earlier. The meeting took place a day before a Corps Commanders Conference which is expected to discuss at length the army's support for the elections.
The Prime Minister's Press Office said: "The chief of army staff briefed the prime minister on security matters."
The Election Commission of Pakistan has sought the army's help in providing security for the conduct of elections scheduled for May 11.
The Joint Chiefs of Staff Committee has already agreed in principle to perform security duties during the polls.
The army has, however, so far only agreed to provide security at the highly sensitive polling stations due to other commitments with ongoing operations.
Meanwhile, the military is said to have intensified operations in the suburbs of Peshawar and between Khyber Agency and the city for ensuring peaceful election campaign and polling.
"We are having intense clearing activity in the Frontier Region of Kohat, FR Peshawar, Khyber and Orakzai Agencies," a military official said.
The security situation has been a big question mark over the coming elections that would mark the first democratic transition from one elected civilian government to another.