Was it the establishment who used Tahirul Qadri but failed, or was it Qadri who used the establishment and succeeded?
_____________________
Pakistan Spring?
During a talk that I was invited to deliver early last year at the School of Oriental and African Studies (SOAS) in London, and then at the Shaheed Zulfikar Ali Bhutto Institute of Science & Technology (SZABIST) in Karachi in November 2012, the question that kept coming my way the most from Pakistani students was that whether Pakistan can or will ever experience something akin to the Arab Spring?
The truth is Pakistan is perhaps one of few Muslim countries that has experienced these kinds of Springs on numerous occasions.
Most of the times these have led to the ouster of military dictators and, ironically, on one occasion a protest movement actually ended up preparing the ground and an opening for a military coup and subsequent dictatorship.
It is important to keep all this in mind before one attempts to launch into understanding phenomenons where men like cricketer-turned-politician, Imran Khan, and more recently, Dr. Tahirul Qadri, were both seen (and imagined) as being the forces who would lead a Pakistan Spring of sorts.
I am always surprised to notice the negligible amounts of knowledge most young Pakistanis have about the previous generations' notable role in making Pakistan perhaps the only Muslim country (apart from maybe Turkey), where a number of democratic movements constantly challenged military dictatorships, making sure that unlike a majority of Arab countries, Pakistan never had a one-party dictatorship that ruled for decades.
In the late 1960s, a movement led by leftist students forced Pakistan's first military dictator to resign, paving the way for multiparty democracy.
A student is grabbed by security personnel for trying to assassinate the first Pakistani military dictator, Ayub Khan in Peshawar in 1968.
In 1977 a right-wing movement rose against an elected but authoritarian 'socialist' regime that, however, ended up ushering in a reactionary military dictatorship.
This dictatorship then faced at least three major democratic movements in the 1980s, making way for democracy's return in 1988.
Then between 2006 and 2007, a widespread movement forced another military dictator to hold multiparty election and eventually resign in 2008.
All those Springs that took place in the Arab world were against one-party rules and dictatorships that had been dominating the politics of the impacted countries for decades.
In Pakistan, young followers of men like Imran Khan and Dr. Tahirul Qadri have often talked about emulating the uprisings in Arab countries. But ever since 2008 Pakistan has been under an elected ruling coalition of centre-left parties and an active parliament.
Imran Khan, the charismatic former captain of the Pakistan cricket team and (ever since 1996), the head of his centre-right party, the Pakistan Tehreek-i-Insaaf (Pakistan Justice Party), has been threatening to wipe out Pakistan's 'corrupt politics and system' with the help of a 'revolutionary tsunami.'
Though ever since 2010 he has been able to get a pretty decent number of urban middle-class youth on his side, he has struggled to blunt accusations that claim him to be an 'artificial construct of the military-establishment' and being soft on Islamist extremists that have been haunting Pakistan for years now.
Khan has categorically refuted these allegations, but he has certainly reoriented his revolutionary rhetoric and now overtly states himself to be a democrat who believes that real change in Pakistan can only come through the ballot.
Imran Khan is still an enigma for many Pakistanis. Accused by his detractors of being soft on Islamic extremists, Khan has always vehemently denied the allegations.
But just when everyone was waiting for the current coalition government led by the Pakistan Peoples Party (PPP) to complete its 5-year-term in March this year and announce fresh election, Dr. Tahirul Qadri appeared on the scene, waving his fist to lead a 'long march' to occupy Pakistan's manicured capital, Islamabad, and turn that city into a Tahrir Square (the place where the Arab Spring was launched in Egypt).
His sudden appearance and move took everyone by surprise. Most of his critics in the government, the opposition and the media were quick to denounce him as being yet another ploy and puppet of those sections of the country's military-establishment and intelligence agencies who have been blamed time and time again for derailing democracy in Pakistan.
Ever since 1958, the military has thrice toppled civilian set-ups, accusing them of being corrupt and compromising Pakistan's internal and external security.
However, each one of these military regimes fell and were replaced with democratic governments.
But this hasn't meant the ouster of the military and its agencies as political players. They have continued to be eyed with great suspicion by democratic parties and often accused of propping up individuals to challenge, discredit, and disrupt popular political parties.
Thus,  it was natural for the critics of the military-establishment to once again look at it with suspicion when Dr. Qadri arrived to 'bring a revolution' and 'true democracy' just months before one of the first smooth and democratic transitions of power was set to take place in Pakistan.
_____________________
Qadri, who?
So who is Dr. Qadri, and how did he manage to gather thousands of devoted men, women and children to stay for almost four days in Islamabad's freezing winter, rain and amidst the ever-present threat of suicide bombings by the rabid extremist lot always lurking in the shadows in Pakistan?
Dr. Qadri is a former failed politician but who, in the last 15 years or so, worked relentlessly to build a loyal network of pious Pakistani and Indian Muslims around the world who belong to the Sunni Barelvi strain of Islam.
Barelvi Islam is the evolutionary outcome of a 19th century Islamic reformist movement that emerged in undivided India.
Three such movements emerged among the Muslims of the region, especially after the fall of the Muslim empire in India.
One advocated a return to the original Islam of the 'rightly guided Caliphs', and the exorcising of 'innovations' introduced in the Islam practiced by Indian Muslims.
The second movement pleaded a more rational and practical understanding of the Qu'ran and Shariah and for the adoption of 'western education and sciences'.
The third was a reaction to the first movement that found Islamic strains like Sufism repulsive and the practice of visiting Sufi shrines heretical.
Barelvi Islam is a continuation of the third movement that fuses Sufism with the centuries-old sub-continental traditions of Muslims visiting and worshipping at shrines of Sufi saints and incorporating many practices that emerged due to the interaction of Islam, Hinduism and Buddhism in undivided India.
Ahmed Raza Khan (right), the 19th century Islamic reformer, scholar, polemic and founder of what became to be known as 'Barelvi Islam.'
This strain of Islam that has always been seen as being more tolerant, flexible and inclusive compared to some other strains of the faith present in region, became the dominant faith among Pakistan's Sunni Muslims.
Even today, a majority of Pakistanis follow this strain, in spite of the fact that ever since the 1980s Saudi Arabia has been funneling in huge amounts of money and resources to prop up Islamic seminaries, mosques, clerics and leaders associated with the more puritanical, aggressive and anti-Barelvi schools of thought.
Though Barelvi Islamic leaders and outfits have often been accommodated and flirted with by secular parties, and are squarely against puritanical Sunni Islamic outfits such as the Taliban, al Qaeda and various anti-Shia sectarian organisations, they have been staunchly and at times, violently inclined to blunt any moves attempting to relax the controversial Blasphemy Laws first introduced in the 1980s during the reactionary Ziaul Haq dictatorship.
Dr. Qadri is a former student activist who in the 1970s belonged to the moderate Barelvi youth organisation, the Anjuman Taleba Islam, at the Punjab University.
His group usually allied itself with various progressive and leftist student groups during student union elections against the student wing of the fundamentalist Jamat-e-Islami.
Flag of the Anjuman Taleba Islam, the moderate/Barelvi Islamic student organisation that Qadri was a member of at college and university.
After graduating in 1974, he enrolled as a lecturer at the same university and then went on to get his PhD in Islamic sciences.
Details of Dr. Qadri's political career between 1978 and 1989 are rather muggy.
Some of his critics describe Qadri as a political charlatan who in the 1980s was close to PML-N chief, Nawaz Sharif, the man whose family in those days were staunch supporters of military dictator, General Ziaul Haq.
During a 2008 lecture on the Barelvi Islamic TV channel, QTV, Qadri claimed that it was he who forced General Ziaul Haq to formulate the Blasphemy Laws, whereas he then denied doing this (on a British TV channel), and in fact claimed that he doesn't agree with the law.
There are three views about what Qadri was up to during the Zia dictatorship.
One view is that Qadri opposed the dictatorship's pro-Deobandi orientation and was dismissed from the faculty of the Punjab University for his opposition to the Zia regime.
The second view is that Qadri became close to the Zia regime and helped it formulate a number of controversial 'Islamic laws.'
The third view is propagated by Qadri himself in which he claims that in spite of the fact that Zia offered him many political posts, he refused to accept them and instead spent his time on becoming an Islamic scholar.
What is certain though is that Qadri formed his Barelvi organisation, the Minhajul Quran (MQ),  in 1981.
In 1988 Qadri formed his own party, the Pakistan Awami Tehreek (PAT). He described it as a party that would strive to bring a 'spiritual revolution' (Roohani Inquilaab) in Pakistan.
Qadri addressing a press conference in 1990.
He allied his party with the left-leaning PPP during the 1990 election, but after facing defeats, he almost vanished from the political scene.
This is when he seriously worked to turn MQ into a large Islamic evangelical outfit, preaching Sufism and trying to regenerate Barelvi Islam that had experienced a tough challenge from the more conservative schools of faith in the 1980s.
Qadri reappeared on the political scene as a supporter of Pakistan's last military dictator, General Parvez Musharraf, who toppled the second PML-N government in 1999.
Calling himself an 'enlightened moderate', Musharraf wanted to bank on Qadri's MQ to find a middle ground for his dictatorship between Zia's radical Islam and secularism.
Qadri had a falling out with Musharraf in 2004 when the later chose a motley crew of anti-PPP and anti-PML-N politicians over Qadri's PAT to become his regime's civilian expression.
Qadri (third from right in the third row) was one of first civilian politicians to pledge his support to General Musharraf. Other leaders seen in the picture include, Maulana Fazalur Rehman, Imran Khan and Farooq Laghari.
During this period Qadri became a Canadian citizen. In 2010, when suicide bombings against the military, police and common civilians grew alarmingly in Pakistan, Qadri, who by now had gathered a huge following among the more religious minded Barelvi Muslims, wrote a 600-page fatwa against suicide bombings.
Copy of the English translation of Qadri's fatwa against suicide bombings.
To him and his followers, he had become the moderate face of Islam and the defender of the peaceful injunctions and spirit of the faith in a world reeling from Islamist violence.
_____________________
Reemergence and aftermath
In Pakistan, he was mostly forgotten as a politician, but among pious Barelvis he became popular as an Islamic scholar, and a televangelist on QTV.
Neutral viewers found his style to be rather eccentric, especially when he shared with his followers the many divine visions he's had and the colorful way he interpreted his followers' dreams.
Barelvi Islam is rich in symbolism, extroverted in its liking for devotional dances and music, and of behavior that the modernists describe as being superstitious.
To its more conservative sub-sectarian Sunni opponents such as the Deobandis and the 'Wahabis', it is downright heretical.
It is Barelvi Islam's colorful, emotive, inclusive and largely non-jihadist nature that has kept it thriving as Pakistan's 'folk religion', especially among the rural and semi-rural peasantry and sections of the urban petty-bourgeoisie.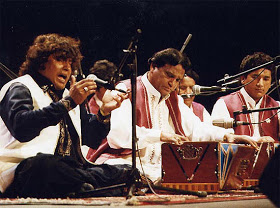 The hypnotic eastern music genre, Qawali, is an extremely popular ritual and art-form among the Barelvis.
Though Qadri, seeming egoistical and at times somewhat maniacal in his attitude during his 'long march,' and most probably pushed to the fore by the usual anti-politician 'establishment,' did manage to demonstrate a rather refreshing angle in the already multi-angular politics of Pakistan.
Over the last decade, Pakistanis seem to be fatigued by not only the toothlessness of their elected representatives, especially in the face of a collapsing economy, deteriorating law and order situation and extremist violence; they now seem equally weary of the animated alarmists in politics, media and the establishment who always seem to be threatening bloody revolutions, and warnings about conspiracies of 'anti-Pakistan/Islam' forces and 'nefarious designs of India and the US.'
In spite of the fact that Qadri launched his rhetoric against the country's two main democratic parties, he was equally open in his condemnation of those Islamist terrorist outfits that have succeeded in scaring even the most animated and 'revolutionary' media personnel and leaders.
When cornered in this respect, these personalities at once launch into anti-US tirades that have now become a kind of self-parody of sorts.
Though Qadri ended his march by accepting negotiations with the same ruling coalition he had vowed to topple, his was perhaps one of the most spectacularly peaceful 'revolts' ever seen in a violent country like Pakistan.
Qadri shares a joke with the government's negotiation team that met him on the fourth day of his 'long march.'
Now the question is, was he really a stooge of the establishment? Someone propped up but failed to deliver?
I personally believe that he was. But his backers underestimated two vital facts:
1.    The democratic parties are now willing to come together like never before in the face of a threat posed to the democratic system by the establishment.
2.    The Sunni denomination that Qadri belongs to is neither jihadist nor revolutionary.
Or who knows, there might even be another possibility: With the way he in the end softened up with the members of the coalition, maybe it was Qadri who manipulated the establishment so he could return to the political arena with a bang  ... ?
---
Nadeem F. Paracha is a cultural critic and senior columnist for Dawn Newspaper and Dawn.com
---
The views expressed by this blogger and in the following reader comments do not necessarily reflect the views and policies of the Dawn Media Group.