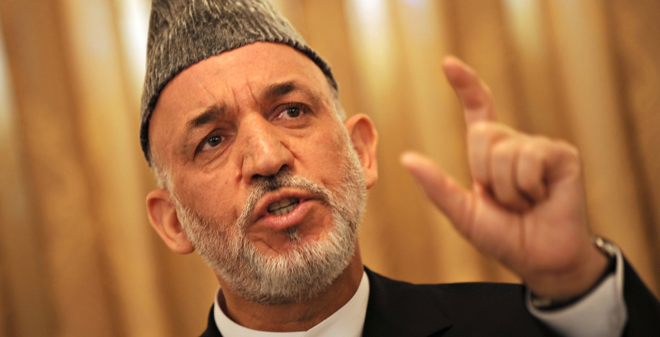 Afghan President Hamid Karzai. — Photo AFP
WASHINGTON: Afghan President Hamid Karzai said Thursday that Nato and the United States were partially to blame for insecurity in his country and threatened to suspend negotiations on a future role for US forces.
"Part of the insecurity is coming to us from the structures that Nato and America created in Afghanistan," Karzai said in an interview with NBC News.
He also said that allegations of corruption against his government were ill-informed and that the United States was largely responsible for fueling graft in the impoverished country.
"I've come to believe (that)... corruption comes from the United States through contracts and through the corruption in both systems," he told the US television network from his presidential offices in Kabul.
The "perception of corruption is deliberate to render the Afghan government exploitable, to weaken it," the president added.
Karzai, who has long had a strained relationship with his American partners, alleged that the United States has failed to abide by an agreement to transfer hundreds of detainees held at a prison in Bagram, north of Kabul, to Afghan control.
Afghan leaders made handing over control of the Bagram prison a condition for signing a strategic partnership agreement with Washington that lays the ground for a future US military presence beyond 2014, when the bulk of US and Nato combat troops are due to withdraw.
Since mid-November, American and Afghan officials have started to negotiate the terms of a potential follow-on US force.
But Karzai said he had informed President Barack Obama that the talks could be called off unless the United States fulfilled its commitment to transfer Bagram inmates to Afghan custody.
"I have written to President Obama that the Afghan people will not allow its government to enter into a security agreement, while the United States continues to violate Afghan sovereignty," he said.
Karzai's frequent anti-American diatribes have irritated US officials, and Defense Secretary Leon Panetta revealed Washington's exasperation with the Afghan leader in comments to reporters in October.
With the US-led war claiming the lives of more than 2,000 Americans, Panetta said it would be helpful if Karzai "every once in a while, expressed his thanks for the sacrifices that have been made by those who have fought and died for Afghanistan rather than criticise."