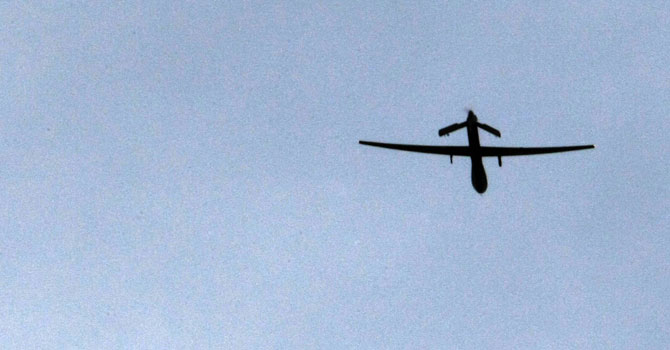 Drones circled the area prior to the attack.— Photo by AFP/File
MIRANSHAH: A US drone fired two missiles at a compound in Pakistan's northwestern tribal district of North Waziristan early Thursday, killing at least three militants, local security officials said.
The missiles hit a house in Mubarak Shahi village, in Mir Ali, 20 kilometres  east of Miranshah, the main town in the North Waziristan tribal district, which is a stronghold of Taliban and al Qaeda-linked militants.
"Militants were using this house as a compound. At least three militants were killed in this drone strike," a security official based in the northwestern city of Peshawar told AFP.
Four missiles were fired at a compund, killing four militants and injuring several others, according to a DawnNews report.
The covert US attacks are unpopular in Pakistan, where the government criticises them as a violation of sovereignty but American officials believe they are a vital weapon against Islamist militants.