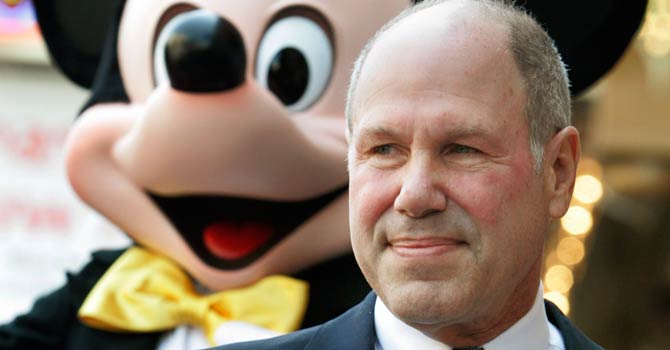 Michael Eisner, former chairman and CEO of The Walt Disney Co. attends ceremonies honoring him with a star on the Hollywood Walk of Fame with Disney character Mickey Mouse in Hollywood in this April 25, 2008 file photograph. -Reuters Photo
LOS ANGELES: Former Walt Disney Co Chief Executive Michael Eisner has struck a distribution deal with Universal Pictures, a likely prelude to the media mogul raising money to fund film development.  
Terms of the multi-year deal call for Universal, owned by cable giant Comcast Corp, to market and distribute movies developed and financed by Eisner under the auspices of his privately-owned media holding company Tornante Co, Eisner said.
In a phone interview with Reuters from Los Angeles, Eisner was cagey about precisely how he planned to finance the movies.
Rumors began circulating first in Variety in January and then on CNBC in May about Eisner trying to raise an $800 million film fund, broken out into $400 million of equity and $400 million of debt.
Eisner declined to give specific details on any fundraising efforts that may be taking place. Eisner said he will be investing his own money into development and plans to bring partners into the venture.
He said JPMorgan Chase & Co, Morgan Stanley, Blackstone Group LP and Moelis & Co were working with him on behalf of the venture.
"Obviously, I wouldn't be making a distribution deal if I wasn't confident that the films would be financed," he said.
Despite having spent more than two decades at the helm of Disney, Eisner said he did not have any discussions with the company regarding this deal and described Universal as a "natural fit."
"I made about 400 movies with Disney and I figured that was enough," joked Eisner. "I thought I'd try my hand working for another organization." Eisner is no stranger to Universal's parent company, Comcast.
Steve Burke, CEO of Comcast-owned NBC Universal, ran Disney's theme parks under Eisner. And Burke was one of the main champions behind Comcast's failed $49 billion hostile takeover bid for Disney in 2004.
"Michael Eisner has been a powerful creative force behind some of the world's greatest films and we're confident that with Tornante, he'll continue that tradition," Universal Pictures Chairman Adam Fogelson and Co-Chairman Donna Langley said in a joint statement.
Eisner said he hopes to have the first film under the deal in theaters by the end of next year or early in 2014. He declined to comment on the number of movies expected to be released annually, saying only that the plan was to develop "a significant number of films over the whole period" of the agreement.
In terms of production budgets, Eisner said they will vary depending on the movie but that the venture was unlikely to make any "incredibly expensive, bet-the-house" investments on any one film.
Without being precise, he said he would aim for budgets in line with his track record while at Disney and, before that, Paramount Pictures, which he said consistently averaged about 20 per cent below the industry norm.
"I never did a $200 million or $250 million movie, that's not my kind of thing," Eisner said.
After leaving Disney in 2005, Eisner launched Tornante Co, which has produced shows for the Internet and television but has until now shied away from motion picture production.
Through Tornante, Eisner founded digital production studio Vuguru and owns sports trading card company Topps in partnership with private equity firm Madison Dearborn Partners.
Among the projects produced by Vuguru are the animated series "Glenn Martin DDS" on Nickelodeon, "The Booth at the End" on Hulu, and "Little Women, BIG CARS" on AOL.
While the aim of the Universal deal is to produce new original content, Eisner said movies could grow out of existing Tornante projects.
Still undecided is whether Tornante will control the new venture or if it will operate under another name and simply be housed under the Tornante umbrella.
The latter structure could mean that Eisner would be eligible to collect producer fees from Tornante for films he develops - in essence, getting paid by his own company.
Eisner declined to comment on the potential of collecting producer fees, saying only that the venture's financial structure is still being worked out.
"My goal is to have a good time and make films. Hopefully, it will be a success and out of that success will be some financial rewards," he said.