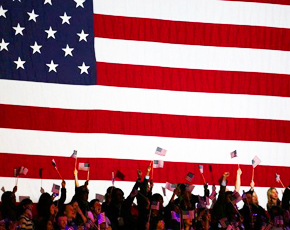 Polling centres across the United States were mobbed with voters early Tuesday morning, with some states setting records for voter turn-out. Lines stretched around blocks in DC, with some in Virginia and Maryland waiting upwards of two hours to vote.  This was  likely a record-setting year for voter participation in the United States which has historically been low, especially when one considers the overwhelming number of people who voted early in the election.
Seth Oldmixon, a political consultant residing in Washington DC, stated that he "actually went to vote early last weekend, but the line was almost two hours long, so I opted to wait until election day."
This was the case for many voters around the country, where a historic number of voters cast their ballots early.
Even in storm ravaged states like New Jersey and New York, election officials reported a heavy voter-turnout due to accommodations made by the states allowing citizens to vote in any polling station and even submit their vote electronically.
Photo by author.
However, there were suspicions of election fraud and voter intimidation months before the election began. Robocalls were placed by unnamed groups wrongly informing listeners that the election had been postponed until Nov 8.  Some states passed voter identification laws, which analysts deem as discriminatorily aiming at suppressing the vote of poor citizens.
On election day, there were fears that voters would be intimidated by election officials raising false issues with voter identifications to suppress their vote. However, there are procedures in place that protect suffrage including the ability to challenge illegitimate questions about voter identification and the right to register on the day of the election.
Due to the existence of these protections, the Obama campaign deployed a team of volunteer attorneys who acted as "voter advocates" to assist anyone being deprived of their right to vote. Dionna Lewis, an attorney who volunteered with the Victory Alliance of the Obama campaign, explained that advocates who worked inside the voting facilities did not display any affiliation with the Obama campaign and were there to assist all voters.  She went on to state that one of the roles of this inside advocate was to alert the Obama campaign  if there was any effort to suppress the vote in order to prepare for litigation if required in the future.
The numbers will likely show that despite the existence of these issues, voters turned out in greater numbers demonstrating that citizen participation has reached an all-time high. Isabel Erreguerena, who was part of an international contingent of lawyers that monitored the election, said that she "was amazed at how the electoral system of America relies in the trust of the voters," and that Americans were proud of their democracy and their rights as citizens.
There will be a number of studies conducted in years to follow to analyse this phenomena of increased voter turn-out but some voters explained that this election had especially high stakes for them. Eileen Noonan Hoppock, an assistant principal at Robinson Secondary School in Virginia, stated that this was "one of the most important elections in our lifetimes."  She further stated that "we have many political debates that must be settled…the future of healthcare, our increasing debt, the future appointment of Supreme Court justices, as well as our future policy regarding the Middle East and Asia."
Ms Lewis explained that this election was important to her as an African-American woman.
"Even though I don't vote based on race, I feel that we as a country are running a risk of doing away with social programs that Mitt Romney might not understand the value of."
Photo by author.
However, Lewis expressed the same sentiments as Oldmixon, who stated that he voted in every election regardless of its importance because he believed it was his civic duty to inform himself and take part in the political process.
When asked about the future of the US-Pakistan relations, Oldmixon said that he hoped that "both countries continue down the path of building a more equitable and mutually beneficial partnership during the next four years."
He stated that he believed the administrations of President Obama and Zardari had placed more emphasis on cooperation, consensus building, and mutual respect.
Christopher Morley, a student at the Washington College of Law, said America's relationship with Pakistan would be important over the next four years.
He said he hoped the relationship improved and that "America's greatest asset is the Pakistanis themselves and we shouldn't conflate the actions of the government with the people of the country".
Regardless of the future of US-Pakistan relations, this election has been significant in itself because of the continued increase in citizen participation that has carried over from the 2008 election making 2012 a historic year for the American voter.
---

The writer holds a Juris Doctorate in the US and is a researcher on comparative law and international law issues.
---
The views expressed by this blogger and in the following reader comments do not necessarily reflect the views and policies of the Dawn Media Group
For more special coverage on the US Elections including exclusive blogs, features, comments, analysis and multimedia from correspondents around the world, go to: US Elections 2012 In-depth