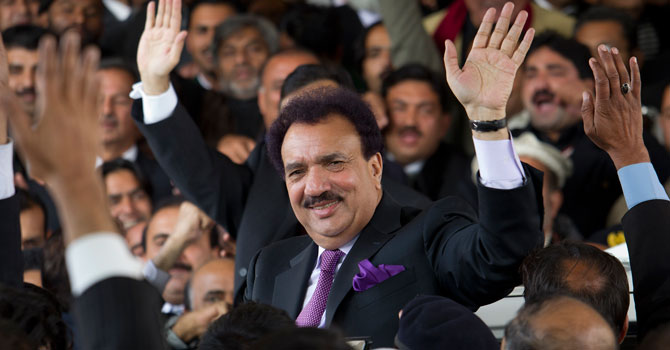 Interior Minister Rehman Malik. — Photo by AP
ISLAMABAD: Interior Minister Rehman Malik on Monday said that no preparations were underway for a military operation in the North Waziristan tribal region, DawnNews reported.
Speaking to media representatives in Islamabad, Malik said the plot to attack 14-year-old rights activist Malala Yousufzai was made in the Pak-Afghan border region.
The minister moreover said that the details of shifting Malala to the UK had not been made public due to security concerns.
Malik said Malala's condition had improved and swelling on her brain's membrane had decreased.
Pakistani doctors were also accompanying Malala, the minister said, adding that, she could also breathe without a ventilator.
He said the impression that a military operation for North Waziristan was being planned in the wake of the attack on Malala was wrong.
The minister further said that Malala's attackers had been identified and the plot to attack the child activist had been made in the Pak-Afghan border region.
He said the names of the attackers were not being revealed for several reasons, adding that, Tehrik-i-Taliban Pakistan (TTP) had threatened to attack Malala again.
The minister said certain media house had also been threatened by the militants over their coverage of the attack on Malala.