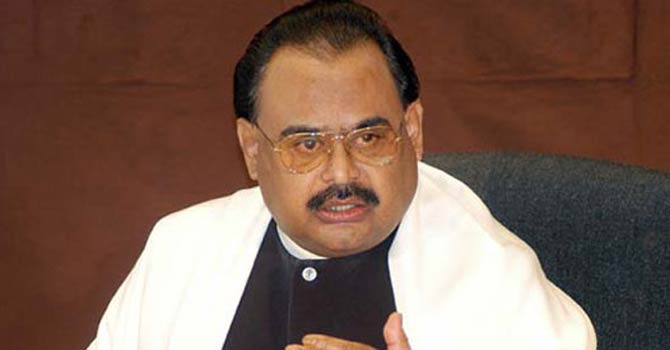 MQM Chief Altaf Hussain. – File Photo
KARACHI: Muttahida Qaumi Movement (MQM) chief Altaf Hussain on Friday urged all office bearers, party workers and peace loving citizens of Karachi and the country to submit within a week the details of all muftis and ulemas (clerics) in their localities, regardless of their sectarian affiliations, with the party's unit and sector offices situated in their respective areas, DawnNews reported.
The MQM chief said that the particulars of all religious leaders holding different positions and titles such as mufti, imam, aalim and khatib would then be collected from the units and sectors at the zonal level from where they would be immediately consolidated at the MQM headquarter Nine Zero in Karachi.
He further instructed all sector and unit office bearers to note down the names and addresses of all those who refuse to share their particulars so that the list of their names could be sent to the government which could then itself obtain the details. The MQM chief said the measure would benefit the country and its innocent citizens.
Earlier on Thursday, Altaf Hussain had given a 24-hour-long ultimatum to all top muftis and ulema (clerics) of the country to openly denounce the cowardly attack on Pakistani child activist Malala Yousufzai and vowed to expose all those who failed to condemn the attack by banned Tehrik-i-Taliban Pakistan (TTP).