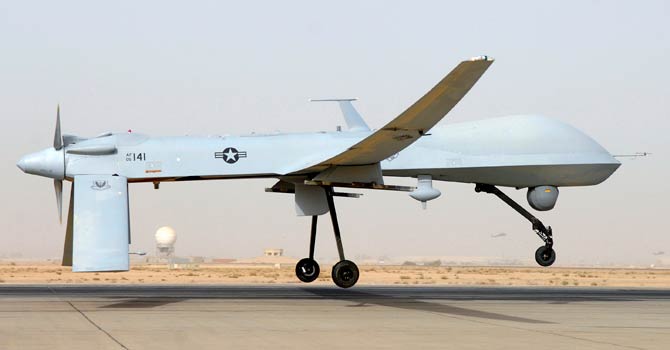 A drone plane —Reuters Photo
PESHAWAR: A US drone attack killed 16 suspected militants and injured six others in the Orakzai agency of Pakistan's tribal region on Thursday.
Four missiles were fired in the Buland Khel area of the Orakzai agency, which is close to the borders of the North and South Waziristan tribal regions in Fata.
"The attack was aimed at the compound of Maulana Shakirullah, who is the commander of the Hafiz Gul Bahadur group of the Tehrik-i-Taliban Pakistan (TTP)," officials said.
The militant wing run by Shakirullah has been linked with the Haqqani network and Al-Qaeda. The Hafiz Gul Bahadur group has been repeatedly accused by the US for being involved in cross-border attacks into Afghanistan.
This was the second drone attack in Orakzai agency. The first came in 2009 in the Khadezai area of Mamozai in Upper Orakzai agency, in which 11 militants affiliated to TTP's Hakimullah group were killed.
Sources told Dawn.com that the US drone fired two missiles on the headquarters of Shakirullah right at the border of Orakzai agency.
The strikes destroyed the compound and left 16 suspected militants dead.
When contacted, some security officials – however – said that the strike had been carried out on the North Waziristan side. Drones were still flying over the site of the attack and locals were reportedly staying away from the site.
The identities and nationalities of the militants killed in the strikes is yet to be ascertained.
Earlier in the day, eight people were killed and 20 were injured when a roadside-planted  improvised explosive device  exploded on Mushti Mela road in Orakzai agency's Hasanzai Bazar area.