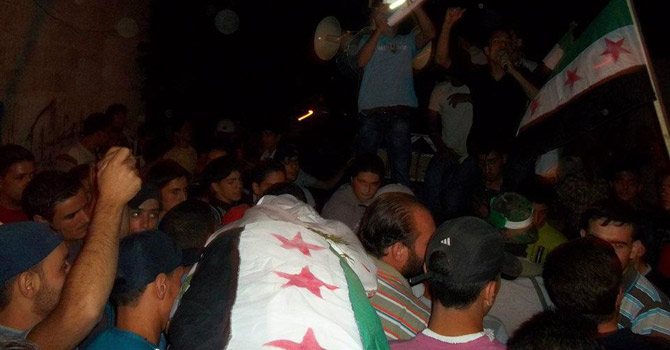 Residents carry the coffin of a man.—Reuters Photo
BEIRUT: Violence in Syria killed at least 118 people on Friday, including dozens of civilians when government forces fired on huge anti-regime protests, a rights watchdog reported.
Eleven children were among the 49 civilians who died, and 37 soldiers and 32 rebel fighters were killed in the violence across the strife-torn country, the Syrian Observatory for Human Rights said.
At least 18 of the rebels were killed when troops raided areas in the northwestern province of Idlib, according to the Britain-based group which depends on a network of activists and witnesses on the ground.
Fourteen civilians were killed in the Damascus district of Tadamon and in the Palestinian refugee camp of Yarmuk, also in the capital, said the Observatory.
Protesters had taken to the streets on Friday to renew their demands for the fall of the regime, including in the Damascus districts of Nahr Aysha and Sayida Zainab, where troops used gunfire to disperse them.
It came a day after more than 200 people were killed in Syria, including over 150 in the central village of Treisma when the army attacked rebels using tanks and helicopter gunships, drawing strong condemnation from world leaders.
It is not possible to independently verify death tolls in Syria. The United Nations stopped compiling such figures at the end of 2011.
The Observatory has said more than 17,000 people have been killed since the uprising erupted against the regime of President Bashar al-Assad in mid-March last year.