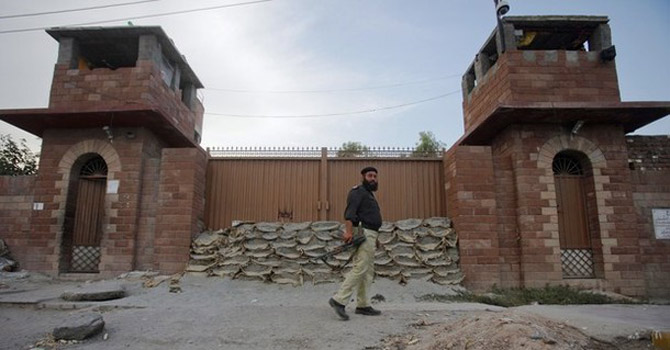 A police officer walks past Central Jail in Peshawar.—Reuters Photo
FRANKFORT: Two US lawmakers plan this week to press Pakistani Ambassador Sherry Rehman for the release of a doctor jailed after he helped to track down Osama bin Laden.
The meeting is the latest step in US Sen Rand Paul's push to free Shakil Afridi, the Pakistani physician convicted of having ties to militants. The Kentucky congressman said he considers Afridi a hero.
Senate Republican Leader Mitch McConnell will host the Wednesday meeting at his Capitol office. A McConnell aide said the meeting is ''to discuss the bilateral relationship'' between the US and Pakistan.
Paul sponsored an amendment earlier this month to the Agriculture Reform, Food, and Jobs Act to withhold US foreign aid to Pakistan until Afridi's prison sentence is overturned and he's allowed to leave Pakistan. Senate Majority Leader Harry Reid initially blocked a vote on the proposal.
But Paul told The Associated Press he now has enough backing from fellow senators to force a vote, which he said he intends to do in July unless Afridi is released.
Afridi was convicted in May but is widely believed to have been targeted by Pakistani authorities because he helped the US track down bin Laden. Afridi ran a fake vaccination program designed to get DNA from the al Qaeda leader.
''I have a lot of sympathy for him and for his bravery,'' Paul, an eye surgeon, told fellow senators in a floor speech earlier this month.
''Doctors are not soldiers. We're taught to heal and taught to help. But he thought this was important enough and bin Laden was a bad enough person that he would help America get bin Laden. He set up a vaccination clinic and they did DNA testing to try to prove that bin Laden was in the compound. He risked his life to get this mass murderer.
''The first hearing in Afridi's appeal is set for July 19. Paul told the AP that he intends to force the vote on aid to Pakistan on July 20, ''unless we get some satisfaction, unless this political prisoner is released.''
Afridi has been sentenced to 33 years in prison.
''What they've accused him of is being associated with a splinter terrorists group up in the tribal area of Pakistan, and they reason they're saying he's associated with them is he gave them money,'' Paul told the AP.
''But the rest of the story they haven't told is that he was kidnapped and was held for ransom, and he did pay them about 2 million rupees, which is about $20,000, so they would spare his life.''
Paul said he finds it ''troubling that this man, who is a hero and should be praised and congratulated and rewarded, has been put in prison.''