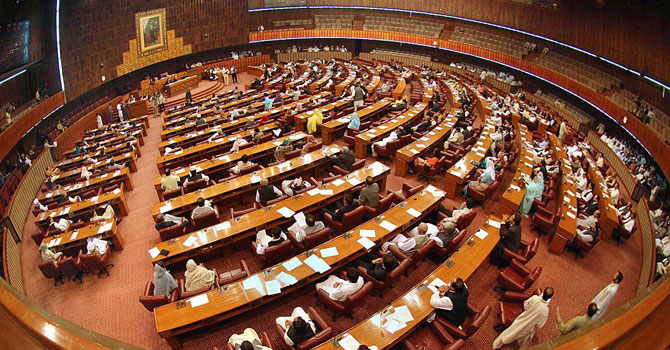 A view of the National Assembly. — Photo by APP
ISLAMABAD: President Asif Ali Zardari has summoned the parliament to meet on Friday (June 22) to elect a new prime minister.
In a statement, the presidency said the National Assembly would be convened on Friday afternoon.
A government official confirmed that the purpose of the meeting was to elect a new premier.
The official didn't give his name because he wasn't authorised to speak on the record about internal decisions.
Earlier today, Pakistan People's Party (PPP) leader Syed Khurshid Shah told reporters that a session of the National Assembly would be convened on Friday at 5:30pm to elect the new prime minister.
Shah said nomination papers for premiership could be submitted on Thursday.
Media reports have been speculating on three possible picks, all members of the outgoing Cabinet.
Ahmed Mukhtar, minister for water and power, and textiles minister Makhdoom Shahabuddin, appear to have emerged as the front runners.
JUI-F refuses offer to join new government
President Zardari offered the Jamiat Ulema-i-Islam-Fazl (JUI-F) to join the new government which was rejected by the latter, DawnNews reported.
The president had reportedly sent a message to JUI-F chief Fazlur Rehman and had offered to allot three ministries to MNAs of the party.
The JUI-F said it rejected the offer saying the decision to part ways with the government was final and could not be changed.
Consultations over nomination
After the verdict, PPP secretary general Jahangir Badar and leader Qamar Zaman Kaira had said that the party had authorised President Zardari to take a decision after consulting the coalition partners.
Speaking to Dawn, a coalition party leader who attended Tuesday's meeting at the Presidency in the aftermath of the Supreme Court verdict disqualifying Yousuf Raza Gilani claimed that no specific name had been discussed for the next prime minister, except for those which had already been in circulation in the media since the announcement of the court's verdict.
The meeting did take notice of speculations about various names, including outgoing ministers Mukhtar (water and power), Shahabuddin (textiles), Syed Khurshid Ahmed Shah (religious affairs) and Kaira (information and broadcasting), but no decision had been taken, one of the participants of the meeting told Dawn.
The ongoing political crisis in the country is the result of Tuesday's verdict of the Supreme Court which disqualified Gilani from holding a seat in the parliament from the date of his conviction in the contempt of court case (April 26).
The verdict on the petitions against the NA Speaker Fehmida Mirza's ruling also sent the government packing.