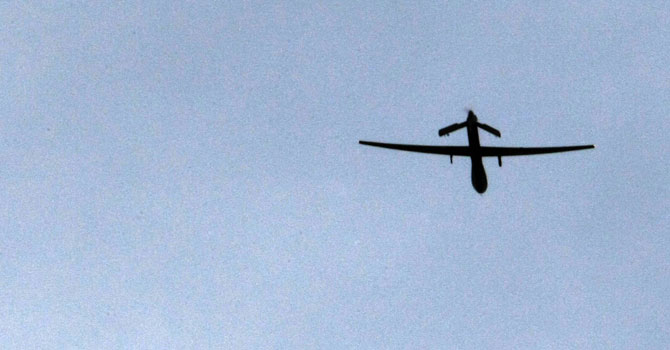 A US "Predator" drone passes overhead at a forward operating base near Kandahar. — Photo by AFP/File
MIRAMSHAH: A US drone strike targeting a militant compound in Pakistan's northwestern tribal area killed 15 insurgents in a pre-dawn attack on Monday, security officials said.
Two missiles were fired on the compound in Mir Ali, 25 kilometres (15 miles) east of Miramshah, the capital of North Waziristan, near the Afghan border, in an area considered a hive of Taliban and al Qaeda activity.
The attack was the eighth drone strike in Pakistan since a Nato conference on Afghanistan in Chicago last month.
"Fifteen militants were killed in a dawn strike on a compound. The bodies of those killed were unable to be identified," a security official in Miramshah told AFP.
He said there were reports that some foreigners had been killed but these were unable to be confirmed.
A security official in Peshawar confirmed the attack and said 15 militants were killed.
"We have received reports that 15 militants have been killed in a drone strike but at this moment we don't know about their nationalities," the official said.
"We are also unclear about the number of the militants who were present in the compound at the time of attack." The latest attack came amid an uptick in drone strikes.
An attack on Sunday killed at least five insurgents, including a commander, near Wana - the main town in South Waziristan, security officials said.
Washington considers Pakistan's semi-autonomous northwestern tribal belt the main hub of Taliban and al Qaeda militants plotting attacks on the West and in Afghanistan.
Pakistani-US relations went into freefall last year when a CIA contractor shot dead two Pakistanis, an American raid killed al Qaeda chief Osama bin Laden, and US air strikes in November killed 24 Pakistani soldiers.
After the air strikes, Pakistan shut its Afghan border to Nato supplies and ordered US staff out of an air base reportedly used as a hub for drones.
In March, Pakistan's parliament agreed to reset US relations on condition that Washington apologise for the troops' deaths and end drone attacks on its soil.
Pakistan has been incensed by Washington's refusal to apologise for the November air strikes and US officials have so far rejected Pakistani proposals to charge several thousand dollars for each alliance truck crossing the border.
Islamabad, which is understood to have given its tacit approval for attacks on al Qaeda and Taliban targets in the past, has become increasingly vocal in its opposition to the perceived violation of national sovereignty.
Despite Pakistani criticism US officials are believed to consider the drone attacks too useful to stop them altogether. They have argued that the strikes are a valuable weapon in the war against militants.
According to an AFP tally, 45 US missile strikes were reported in Pakistan's tribal belt in 2009, the year US President Barack Obama took office, 101 in 2010 and 64 in 2011.
The New America Foundation think-tank in Washington says drone strikes have killed between 1,715 and 2,680 people in Pakistan in the past eight years.