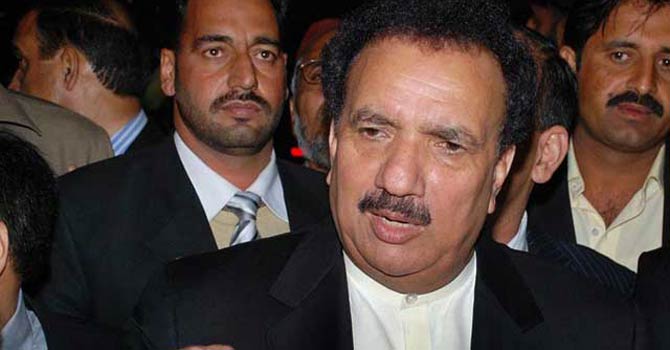 Interior Minister Rehman Malik. — APP File Photo
ISLAMABAD: Interior Minister Abdul Rehman Malik has said he is a Pakistani and has already renounced his British citizenship on March 25, 2008.
In a statement submitted to the Supreme Court on Thursday, Senator Malik said he had been granted the British nationality by virtue of his continuous exile in the UK for nine years because of political victimisation and threats in Pakistan. "But I have never renounced my Pakistani citizenship because dual-nationality is allowed under the Pakistan law," he clarified. The statement was submitted in response to a hearing initiated on a petition filed by Syed Mehmood Akhtar Naqvi, a businessman who has a penchant for filing petitions. Mr Naqvi had sought a court declaration against parliamentarians and members of the provincial assemblies possessing dual-nationality.
He claimed that 35 lawmakers had dual nationality, but he had no proof except a talk show aired by a private television channel. He could only accuse four members of the National Assembly (all from the PPP) of having acquired the foreign citizenships — Rehman Malik, Chaudhry Zahid Iqbal and Chaudhry Iftikhar Nazir (British citizenship) and Farahnaz Ispahani, wife of former ambassador to the US Hussain Haqqani (American citizenship).
At the last hearing on May 8, the court had repeated notices to Rehman Malik and Ms Ispahani to come and deny the allegations.
Iftikhar Nazir had already appeared before the court and denied the allegations that he held dual-nationality. He showed his passport and said he was very much Pakistani.
Zahid Iqbal's lawyer had sought time to submit a reply.
On Thursday, Advocate Azhar Chaudhry, representing Rehman Malik, informed the court that his client had renounced the British nationality before holding a public office in Pakistan.
The chief justice directed the counsel to ask Mr Malik to submit the certificate issued by the British government after surrendering every property and business at the time of renouncing the citizenship.
The counsel sought time and said his client was abroad.
The chief justice told him to ask his client to bring the certificate from the UK where he was now a days.
At the same time the chief justice observed that remittances sent by Pakistani expatriates should not be discouraged because these were the only source of finances for the country.
The hearing was adjourned for Tuesday.