Over the years many Dawn readers from within and outside Pakistan have been emailing me complaining that whenever they tried to look for pictures of Pakistan on the internet that have little or nothing to do with vicious looking mullahs, suicide bombings and mutilated bodies, they have failed.
I've been scouting newspaper libraries and personal photo collections belonging to the parents, aunts and uncles of friends and acquaintances for the last many years in an attempt to chronicle social and cultural shifts and trends in Pakistan before the years when Pakistan's cultural and social evolution began to become ruddily ridiculous by a quasi-Orwellian 'Islamist' dictatorship – a flippant happening whose deafening echoes can still be heard and felt in the now much anguished and tormented Pakistan.
There is very little memory left of a Pakistan that today almost seems like an alien planet compared to what it has been ever since the mid-1980s.
Here, I will share with you some interesting photographs that I've managed to gather in the last couple of years of that alien country. A place that was also called Pakistan.
Che in Karachi: Yes, that's the great Marxist revolutionary and legend, Che Ernesto Guevara, standing along side Pakistan's first military dictator, Ayub Khan.
Guevara stayed for a short while in Karachi during his whirlwind tour of Arab and third world countries (in 1959). He again visited Karachi in 1965 and that is when the above photograph was believed to have been taken (inside the VIP lounge of the Karachi Airport).
It is interesting to see Che standing with Ayub Khan whose military coup (in 1958) was not only backed by the US, but was also highly repressive of leftist forces in Pakistan.
The irony is that the widespread leftist uprising in Pakistan in the late 1960s that helped topple the Ayub dictatorship was mainly led by leftist students many of whose icon and hero was, yup, one named Che Ernesto Guevara!
Resources:  Adnan Farooq (Viewpoint Magazine); Shahid Saeed (Friday Times).
PIA press ad, 1965: This 1965 PIA ad (published in Dawn) bares claims that one can't even imagine PIA to make in this day and age.
Pakistan's national carrier has been crumbling for the last many years and today stands on the verge of bankruptcy. And yet, back in the 1960s and early 1970s, PIA stood strong and proud, awarded on multiple occasions and being a constant on the list of top ten airlines of the world!
When this ad appeared in print, PIA was enjoying rapid growth within and outside Pakistan. It had already been noted for having 'the most stylishly dressed air hostesses', great service, a widespread route and, ahem, 'having a generous and tasteful selection of wines, whiskeys and beers' on offer.'*
*Serving alcoholic drinks on PIA was banned in April 1977.
Resources: Capt. Sami Mirza (former PIA pilot); Illustrated Weekly (June, 1968 edition); Pakistan Economist (April, 1978 issue).
PPP formation, 1967: It's amazing how little is available by way of any visual documentation of what was perhaps one the most iconic events in the history of Pakistani politics – i.e. the formation of the Pakistan Peoples Party (PPP) during a convention in Lahore in 1967.
The convention gave birth to a populist democratic party that for the next four decades would go onto become both passionately loved, as well as loathed by Pakistanis in equal measure.
Chaired by the suave and yet exuberant Z. A. Bhutto, the convention was attended by some of the country's leading progressive and leftist intellectuals, journalists and radical student leaders.
This photo shows Bhutto seated among the men who would turn the PPP into a fervent progressive platform that not only accommodated committed Marxists, Maoists, 'Islamic Socialists' and liberals alike, but would also go on to sweep the 1970 general election (in former West Pakistan). The most endearing characteristic of the image is the way J. A. Rahim (an otherwise serious and sombre Marxist thinker and PPP's leading ideologue) is actually sitting on Bhutto's lap!
Rahim was one of the founders (along with Z. A. Bhutto) of the PPP and co-author of the party's original socialist-democratic manifesto.
Unfortunately in 1975, Rahim had a falling out with Bhutto and was humiliatingly expelled from the party.
Bhutto, on the other hand, was hanged by the Ziaul Haq dictatorship in 1979 through a sham trial, taking with him what still remains to be one of the most populist, dynamic and yet, contradictory eras in Pakistani politics.
Resources: PPP - The first phase (Hasan Askari Rizvi); PPP-Rise to Power (Philip Jones).
House full: Pakistani film industry and cinemas began experiencing a creative and financial peak in the late 1960s; a high that would last till about 1979, before starting to patter out in the 1980s and hitting rock bottom a decade later.
There were a number of reasons for the rapid fall of the industry and the consequential closing down of numerous cinemas.
Two of the leading reasons were the brutal censorship policies of the reactionary Ziaul Haq dictatorship in the 1980s, and the arrival of the VCR.
As Zia's so-called 'Islamisation' process began stuffing public space and collective socialising spots with moral policing and restrictions, the people took their entertainment indoors.
Cinemas were hit the worst by this as not only the 'respectable' audiences stopped frequenting cinemas; the Pakistani film industry too began to fall apart.
'Illegal' video shops renting Indian films and porn (allowed to openly operate after bribing the police) sprang up and cinemas began to be torn down by their owners and turned into gaudy shopping malls.
For example, in Sindh alone there were over 600 cinemas between 1969 and 1980, but only a few hundred remained by 1985.
Similarly, the Pakistani film industry used to generate an average of 20 Urdu films a year in the 1970s, but by the late 1980s, it was struggling to come out with even five a year.
The above photo was taken in 1969 outside Karachi's famous Nishat Cinema. It was also one of the first cinemas to introduce in-house air-conditioning in cinemas in Pakistan. The picture shows a crowd of cine-goers gathered outside the already packed cinema waiting their turn to see the premiere of a Pakistani war flick, 'Qasam uss waqt ki.'
Nishat survived the thorny Zia years, the VCR invasion and the local film industry's collapse.
In fact Nishat still stands, reeking out a survival by running latest Indian and Hollywood films.
Resources:  50 years of Pakistani Cinema (Mushtaq Gazdar). Aqeel Jafiri (personal collection).
Just before the fall: This is the front page of Dawn that appeared only days before Pakistani troops surrendered meekly to the Indian army in former East Pakistan (December, 1971).
It is easy to spot the haunting irony on the page that is splashed with disastrous reports about the Pakistani war effort and an impending sense of doom – and yet (on the bottom right) there is a quarter-page ad placed by a large trading company showing the emblems of the Pakistan army, air-force and navy and assuring us that 'Inshallah (God willing), the victory would be ours.'
In hindsight, one can suggest that denial is not exactly so new a trait that Pakistanis have acquired, post-9/11; because the truth is that to most Pakistanis the stunning 1971 surrender actually came as a rude and shocking surprise. State-owned media and the armed forces had continued to claim that Pakistani forces were on the verge of a glorious victory right till (or just before) the final fall.
In fact, in the bulletin read out on Radio Pakistan only hours before the final defeat, the newscaster had reported that the Pakistan military was 'continuing to deliver numerous setbacks and losses to the Indian army'. And we lapped it all up, like a kid smilingly licking an imaginary popsicle.
Resources: A History of Radio Pakistan (Nihal Ahmed).
Taliban, who? No, this is not an image from a bygone hippie flick. It is a picture of real hippies enjoying a few puffs of hashish on the roof of a cheap hotel in Peshawar in 1972. Yes, Peshawar.
Pakistan was an important destination that lay on what was called the 'hippie trail' – an overland route taken by young western and American bag-packers between 1967 and 1979 and that ran from Turkey, across Iran, Afghanistan, Pakistan and India, usually ending in Nepal.
Numerous low-budget hotels and a thriving tourist industry sprang up (in Peshawar, Lahore and Karachi) to accommodate these travellers.
The hippie trail began eroding after the 1977 military coup in Pakistan, the 1979 Islamic Revolution in Iran and the beginning of the Afghan civil war (in 1979).
Resource: Eddie Woods (Photo)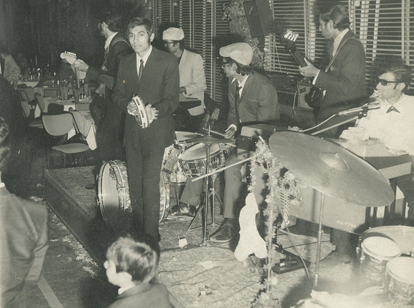 Tequila twist! One of the rare photographs available of Karachi's famous nightclub scene of the late 1960s and 1970s.
Live music, great food, lots of booze and dancing were the hallmarks of the scene. Shown here is a club band playing to a happy audience at a 'mid-range' nightclub in Karachi (in 1972).
According to former nightclub owner and entrepreneur, Tony Tufail, 'Karachi would have gone on to become what Dubai later became if not for the ban.'*
*Nightclubs were closed down in April 1977.
Resource: Understanding Karachi (Arif Hassan); Instant City (Steve Inskeep).
Moonwalkers in Karachi, 1973: How many of you know or remember that the entire crew of NASA's Apollo 17 flight to the moon visited Pakistan? In July 1973, astronauts of the United State's last mission to the moon arrived in Karachi.
Their visit was widely covered by the press and Pakistan Television (PTV). The astronauts were also honoured by a 'welcome motorcade procession' that travelled from Clifton Road till Tower area.
The photograph shows the motorcade reaching the Saddar area that was decorated with Pakistani, American and PPP flags and colourful banners.
Some of the astronauts travelled in an open truck (see picture). The truck also carries a banner that reads (in Urdu): 'Welcome to the Apollo 17 astronauts.'
Resource: US Consulate General-Pakistan.
Safer days, shorter walls: This is a 1974 picture of Karachi's iconic Pearl Continental Hotel (then called the Intercontinental). Notice the short walls of the hotel, hardly 3 and a half feet tall!
Now compare them with the tall, thick walls and the chaotic barbed wire that surround the same hotel today and what with all the concrete barriers and dozens of armed security personnel that one has to go through.
Resource: Dawn
Say, Vat? Nothing extraordinary about this old 1975 Urdu film poster of a movie released at a time when the country's film industry was booming. However, check out the bottle of whiskey, Vat-69.
This brand of whiskey (according to late filmmaker and cinema historian, Mushtaq Gazdar), appeared in hundreds of Pakistani films between 1950s and late 1970s. But why Vat 69?
Gazdar wasn't sure, but he did notice that (for whatever reasons), this brand of whiskey was used by most Pakistani directors if they had to show a 'good person' drowning their sorrows with the help of a stiff drink, whereas other brands were used if a 'bad person' was shown having a shot or two.
Also, bars and nightclubs in Karachi, though stuffed with local brands of beer, vodka and whiskey, mainly stocked Vat 69 as their vintage foreign/imported brand.
Interestingly, after sale of alcohol was banned in 1977 (to Muslims), Vat 69 lost its iconic status and was replaced by local brands (such as Lion Whiskey) now available in 'licensed wine shops' in Karachi and the interior Sindh, and Black Label  stocked by enterprising bootleggers.
At the art of it all: This 1975 photograph shows a group of some of Pakistan's famous painters and sculptors with a visiting British artist at the Karachi Arts Council. Check out the flares, the sideburns and all. And they're smoking inside the building. Awesome.
Marriot, 1977: This is a 1977 photograph showing Islamabad's Marriot Hotel (then called Holiday Inn) being constructed. Almost three decades later this famous hotel was blown up by suicide bombers and/or psychotics who were in a hurry to reach the rooms their handlers had booked for them in paradise.
Notice the almost barren area in front of the hotel - a far cry from the wide roads, traffic signals and lines of trees and traffic that surrounds the area today.
Talking heads: A terrific 1975 photograph of a scholarly talk show on PTV. Intellectual talk shows were rather popular on TV in Pakistan in the 1970s. This one shows renowned playwrights, Ashfaq Ahmed and Bano Qudsia (centre right), talking about 'socialist plays' with the host.
Damned greatness: A 1976 photo of Pakistan's Nobel Prize winning scientist, Dr. Abdus Salam (right), with a colleague at a summer college held at Pakistan's scenic Nathiyagali resort.
Considered to be one of the greatest minds produced by Pakistan, Dr. Salam, a devout member of the Ahmadi community, was associated with various scientific and developmental projects undertaken by the government from the 1950s till 1974.
He quit and left Pakistan in protest after the Ahmadis were declared as non-Muslim (in the 1973 Constitution).
However, he kept returning to the country on the invitation of friends, but he never reconciled with those who'd pushed to declare his community a non-Muslim minority in the country of his birth and work.
Resources: Abdus Salam Archives (Picture).
Hippie invasion: Cover of the soundtrack album (LP) of 1974 box-office hit, Miss Hippie. The film depicted the 'effect hippie lifestyle and fashion were having on Pakistani youth.' (sic)
Starring popular 1970s Pakistani film actress, Shabnam, the film conveniently forgot that more than half of the hashish that was being consumed by the 'invading hippies' was actually being produced and smuggled in and from Pakistan!
Pray tell: Photograph showing late Pir Pagara talking to the press at the Karachi Press Club in 1977. Pagara was heading a right-wing movement against the Z. A. Bhutto regime.
Here he is seen talking to the press (surrounded by some members of the Jamat-i-Islami, Jamat Ulema Islam and Jamiat Ulema Pakistan).
The men then got up to say their evening prayers.
However, a commotion broke out between the religious leaders of the movement when JI and JUI men refused to pray behind JUP leader, Shah Noorani.
JUI was inclined towards Sunni Deobandi school of thought whereas Noorani was from the pro-Barelvi JUP. Though united in their opposition to Bhutto's 'socialism', both men thought the other was a 'misguided Muslim.'
The King wuz here: Rare poster of Indian Ghazal king (and queen) Jagit & Chitra's tour of Lahore in 1979. They held a series of successful concerts, with the most colourful one taking place in the city's historical Shalimar Gardens.
Perversity thy name is morality: A disturbing 1978 photo of one of the first public floggings ordered by General Ziaul Haq's military courts.
Hundreds of student leaders, trade union activists, journalists and petty criminals were flogged between 1978 and 1981.
Here, floggers with lethal leather sticks in their hands and belonging to the Punjab police are seen stepping on a sentenced man's back after delivering a flogging ordered by a Lahore military court.
Resources: World Press Archives (Picture)
Not in our name: Women organisations were at the forefront of the many movements that took place against the brutal Ziaul Haq dictatorship. This 1980 photograph is from a violent protest held by female college students (in Lahore) against the Zia regime's 'masochistic attitude' towards women.
Resources: Herald (April, 1980).
Desperado, 1981: This is a rare photograph of notorious Pakistani left-wing radical, Salamulla Tipu, hanging out from the cockpit of a PIA plane that he had hijacked with three other colleagues in 1981.
Tipu, a leftist student leader from Karachi, had joined Murtaza Bhutto's Al-Zulfikar Organisation (AZO) to instigate an urban guerrilla war against the Ziaul Haq dictatorship (1977-88).
The plane was hijacked from Karachi, flown to Kabul and then to Damascus. Tipu and co. (armed with AK-47s and hand grenades), only released the passengers after the Zia regime agreed to release 50-plus political prisoners from jails.
In 1984, however, in an ironic twist of fate, Tipu the Marxist revolutionary, was executed by the pro-Soviet regime in Kabul after he'd fallen out with Murtaza Bhutto, while the other hijackers travelled to Libya where they are said to be still living.
Resources: The Terrorist Prince (Raja Anwar); Abbas Ali (Personal Collection).
Before the lights went out: Great photograph of former Pakistani fast bowlers and best mates, Imran Khan and Sarfraz Nawaz. The picture was taken at a nightclub in Melbourne in 1981, where the two fast men were on a cricket tour with the Pakistan team.
Known to be hearty 'party boys', Khan and Nawaz were invited at the inauguration of the nightclub (called 'Sef').
According to the owner of the club (a Pakistani-Australian), Nawaz 'loved to drink' while Khan was 'always a hit with the women and a great dancer.'
Khan and Nawaz remained best buddies till the early 1990s before becoming bitter foes after Khan became a 'born-again Muslim' and Nawaz joined the Pakistan Peoples Party (PPP).
Resource: Jim Davis (picture)
Nadeem F. Paracha is a cultural critic and senior columnist for Dawn Newspaper and Dawn.com
The views expressed by this blogger and in the following reader comments do not necessarily reflect the views and policies of the Dawn Media Group.