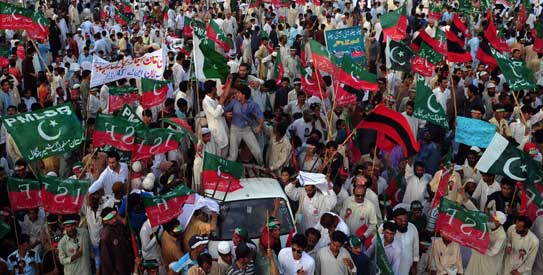 LAHORE: PakistanTehreek-e-Insaf (PTI)  leader Imran Khan addressed a gathering of thousands of PTI fans at the Miner-e-Pakistan on Sunday, DawnNews reported.
Mr Khan said that today's rally is a sign of revolution in Pakistan and the rulers cannot stop this revolution.
He said that the biggest problem facing Pakistan is corruption which the PTI will strive to eradicate and install honest officers in key positions.
He further said that his party will resolve the issues of Pakistan including the electricity crisis and make it mandatory for politicians to declare their assets.
Khan also said that Pakistan is a rich country full of minerals but the corruption and bad governance turned it into a beggar state. He said that the rulers have sold their nation for dollars.
Criticizing the government Khan said that there is no comparison between Zufiqar Ali Bhutto and Asif Zardari.
"PTI will not allow the military to attack its people, PTI believes in talks with the tribals," said Imran Khan.
Thousands of  young attendants in the rally roared as Imran Khan made his statements.
The rally in the Pakistani city of Lahore was called by Imran Khan to press President Asif Ali Zardari to step down.
Dancing to a drumbeat and waving the party's red and green flags, supporters of Khan's Tehreek-e-Insaf filled the sprawling Minar-e-Pakistan ground which was ringed with tight security.
"Who will save Pakistan? Imran Khan, Imran Khan," the crowd chanted.
More than 20,000 people had gathered as the meeting began at 4pm (1100 GMT) with more on the way, according to witnesses, as the crowd waited for a scheduled appearance by their hero.
Khan's party slogan is "throw this government out and save the country," in a campaign aimed at the ruling coalition led by Zardari and the party of former prime minister Nawaz Sharif.
The rally, seen as a show of strength, comes two days after Sharif's brother Shahbaz, attracted some 30,000 people at an anti-Zardari protest also in the key political battleground of Lahore.
Sharif's Pakistan Muslim League-N (PML-N) held on Friday to demand early elections in its political heartland - it controls the Punjab provincial government despite being in opposition at national level.
The venue for Khan's public meeting was bedecked with banners and hoardings showing portraits of the former cricketer and the founder of the nation Muhammad Ali Jinnah. He was due to apeak later.
Tehreek-e-Insaf Secretary General Arif Ali had said Khan "will make important announcements regarding the country's politics and future course of action."
"The wind of change of has started in the country and anyone coming in its way would be eliminated," Alvi said and added "Tehreek-e-Insaf wants the rule of people constitution and law in the country."
"It is going to be historic. We have our supporters and voters coming from Lahore and its suburban areas and the expected gathering would be over 100,000 people," Malik Zaheer Abbas Khokhar, a member of the party's organising committee said.
The party had expressed some concerns about inadequate security arrangements and blocking of the convoys coming from other cities.
"We have been reassured by the provincial police chief about the security of the gathering and smooth flow of traffic for our convoys," Khokhar told AFP.
Senior police official Ghulam Mahmood Dogar told reporters that all steps had been taken to provide "fool-proof" security at the public meeting.
Around 2,000 Pakistanis led by Khan demonstrated in Islamabad on Friday to demand an end to US drone strikes in the tribal areas, claiming they kill more innocent civilians than Taliban and Al-Qaeda leaders.