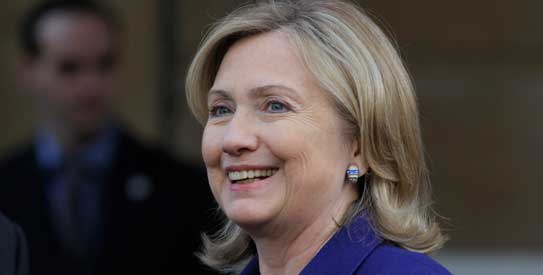 WASHINGTON: The United States and Pakistan have 90-95 per cent agreement on a work plan to combat terrorists, US Secretary of State Hillary Clinton said on Sunday while reflecting on her two-day visit to Islamabad.
During the visit, which ended on Friday, the chief US diplomat urged Pakistan to move against extremists who were attacking American forces in Afghanistan or risk dwindling support from the US and further instability at home.
But in a series of interviews to various US television networks on Sunday, Secretary Clinton tried to downplay the differences and also highlighted Pakistan's cooperation in the fight against Al Qaeda.
"We're about 90, 95 per cent in agreement between the United States and Pakistan about the means of our moving towards what are commonly shared goals," she said. "And we have a work plan and a real commitment to making sure we are as effective as possible together."
One of the interviewers noted that during the visit, she had sent an unmistakable message: Those who allow terrorists to operate in safe havens will pay a heavy price. "What are the consequences to this already fragile relationship, if, in fact, the United States launches another counter-terror operation inside Pakistan with US boots on the ground?" he asked.
Secretary Clinton said that the high-level delegation she led to Islamabad had "a very intense, frank, candid and open discussion" with Pakistani leaders.
The delegation, which included the CIA and US military chiefs, stressed two points: both countries have to work together to eliminate the threat from safe havens and they also need to back an Afghan-led reconciliation process.
"We, on the Afghan side, and we're upping the tempo of our efforts, and the Pakistanis on their side," she said. "It's very important to stress that Pakistan, Afghanistan, and Americans are already facing consequences from the attacks that cross borders and kill innocent people."
She warned that the consequences could become "even more dire if we do not redouble our efforts to try to increase our security cooperation".
She defended US contacts with the Haqqanis, noting that Washington was following a policy of "fight, talk and build" and these contacts were part of this policy. The meeting with the Haqqanis, she said, was held at Pakistan's request to gauge whether there was any basis for further talking.
"So, what we are trying to gauge who among the groups would be sincere and serious about an Afghan-led peace process," she added.
"And it's very absolutely understood that in order for any process to have a chance to succeed, the United States and Pakistan have to work with Afghanistan. So, we responded to a Pakistan request."
The US, she said, was testing out "a lot of different approaches" but at the same time it will also keep finding those who were killing Afghans, Americans and others.
Responding to a question, Secretary Clinton said the US was not going to abandon its goals in Afghanistan for the sake of reconciliation with the Taliban.
"We're going to fight where we need to fight. We will talk if there's an opportunity to talk. And we will keep building towards a more secure, stable future for Afghanistan," she said.
Secretary Clinton explained that the US had certain "red lines" for any talking or any agreement.
"With whomever we talk, they have to abide by the following: They must renounce violence. They must renounce any and all ties to Al Qaeda. And most importantly, for the future of Afghanistan, they must commit to abide by the laws and constitution of Afghanistan, which protect the rights of ethnic minorities and women.
"So I am very clear that I am not going to support any peace agreement that gives up the hard-won rights of the Afghan people. And in particular, I have a commitment to the women of Afghanistan."