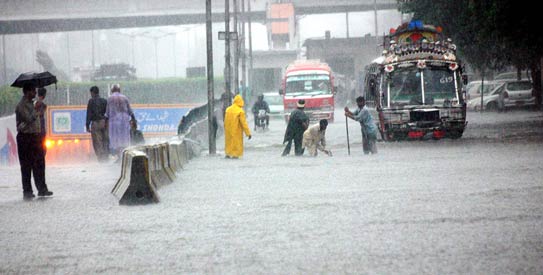 KARACHI: Monsoon rain crippled Sindh and its capital on Tuesday and the government came under pressure to provide relief for about 300,000 people left homeless by floods.
Twenty-nine people died, including seven in Karachi, in rain-related incidents in one day.
The government faces a new crisis as rains which have killed 226 people sweep through the province.
Floodwaters have destroyed or damaged 1.2 million houses and flooded 4.5 million acres since late last month, disaster management officials and Western aid groups say.
In Karachi, few people made it to work or school and more rain forecast through Wednesday raised the possibility of extended disruptions.
Many streets were impassable, cars were stuck and several fuel stations were inundated.
"We have recorded 50-100mm (two to four inches) of rain in Karachi and the situation is pretty bad. It can turn even worse," said Mohammad Hussain Syed, the city's district coordination officer.
Many banks were also closed in Karachi.
The city was paralysed as all business activities remained suspended and educational institutions were closed due to flooding in different parts of the city following the latest spell of rain in which at seven people lost their lives in rain related incidents.
The road leading to the city's main financial district, I. I. Chundrigar Road, was up to knee deep in water. The picture in the wholesale business areas of Joria Bazaar was not different as water had seeped into many shops.
On Monday night, the city's market alliance had announced a closure of markets for Tuesday in view of the flooding.
The administration appeared absent from the scene as Chief Justice Iftikhar Mohammad Chaudhry summoned the Karachi DCO to his chamber following the breakdown of his official car on the M.R. Kyani Road on Tuesday morning.
The CJ had to board a land cruiser jeep fitted with jamming devices in his escort to reach the Supreme Court Registry.
"In many areas the flooding has completely cut off villages. So we can't even reach those people. We have asked the army's engineering corps to help move these people," Sindh Minister for Rehabilitation Muzafar Ali Shujra told Reuters.
As a violent downpour continued to lash several districts, the situation in Mirpurkhas became most desperate as two breaches threatened a ring-dyke raised recently.
In Mirpurkhas city, water is mounting pressure on the newly-constructed ring dyke in Khaan area because saline and rainwater were flowing towards the city, spreading panic. A few breaches developed in the dyke in Khaan area.
Four feet of water inundated the Hyderabad railway track, suspending traffic between Hyderabad and Mirpurkhas.
Rainwater has accumulated on the premises of the grid station in Mirpurkhas.
Construction of a sand dyke around the grid station was started to save it while two heavy pumping machines were installed to drain out the water.
The SDO of the grid station, Mr Ramesh, told reporters that if machinery at the grid station was damaged, power supply would be suspended for a long time to Mirpurkhas, Tharparkar and Umerkot districts.Grid stations of Tando Jan Mohammad and Naoko have already been flooded.
In Badin, almost all sub-drains and field drains again started flowing in the reverse direction.
The small drains not only washed crops away and inundated a large number of villages, but also flooded relief camps, adding to misery of the people who had taken shelter there.
A large number of people living in flooded villages are looking for an early rescue.
More than 25,000 people are marooned in the Pangrio area as all the link roads have been washed away. Over 1,000 workers of Jamat-ud-Dawa were engaged in rescue operation.
Johi town was the worst affected as one to two feet rainwater was standing in streets and houses. Khirthar Mountain received heavy rain, which went down to Nai Gaj, a hill torrent. The flow of other seven streams has severed the land communication of over 40 villages of Kachho belt.
Mirpurkhas received the highest rainfall—190mm (more than seven and a half inches).
According to the Met office, the province would to get more rains, though with lower intensity, on Wednesday.
They said although the spell had almost run its course, scattered showers were likely on Wednesday.
Some of the Sindh cities which got heavy rains on Tuesday were Hyderabad with 158mm, Sakrand 125mm, Tando Jam 119mm, Dadu 115mm, Mithi 100mm.
The Army and the Navy continued their relief and rescue operations, providing shelter, food and medical treatment.