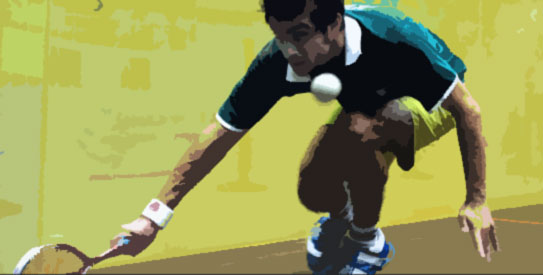 KARACHI: Pakistan squash No 1 Aamir Atlas Khan, who defeated World No 10 Mohammad Azlan Iskandar and World No 17 Cameron Pilley on his way to the final of CIMB Malaysian Open, was defeated at the last hurdle when favourite and World No 6 Gregory Gaultier of France beat  him in the summit clash.
Aamir, who is ranked 28th in the world circuit expects an upward leap in his international rankings after his remarkable giant-killing run in Kuala Lumpur. However, Aamir was not at his best in the final against Gregory Gaultier, who he had defeated in the past when the Frenchman was ranked World No 1 in 2009.
But this time, Gaultier proved his seeding correct and clinched the title carrying a prize purse of US $50,000 as it was expected of him.
Gaultier recorded a formidable 11-8, 11-3, 11-3 triumph in the final to deny Aamir of another higher- ranked scalp.
"Gregory played brilliantly in the final. However, I am satisfied with my overall performance in the tournament as I have defeated two much top ranked players than me in the quarterfinal and the semifinal," Aamir said.
Aamir added that he wanted clinch the title in the event to prove his worth to the people his country.
"My international rankings would come up when this tournament would be considered in evaluation for the month of August. So if I had been a part of Pakistan team for World Team Championship, certainly we would be a seeded side and have a chance to advance in the prestigious tournament," he added.
The World Team Championship will be held in Germany next month, where Pakistan's top two players would not be featuring in the event. Aamir and his cousin Farhan Mehboob, who is ranked 36th, are the only two Pakistani players in elite top 100 players of the world.
Aamir said that he wanted to represent Pakistan in World Team Championship.
"Playing for Pakistan is the top honour for me," he said.  However, Aamir was not called for the trials of the World Team Championship because of a six-month ban imposed on him by the Pakistan Squash Federation (PSF).
Aamir said that he doesn't expect a good show from Pakistan squash team as none of its member are among top 100 players of the world.
"They would go in the event as an unseeded side and therefore in early rounds they would have to face top teams of the world, so the chance that they may make some impact in the event is very low," he explained.