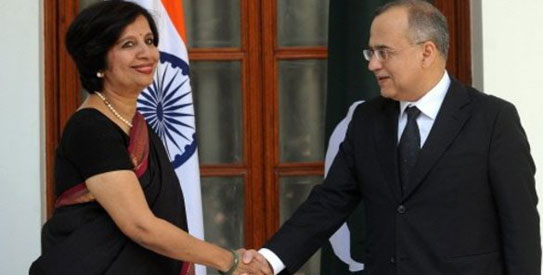 THIMPHU: The foreign secretaries of Pakistan and India agreed on Sunday on the need for a constructive dialogue between the two countries to resolve all outstanding issues.
At their meeting in the Bhutanese capital, Foreign Secretaries Salman Bashir and Nirupama Rao affirmed the need to carry forward the dialogue process.According to a press release, the meeting was held in "pursuance of the mandate given by the prime ministers of India and Pakistan, following their meeting in Thimphu in April 2010, and the meeting of the minister of external affairs of India and minister of foreign affairs of Pakistan in July 2010".
The foreign secretaries had useful and frank discussions on the steps required for further talks, it said.
Mr Bashir was assisted by Pakistan's High Commissioner to India Shahid Malik.
The officials, who were in Thimphu to attend the Saarc foreign secretaries' meeting, will brief their governments on their discussion.
"Dialogue between India and Pakistan is necessary and a must if we are to satisfactorily resolve the outstanding issues between our two countries," Ms Rao was quoted as saying by the PTI news agency before the meeting.
"We have a number of outstanding issues. So we are going into this with an open mind and constructive attitude."
PTI quoted Mr Bashir as saying that the talks would focus on making progress towards a meeting between the foreign ministers of both countries.
"My expectations are that we should be working towards continued engagement," he said.
The foreign secretary also met Bhutanese Foreign Minister Lyonpo Khandu Wangchuk and both sides decided to take steps to strengthen bilateral trade, commercial and economic ties. They affirmed their resolve to strengthen and deepen bilateral relations through closer interaction at the government and people's levels.
Mr Bashir said Pakistan would welcome religious tourism from Bhutan to Swat, the birthplace of Guru Padmasambhawa, the Second Buddha. He also invited the Bhutanese minister to visit Pakistan.
SAARC MEETING: At the 38th session of the South Asian Association for Regional Cooperation's standing committee, the foreign secretary affirmed Pakistan's support for comprehensive regional cooperation under the Saarc framework.
He said that among the priority areas Saarc should focus on issues related to environment and climate change, energy and food security and alleviation of poverty and promote project-based cooperation, develop substantive cooperation with the observers, including other regional organisations and extra-regional states that have showed interest in the association.
He said Pakistan fully supported trans-regional economic, energy and development cooperation.
"Pakistan is happy to note that under the chairmanship of Bhutan and Secretary General Sheel Kant Sharma, we have seen steady progress in various Saarc programmes and activities."
Mr Bashir said terrorism and illegal trafficking of drugs posed significant challenges to member states and Pakistan had hosted an important meeting of interior and home ministers that had adopted the Islamabad statement calling for closer cooperation to overcome them.
He said South Asia was witnessing vibrant democracies at work and the formulation of the Saarc Democracy Charter was an important achievement.
The meeting will be followed by a session of the Saarc council of ministers.--APP/AFP