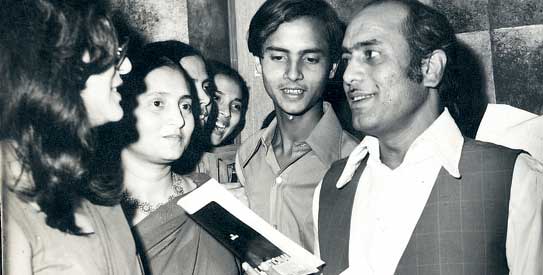 It was not until Mehdi Hasan: The Man and his Music, the book that I conceived, compiled, edited, partly wrote and almost entirely rewrote, hit the bookstores that I realised the great singer's popularity hasn't receded over the years. Though the stroke that paralysed him ten years ago has left him at best wheelchair bound and at worst bedridden, and he has neither performed nor recorded for a decade, he remains a yardstick by which all other ghazal singers are judged. The slim volume, laced with photographs, most of them unpublished, and accompanied with two priceless CDs, has been a bestseller and very soon work may well begin on the second edition.
Mehdi Hasan: The Man and his Music happened when I realised that there was no book on one of the greatest icons of the subcontinent in our times. Some of his admirers in India often sent requests for anything on 'Mehdi sahib' which they could read and give a pride of place on their bookshelves.
When I decided to take a plunge, the one major problem was, and still is, that the icon cannot communicate. His answers, if any, are in one or two words. His family members are scattered and difficult to contact, except for a son in Karachi who is generally inaccessible. "But", as I wrote in the foreword of the book, "I discovered to my surprise and, of course, pleasure that people like composer Robin Ghosh in Dhaka, Raza Ali Abidi in London, Rakhshanda Jalil in Delhi and Raza Rumi in Lahore agreed wholeheartedly to contribute to the book at short notice. Then there were singers like Runa Laila, Jagjit Singh, Abida Parveen, Nayyara Noor and Tina Sani, who spoke enthusiastically about their association with the vocalist from whom they have drawn inspiration."
EMI Pakistan, which had been forced into hibernation by pirates and are back in action, were invited to become a partner in the project, which they did so happily. They have a great collection in their archives, which they are indexing. I recalled that in 1976, a two-evening concert, featuring the ustad, was held in Lahore. The recordings later released on audio cassettes are in my personal library. The stereophonic recording was superb. I selected six best ghazals, which appear on CD 1, without being abridged or pruned.
The second CD features in addition to his exquisite film songs, a duet with Nazakat and Salamat. Mehdi Hasan is a match to the well known exponents of classical music and scores over them and sounds sweeter. Another surprise number is his superb rendition of a Bulleh Shah kafi. Then there are splendid recitations of a thumri, a Rajasthani folk song and Heer. The tracks on both the CDs are digitised. Before I forget let me add that the second CD begins with a tribute paid by the well known Indian singer Jagjit Singh to the uncrowned king of ghazal gayeki.
Back to the book, its contents in the context of text and photographs offer a wide variety. If there are serious articles on the contributions of the singer to ghazal gayeki and film music, there are brief tributes paid to him by the likes of Dilip Kumar, Noor Jehan, Naushad and Lata. There are also interesting anecdotes like the one when he reassembled his harmonium, which was dropped by someone while being carried to a concert, in a matter of few minutes. "Don't be surprised. I was an auto mechanic once and had assembled a number of tractor engines. Assembling a harmonium is child's play to me," he told his relieved audience.
No less interesting is the short piece by Shaukat Sheikh who recalled how "Gulon mein rang bhare" was originally recorded by HMV to issue as a record but on director Khaleel Qaiser's insistence the ghazal was included in his movie Farangi. That became Mehdi Hasan's signature tune. Once when some one requested Faiz to recite the ghazal at a mushaira he quipped "Woh ghazal to ab Mehdi Hasan ki hogai hai. Aap unse sunye."
I have listed 30 of his finest ghazals and 30 best film songs, as also some ragas on which he has based his popular ghazals. A list of awards, won by the singer, has been included in the book too.
Among the rare photographs published between the covers is the one where he is seen with his first wife. He looks happy but the glint in his eyes when he is seen with other females is naturally not there. He also appears in the company of other celebrities.
With two legitimate and well recorded CDs, the book is quite affordable. It has been priced Rs. 695. An imported book of this nature would have been no less than Rs. 1,500.
Liberty Books, the publishers of the book, are trying to make it available outside Pakistan. Let's hope that becomes possible soon.