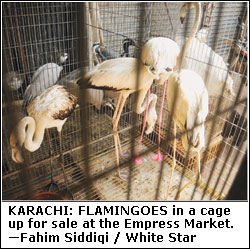 KARACHI, Nov 9: The recent trend of domesticating wild animals, especially in the posh areas of the city, has given a boost to the illegal animal trade being carried out openly in different parts of the city.
The toothless wildlife department desperately needs strong support of the government if there exists a desire at any official level to save what is left in the wild.
Also, the government must revise The Prevention of Cruelty to Animals Act, 1890, that has been in abeyance for decades and ensure its effective implementation. The law relates to maltreatment of animals and considers it as an offence, suggesting various fines and sentences depending upon the nature of the offence.
This was what wildlife experts had to say while expressing concern over the recent trend of keeping wild animals in homes and private zoos and farms, lacking adequate facilities.
Referring to the recent instances in the city when some wild animals escaped from homes and caused panic, Jehangir Durrani, the WWF's nature resource management officer at Keenjhar Lake, said: "Wild animals could never be domesticated as the well-being of these species is affected in many ways when they are forced to live in unnatural conditions no matter how big and beautiful the cage is and even if the animal is being provided with good quality food.
"People need to understand that depriving wild animals of their habitat is not an act of love but rather reflective of a cruel mind and heart. People in some posh areas of Karachi are even found keeping crocodiles in homes. The objective is nothing but to show off the possession of an uncommon animal that is otherwise found in the wild."
Wild animals, he said, could not live long in such captivity as "they are used to living in a certain habitat where they can hunt for food." However, he added that "the zoos and safaris abroad take special measures for the care of wild animals."
When asked about the status of various wild fauna in Sindh, he said: "The entire fauna and flora in the province has now been threatened due to various reasons that include extensive deforestation, illegal hunting and trapping, sea intrusion, pollution, use of pesticides and reduced flow of fresh water downstream the Kotri barrage. The situation is grave."
A survey of the Empress Market revealed that a number of wild animals and birds, many of them protected under the Sindh Wildlife Ordinance, are on sale in the market.
The animals included flamingos, hawks, falcons, peacocks, kites, partridges, green turtles and tortoises, foxes, monkeys and mongooses. All these animals, with the exception of foxes and mongooses, are protected under the Sindh Wildlife Ordinance.
Most of the animals were brought from different areas of Sindh and their prices varied. For instance, different falcon species were available between Rs2,500 and Rs3,000, a pair of peacocks for Rs7,000 and a pair of flamingos for Rs3,000.
Sources say that the illegal trade of animals has been going on under the patronage of Sindh Wildlife Department (SWD) officials and the police department for a long time. At times, the shops are raided, but after a lull, the business resumes.
The shopkeepers claim that any wildlife species even crocodiles can be 'arranged' on order.
'Mafias involved'
Upon contact, Hussain Baksh Bhaagat, who heads the SWD department, said: "Yes, this is all illegal. We do provide possession licence for keeping certain animals but the department issues no licence for selling wild animals. I have been appointed recently and need some time to put my house in order first and then for doing a survey of Karachi to determine the hotspots of illegal trade and action against people who are involved in the business."
Work for the task, he claimed, was under way and honest and trustworthy people would be made part of the team. "I want to make a proper plan and strategy before laying hands on these people who are part of a mafia.
"There are various mafias involved in the illegal trade of wild animals. There is a mafia exclusively dealing in reptiles and then there is one involved in falcon trade. And, this is not limited only to the Empress Market. I have information that the falcon trade is done in the DHA, too."
He admitted that the trend of keeping wild animals in homes has increased. "The trend is on the rise. There are some who have set up private zoos without any authorisation. This is because of our weaknesses on account of lack of manpower, trained personnel, mobility and resources," he said, adding that some department officials were also involved.
"Without their support such activities can't take place. They are involved directly or indirectly."
About the SWD's rationale behind giving possession licence for certain species that included peacocks, some species of deer and partridges, he said that the tradition to keep these animals as pet was centuries' old. "The tradition also has some religious connection and we don't want to discourage it."
When asked why birds such as peacocks that have almost disappeared from the wild have been allowed to be kept against a paltry sum of Rs100 as a licence fee for a year, he said: "The bird population has come down drastically. But, one of the major reasons is illegal hunting and not the permission to keep them. However, we are considering an increase in the licence fee as well as fines on illegal hunting."
Call to revise Act
Dr Ghulam Akbar, the head of the World Wildlife Fund-Karachi, said that the illegal trade in wild animals posed a serious threat to the fauna's diversity in Sindh and the SWD must take action against such activities. "Besides, there is also a dire need to implement The Prevention of Cruelty to Animals Act, 1890, as such animals are usually underfed and kept in unnatural conditions.
"The act has been in abeyance for decades and urgently needs modification according to this time and age to effectively check acts of cruelty towards domesticated and wild animals."
About the sale of certain animals in the Empress Market and the various threats posed to them in the wild, Mr Durrani of the WWF said: "The destruction of habitat especially due to deforestation has gravely affected wild animals, including birds. Foxes are found all over the country and survive under high hunting pressure, for their skin is used for making warm accessories. The two species found here are Vulpes bengalensis and Vulpes vulpes."
Fox population, he said, had decreased in the province as compared to jackals. Mongoose, however, was dominant all over Sindh. Referring to bird population, he said that Sindh was earlier home to a wide avian variety.
"Peacock was so common that it was like a part of the family in areas such as Shikarpur, Jacobabad, Mirpurkhas, Khairpur, Sanghar, Khandhkot, Shahdadpur, Nawabshah and Moro. Nobody catches it and the bird used to roam freely in homes and perch on house walls. But that was over three decades ago. Now, it could only be found in captivity. This happened because non-locals started poaching and selling them and there is no one to check their activities. Poverty has also led to illegal trapping.
"Flamingo, called Lakha in the local language, is hunted for food by humans. They migrate locally from the west to the east coast and vice versa."
Giving another example, he said that the canal area in Thatta used to have dense trees of acacia and Dalbergia sissoo (sheesham) that hosted a large number of birds, including white-eyed buzzard and sparrow hawk. All the three canals have now dried up; the forest department had cut all trees on the pretext that the tree leaves were a source of water pollution. The trees had been planted to stop soil erosion.
"The large-scale sea intrusion into Keti Bunder, Jati and Badin has made vast tracts of agricultural land barren on which once thrived colonies of insects and rodents that were the food of various bird species, including falcons. Now, migratory falcons do come to Sindh and Balochistan, but residents are no longer seen," he said, adding that even migratory falcons were trapped and sold. Hakeems also use animal organs for preparing different 'medicines'.