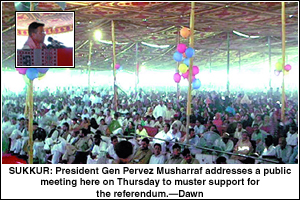 SUKKUR, April 18: Nafisa Shah, District Nazim of Khairpur, did not attend President Pervez Musharraf's public meeting in Sukkur on Thursday to show her opposition to his decision of holding referendum.
However, she was present in his meeting at the Public School Sukkur.
While talking to journalists at the Public School Sukkur, she said that it was an official engagement and not a political one like the public meeting which the president held for mustering support on the referendum.
When a reporter asked her that President Musharraf had mentioned two ladies who had won against male candidates in Sindh and praised the two ladies, one of which was you, then why did you not attend the public meeting, she replied that she did not attend it because it was purely a political one.
She said she attended the meeting held for Nazims because it was not a political one and was a part of the system.
However, other PPP Nazims, including Ali Gohar Khan Maher from Ghotki and Masroor Khan Jatoi from Naushahro Feroze fully took part in the meeting and supported the referendum.
This correspondent learnt from reliable sources that the Nazims of Sindh had asked the Sindh governor to convey to President Musharraf that they would extend their support of holding a meeting on the condition that the president would not criticize Benazir Bhutto. So President Musharraf avoided criticizing her at the Sukkur meeting.