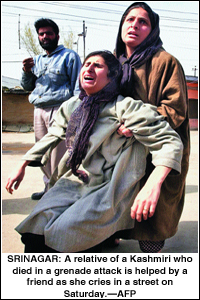 SRINAGAR, March 23: At least 13 people, including 10 freedom fighters, were killed and 26 more injured in a fresh bout of violence in occupied Kashmir, police said on Saturday.
Meanwhile, Indian and Pakistani troops overnight and Saturday traded gunfire along their border in the southern zone of Kashmir, army sources said and blamed the sporadic clashes on "unprovoked fire" by Pakistani border guards.
The police in Srinagar said a man and a woman were killed and 20 injured in the city's residential Habba Kadal area on Saturday when Mujahideen hurled a hand grenade towards a security patrol missed its target and exploded among pedestrians. Eleven of those injured were civilians and the remaining nine Indian troopers, a police spokesman said.
The blast was the fourth such raid in three days. Nearly 50 people were injured on Friday in two similar grenade explosions in south Kashmir.
Hizbul Mujahedin and Jamiat-ul-Mujahedin have blamed pro-India militant groups for Thursday and Friday's attacks.
Six more people were injured here on Saturday when riot police used batons and tear-gas to break up a religious parade in Kashmir, police said.
Eight more Kashmiris were killed in six overnight gunbattles with Indian soldiers in Kashmir, the police said, adding a civilian died when he was caught in one of the cross-fires.—AFP