KARACHI, Aug 23: Commuters are set to suffer for at least a week on account of the continuing operation to replace an underground 54-inch-dia sewerage line on Dr Ziauddin Ahmed Road as the traffic towards Defence and Clifton moved at a snail's pace throughout the day.
Vehicular traffic moving from Shaheen Complex towards the two affluent neighbourhoods of the city came to a standstill several times on the stretch between PIDC House and Clifton Flyover as the heavy machinery of city government's repairing team continued to work vigorously round-the-clock on the sewerage line in front of the Karachi Club that had caved in during the current spell of the monsoon rains.
The traffic also eased with intervals, but bumper-to-bumper vehicles continued to clog the main road and the streets connecting it throughout the day.
Officials said that it would take about a week to complete the repair work. "The work will complete only if the men and machine continued to work round-the-clock," they said.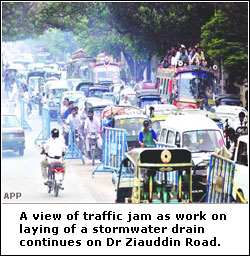 As traffic was heavy along Dr Ziauddin Road, hundreds of vehicles backed up on I. I. Chundrigar Road during peak hours.
People called in question the pace of the replacement work on the damaged sewerage line. "The authorities should put in all efforts to gear up the repair work to save commuters from the constant agony," a motorist said.
Traffic jams on Dr Ziauddin Ahmed Road also aggravated situation on the inundated Clifton Road which also remained clogged with a large number of cars.
Due to the work on the sewerage line, a number of vehicles had to divert either to Club Road or M.T. Khan Road at PIDC intersection, which again led to severe traffic jams on the two roads. "I thought to take Mai Kulachi Road to enter Clifton, and I remained stuck on the Queen's Road for over 45 minutes," said a resident of Bath Island.