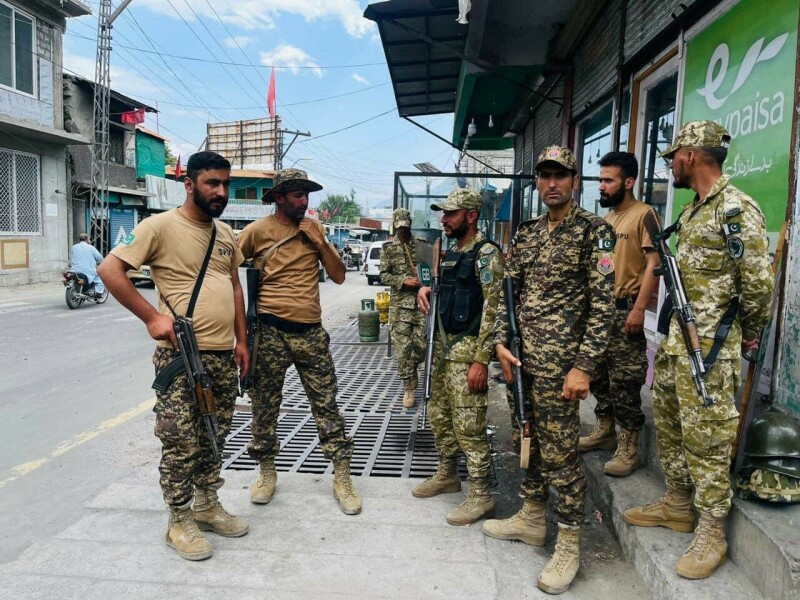 GILGIT: The Gilgit-Baltistan government, which has been dealing with a tense situation for over a week, on Saturday dismissed reports of army deployment as baseless, saying it has requisitioned the services of Pakistan Army and civil armed forces to maintain law and order only for the chehlum of Imam Hussain falling next week.
Meanwhile, mobile int­er­net service has been sus­pended across the region by the authorities concerned till further orders.
The decision came after two clerics from different schools of thought made insensitive remarks over the past few days, hurting the feelings of the respective communities.
The situation turned te­nse on Sept 1, when dem­onstrations were held in the Gilgit city and surrou­nding areas on the call of Anjuman-i-Imamia, hours after prominent cleric Ma­u­lana Qazi Nisar Ahmed allegedly made derogatory remarks during a protest in Gilgit. The protesters were demanding action against the cleric.
Two clerics booked; govt rejects reports of army deployment; foreign embassies issue travel advisories
Talking to Dawn, an official said an FIR had been registered against Mau­lana Qazi Nisar Ahmed at the City Police Station Gilgit, while another FIR against Agha Baqir Al-Hussaini had already been registered in Skardu.
Earlier in August, Agha Baqir had allegedly used controversial language during a speech in Skardu.
Unrest spread in the region after protesters in Chilas in Diamer blocked the Karakoram Highway and the Babusar Pass road for three days, demanding Agha Baqir's arrest. Soon, demonstrations also engulfed the regions of Astore and Gilgit and were only called off after a case was registered against Agha Baqir.
However, the action did not go down well with his supporters and a shutter-down and wheel-jam strike was observed in Skardu, with the protesters also blocking Juglot-Skardu Road and other thoroughfares on Aug 25.
The government suspended two police personnel and a schoolteacher on allegations of sharing sectarian posts on social media and over 12 persons were picked up for posting controversial posts.
Meanwhile, Aaj News quoted Home Minister Shams Loon as saying on Saturday that the GB government is in talks with protesting sides to restore calm in the mountainous region.
"We are in talks with amaideen [religious elders]," said Mr Loon. "They have given us assurances and we have urged them to promote peace messages in sermons," he said.
Meanwhile, the United Kingdom joined Canada and the US on Saturday in advising its citizens to avoid visiting the northern areas.
The US embassy's statement said that American citizens should exercise heightened caution in GB due to recent protests in Skardu and Diamer and the potential for additional demonstrations, road closures, and associated disruptions to local mobile and internet networks in the region.
CM reviews situation
According to a statement issued by the information department on Sept 1, a meeting chaired by GB Chief Minister Gulbar Khan reviewed the security situation in the region.
The meeting — attended by GB ministers Shams Lone, Sohail Abbas and Rehmat Khaliq, the chief secretary, interior secretary, IGP and officials of intelligence agencies — decided that the army would be called to ensure protection of people's lives and their property, and Rangers, GB Scouts and FC personnel would be deployed in major cities.
The meeting decided that legal action would be taken for "insulting the beliefs of any religion and holy persons" and the government would take all measures to maintain law and order and ensure normal business and tourism activities in all circumstances. Any kind of mischief that mars the atmosphere will be rejected and law enforcement agencies are ready to uphold the writ of the state, it resolved. The government is keeping a close watch on those who propagate hatred through social media and other means.
The meeting was further informed that so far no loss and damage of public and private property had been reported, but that protests demonstrations had created panic and uncertainty in the area.
Talking to Dawn, a top official said security situation in GB is normal and added that decision to suspend internet services and impose Section 144 had been taken to maintain law and order.
He said Pakistan Army and Civil Armed Forces will be requested only for processions to be organised on the chehlum of Imam Husain.
However, he added, there were no such protest demonstrations held in Gilgit on Saturday and life went on as usual.
In a statement, the home department said the situation is "completely peaceful and the news and speculations circulating in the media regarding the deployment of Pakistan Army are baseless".
Moreover, it said, special measures have been taken for the security of the procession routes and imambargahs as per the past practice.
Published in Dawn, September 3rd, 2023