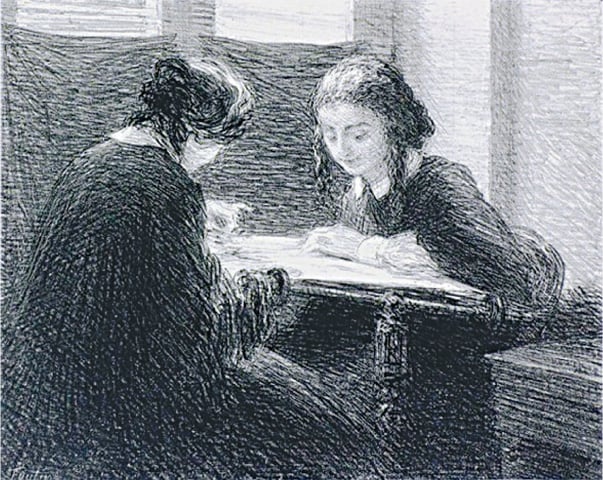 Visiting an exhibition is undoubtedly an exhilarating experience and mouthwatering prospect for all art lovers. To satiate this hunger, the Marmottan Museum in Paris has presented art enthusiasts with the unexpected surprise of more than 100 pieces of engravings — their creations ranging from the 15th century to the present day.
Originally only used to communicate news, long before the printing press and photography were invented, engraving improved as an art form with the passage of time and better techniques and, eventually, began attracting celebrated artists such as Albrecht Durer, Rembrandt, Degas, Corot and so many other masters. They gave a physical shape to their imaginings by carving figures on copper or bronze plates and then printing them on wooden, textile or paper sheets, using inks of different colours.
As scientific inventions revolu­tionised modes of communication and information transfer, these works were deemed to no longer be of any practical use, which explains why so few have survived. Nevertheless, two museums in Switzerland, not to forget the Tate Gallery in London, have conserved lots of pieces belonging to the era when engraving was at its pinnacle.
The organisers at the Marmottan were able to borrow the current collection of more than 100 works from Switzerland's William Cuendet and Atelier St. Prex museums. The exhibition also remains devoted to the history of printmaking and its various forms, leading visitors to the surprising conclusion that engraving had actually never died, and has remained one of the richest and most subtle inventions of art.
A fascinating exhibition sheds light on the art of engraving, which was originally employed only as a means for news communication but went on to inspire Impressionism
Looking at these works on display at 'The Art of Engraving' exhibition, one suddenly becomes aware of the fact that, even if created for practical reasons as a means of information in an age devoid of newspapers, magazines or television, this style had inspired a host of artists by the end of the 19th century.
A number of French painters such as Edgar Degas and Odilon Redon (not to forget the 18th century British genius William Hogarth, whose celebrated chef d' oeuvre The Enraged Musician remains one of the most admired pieces at the Tate Gallery in London) used reflections of light inspired by the engraving technique as the principal character in their works. It was a style that would inspire Impressionism, led by Claude Monet — whose legendary painting Impression, Rising Sun lent its name to the movement.
This unusual exhibition also lays emphasis on the diversity of the technique, thus making it possible for visitors to reflect on this art form's history, from the earliest woodblock printings in the 15th century to a number of later inventions. These images make you ponder as you learn about the creative links between old masters and many contemporary artists. Hence, a number of works by Rembrandt, Canaletto, Goya, Lorrain, Daumier, Degas, Redon, Bonnard and even Picasso astonish you in a new light.
The exhibition is divided into a number of sections, in which the themes, functions and processes of engraving are successively explained. One is surprised to notice that even landscape paintings that employed this technique are part of the show, with a number of metal plates on display worked on by artists such as Claude Lorrain, Rodolphe Bresdin and Giorgio Morandi.
An important section is dedicated to works by 19th century artists such as Redon, Bonnard, Manet, Degas, Toulouse Lautrec and Fantin-Latour. The technical prowess that has always fascinated engravers and enlivened their discussions in the workshops, is also part of the exhibition.
The last section is devoted to the invention of a new technique called heliogravure, which was worked on from the middle of the 19th century by a number of photographers. They gave a tactile and lively dimension to their images and transferred them, using modern techniques, on copper plates before printing them on paper sheets and canvases.
'The Art of Engraving' is on display at the Marmottan Museum, Paris from July 5-September 17, 2023.
The writer is an art critic based in Paris.
He can be reached at zafmasud@gmail.com
Published in Dawn, EOS, August 6th, 2023