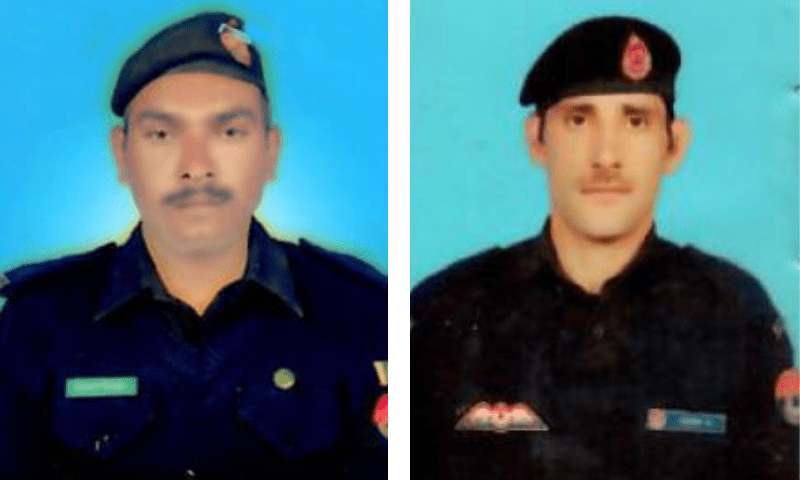 Two police constables and a bank's security guard were martyred on Thursday when gunmen opened indiscriminate fire near the Sabzi Mandi area of Swat's Mingora city, an official said.
According to the Khyber Pakhtunkhwa Police Public Relations Officer (PRO) Moin Fayaz, the policemen were on routine duty near the Sabzi Mandi area in Mingora when a few unidentified assailants opened fire at them.
Fayaz added that both policemen — Umra Khan and Ashraf Ali — embraced martyrdom on the spot while Swat District Police Officer (DPO) Safiullah confirmed that the security guard, Musa Khan, later succumbed to his injuries.
DPO Safiullah told Dawn.com that a search operation was under way to find the armed men who had fled the scene.
Meanwhile, the bereaved families had blocked the Saidu Sharif Road, where government offices are located, in protest, demanding the miscreants behind the attack be arrested.
They refused to move away the bodies until the suspects were arrested but later, the protest ended after DPO Safiullah assured the families of action against the suspects.
The KP police also shared the incident's details in a tweet.
A day ago, a policeman had sustained injuries when militants opened fire on the vehicle of Kulachi Deputy Superintendent of Police Rashid Khan in Dera Ismail Khan.
The same day, unknown attackers had opened fire at the vehicle of DPO Abdur Rauf Babar Qaiserani in the Garah Guldad area of the Kulachi tehsil as well. However, no casualties or injuries were reported while the attackers fled the scene.
Also on Wednesday, the Peshawar police repulsed a midnight militant attack on the Achini post in the Sarband area on the outskirts of the provincial capital.
Increase in terror attacks
Pakistan has seen an uptick in terror activities, especially in KP and Balochistan, after the outlawed Tehreek-i-Taliban Pakistan ended its ceasefire with the government in November last year.
A recent report revealed that the number of terrorist attacks across the country has seen a phenomenal surge of 73 per cent during the first 21 months since the Taliban seized power in Afghanistan, compared to the corresponding period before their takeover.
In his maiden press briefing in April, ISPR Director General Maj Gen Ahmed Sharif Chaudhry had said that at least 293 people were martyred and 521 were injured in 436 terrorist incidents over the past year.
In KP, 192 people were martyred in 219 terror activities, while 80 people lost lives in 206 incidents in Balochistan, 14 people in five attacks in Punjab, and seven in six terrorism incidents across Sindh.
The DG ISPR had also said that overall 137 security personnel were martyred and 117 injured in anti-terror operations in the ongoing year.