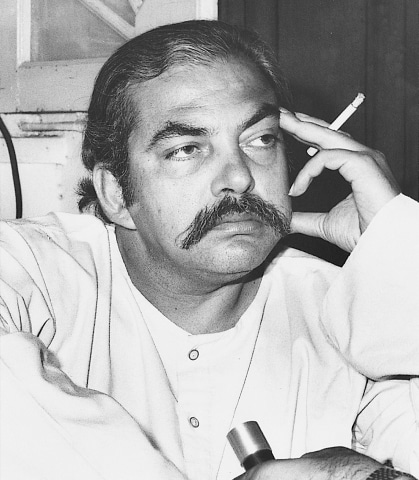 It was the early 1970s. Pakistan as a country was battered and had just been torn apart. There appeared a skit on a TV show in which people from different ethnic backgrounds tried to revive an immovable vehicle. They all waited for their turn and with all their might, made an effort to breathe life into the dead car.
A Sindhi tries to start it, then a person from the Punjab, the then NWFP and other places. The vehicle had 'Liaquat ka Truck' written on it, which clearly represented the Pakistan of those days and, as always, the country was going through a naazuk morr (troubled times).
In days when no one dared to point out the flaws in the system, one man on TV had the guts to do so. The show was Such Gup and the courageous mind behind the idea belonged to Shoaib Hashmi, who breathed his last on May 15, at the age of 84.
He was the teacher every student wishes for, a mentor every aspiring person dreams of, and a writer who was afraid of no one. Shoaib Hashmi was the one who forced people to speak, an embodiment of his father-in-law Faiz Ahmed Faiz's famous poem Bol ke lab azad hain tere.
A multi-faceted personality, Shoaib Hashmi, who passed away on May 15 at the age of 84, was the teacher and mentor every student and creative dreams of
Shoaib Hashmi can be credited as the one who injected the first dose of satire into a nation living in a fool's paradise. If wit and humour had a face, it surely would resemble Shoaib Hashmi. With green-blue eyes, huge trademark frames and good looks, he stood out notably in a crowd.
Known as the pioneer of political satire on Pakistan Television, Such Gup — and later its sequel Taal Matol — was the forebear every such show, from Fifty Fifty in 1979 till Hum Sab Umeed Se Hain some 40 years later. At the receiving end of all of Shoaib Hashmi's skits were either the bureaucratic system, the style of education or the politicians.
Born in July 1938, Shoaib Hashmi was well-trained in theatrics. He did his Masters in economics from the London School of Economics and completed a degree course from the Royal Academy of Dramatic Arts, London. He was first seen on PTV hosting a quiz show Parakh from PTV's Lahore centre during the late '60s, long before he made a name as a writer, director and actor with comedy shows.
Despite being a professor of economics, he knew how to deliver a strong message with a straight face that could attract a large crowd with his performances. In between, he mentored hundreds of aspiring artists and inspired generations with his work.
He had an eye for talent and instantly recognised it when he found it in someone. Be it Farooq Qaisar, who had never made puppets and went on to become the brains behind Kaliyaan; Arshad Mahmud a famous canteen singer in Government College, Lahore, who became one of the Pakistan's premier composers; Javed Iqbal the famous cartoonist; Irfan Khoosat, who became an actor only because he wanted money to buy a scooter; or the evergreen Nayyara Noor, along with her future husband Sheharyar Zaidi, all were part of Shoaib Hashmi's team.
Apart from teaching and writing, Shoaib Hashmi was also associated with Midas Advertising Agency, where he worked with a fellow teacher from Government College (GC), Asghar Nadeem Syed.
"Being the son-in-law of legendary poet Faiz Ahmed Faiz, there was no escape from Shoaib Hashmi," remembers the veteran playwright. "I became close with him during my early teaching days at GC. Our rooms were next to each other and we used to meet every other day. A popular teacher, he was mostly found in the company of his students.
"Draped in a blanket in winter and a shawl in summer, over his trademark shalwar qameez, he would be dragged to chai khanas by the young ones. Shoaib Hashmi followed the precedent set by GC teachers Sufi Tabassum and Dr Nazeer Ahmed. He persuaded Abbas Shafi and Naveed Shahzad, professors of English, to do comedy on television," recalls Syed.
Asghar Nadeem's thoughts are seconded by one of Hashmi's students, Usman Peerzada. "I was struck by his personality from the day I watched him perform Shakespeare's A Midsummer Night's Dream. It was in the '60s, the venue was the Al Hamra Arts Council and the play was directed by my elder brother Salman.
"When I joined Government College, Shoaib Hashmi taught me economics, but was different from all the other teachers. We would go to a park-like place behind the college and would have a casual chat. Sometimes, students from small towns would be surprised when Shoaib sahib asked them about their girlfriends.
"As a college student, I had just started smoking and, during class, I would walk to his table and would take out a cigarette from his packet with no fear of backlash. We became quite close later, and Salima Hashmi celebrated Shoaib sahib's 70th birthday at our Peeru's Cafe. I came to know that he enjoyed it with his close friends. Unfortunately, I was out of the city and could not attend," says Usman Peerzada who says he considered Shoaib Hashmi a close family member.
Shoaib Hashmi loved connecting with the people, and that's why theatre remained the love of his life. He continued doing theatre until the late '90s. Even his skits for TV were ahead of the times. We see fashionable ladies bickering at a party or gossiping relatives in Khwateen Time, recorded half-a-century ago, or the Hello Hello skit with the gorgeous Maryam Khan.
In Such Gup, Hasnat Ahmed and Abbas Shafi used to perform a skit as two Punjabi-speaking wannabes, while Salman Shahid was introduced as the one always ready to share his stories of 'do gainday' (two rhinos). Hasnat and Abbas would blabber in English, which was something like a fourth language to them.
Banker-turned-actor Raju Jamil, who had been a part of such skits, considers Shoaib Hashmi's shows as the "father of all satire shows that followed. No one can come close to the shows produced by Shoaib Hashmi. I had visited Faiz Ahmed Faiz sahib's house many times with my father, Jamiluddin Aali, and it was where I met Shoaib Hashmi for the first time. He was a thorough gentleman and a wonderful friend," says Raju Jamil.
Shoaib Hashmi had a huge list of admirers, and many of them went on to continue his work. Shoaib Hashmi was roped in for a private TV project where kids were to be entertained by a programme made on the pattern of the famous Sesame Street. Actor-musician-singer Khaled Anam, the man who can be credited as the heir to Shoaib Hashmi as far as entertainment for children is considered, was part of the team that presented the show.
"Shoaib Hashmi had a captivating personality, and he influenced generations in many ways," says Anam. "When we were asked to prepare the Sesame Street kind of show, Shoaib Hashmi was the right person for the job. He was a huge help and was the brain behind the project.
"Politically, he was a supporter of democracy and I still remember the day when we welcomed the restoration of democracy in Pakistan, after Ziaul Haq's era came to an end. It was in April 1986, and we were all present in Shahnaz Ismail's house when the caravan of the recently returned-from-exile Benazir Bhutto passed by. We started shouting and celebrating it like hell on the roof of the house, which was quite close to Lal Qila Restaurant on main Sharae Faisal. Shoaib Hashmi was a loving figure which is rare these days," Khalid Anam remembers fondly.
Shoaib Hashmi had faced the wrath of Gen Zia, first due to being close to Faiz Ahmed Faiz, secondly for being an enlightened teacher and thirdly because of his progressive ideas. Along with 80 teachers from government colleges, he was moved to the remote city of Pind Dadan Khan for a couple of years. One can understand the joy he must have felt when he saw democracy being restored.
Shoaib sahib received the President's Pride of Performance award and also the Tamgha-i-Imtiaz from the Government of Pakistan during the 11 years of democracy, before the next martial law was imposed by Gen Pervez Musharraf.
After retiring from GC, he wrote articles for The News and Gulf News. He used the title Taal Matol for the articles that appeared in The News. Shortly after his 70th birthday, Shoaib Hashmi suffered a stroke that left him paralysed and bedridden for over 14 years.
As an orator, he could mesmerise crowds with his words and voice. It was also the reason many of his colleagues and students stayed away from calling on him during the post-paralysis days. They just wanted to remember him as the full-of-life and witty man they knew him to be in the good old days.
Published in Dawn, ICON, May 21st, 2023