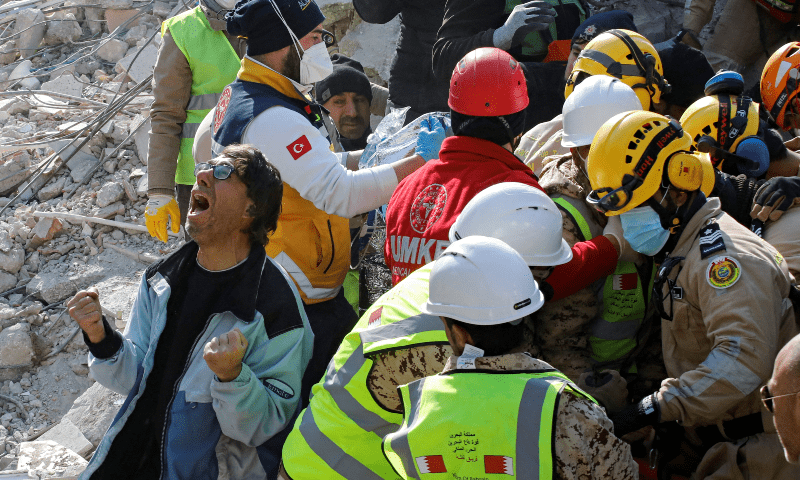 Rescue teams began to wind down the search for survivors on Monday, a week after an earthquake devastated parts of Turkiye and Syria leaving more than 35,000 dead and millions in dire need of aid.
While the focus switched to helping desperate survivors who lack food and shelter, stories continue to emerge of people found alive in the rubble seven days after the 7.8-magnitude tremor.
On Monday, a 12-year-old boy named Kaan was pulled from the debris in southern Hatay, 182 hours after the fifth-deadliest earthquake of the 21st century, Turkish media reported.
However, experts warn hopes of finding people alive are dimming.
The confirmed death toll stands at 35,224 as officials and medics said 31,643 people had died in Turkiye and at least 3,581 in Syria.
The United Nations said it expects the toll to rise far higher.
The United Nations has decried the failure to ship desperately needed aid to war-torn regions of Syria and warned that the toll is set to rise even higher as experts caution that hopes for finding people alive dim with each passing day.
"Send any stuff you can because there are millions of people here and they all need to be fed," Turkish Interior Minister Suleyman Soylu appealed to Turks late Sunday.
In Kahramanmaras, close to the epicentre, 30,000 tents have been installed, 48,000 people are sheltering in schools and another 11,500 in sports halls, he said.
While hundreds of rescue teams were still working, efforts had ended in seven parts of the province, he added.
Survivors face a lack of water and poor sanitation. In southern Adiyaman an outbreak of scabies — a skin disease known to spread in crowded areas — is affecting adults, while children are suffering from diarrhoea, local media reported.
Hatice Goz, a volunteer psychologist in Turkiye's Hatay province, said she has been fielding "a barrage of calls" from frantic parents looking for missing children.
Quake could cost Turkiye up to $84 billion
The quake has left a trail of destruction that could cost Ankara up to $84.1 billion, a business group said, while a government official put the figure at more than $50bn.
A report published at the weekend by the Turkish Enterprise and Business Confederation put the cost of the damage at $84.1bn — $70.8bn from the repair of thousands of homes, $10.4bn from loss of national income and $2.9bn from loss of working days.
It said the main costs would be rebuilding housing, transmission lines and infrastructure, and meeting the short, medium and long-term shelter needs of the hundreds of thousands left homeless.
Lack of aid in northern Syria
In Antakya, clean-up teams started to evacuate rubble and erect basic toilets as the telephone network started to come back in parts of the town, an AFP reporter said.
The city was patrolled by a strong police and military presence which authorities deployed to prevent looting following several incidents over the weekend.
Turkish Vice President Fuat Oktay late Sunday said 108,000 buildings were damaged across the quake-hit zone with 1.2 million people being housed in student accommodation and 400,000 people evacuated from the affected region.
Aid packages, mainly clothes, were opened and spread across the streets in Hatay province, according to NTV. One video showed aid workers throwing clothes randomly into a crowd as people tried to grab whatever they could.
A convoy with supplies for northwest Syria arrived via Turkiye, but the UN's relief chief Martin Griffiths said more was needed for millions whose homes were destroyed.
"We have so far failed the people in northwest Syria. They rightly feel abandoned. Looking for international help that hasn't arrived," Griffiths had said on Twitter.
Assad 'open'
In many areas, rescue teams said they lacked sensors and advanced equipment, leaving them reduced to carefully searching the rubble with shovels or only their hands.
"If we had this kind of equipment, we would have saved hundreds of lives, if not more," said Alaa Moubarak, head of civil defence in Jableh, northwest Syria.
Supplies have been slow to arrive in Syria, where years of conflict have ravaged the healthcare system, and parts of the country remain under the control of rebels battling the government of President Bashar al-Assad, which is under Western sanctions.
But a 10-truck UN convoy crossed into northwest Syria via the Bab al-Hawa border crossing — according to an AFP correspondent — carrying shelter kits, plastic sheeting, rope, blankets, mattresses and carpets.
Bab al-Hawa is the only point for international aid to reach people in rebel-held areas of Syria after nearly 12 years of civil war after other crossings were closed under pressure from China and Russia.
The head of the World Health Organization (WHO) met Assad in Damascus on Sunday and said the Syrian leader had voiced readiness for more border crossings to help bring aid into the rebel-held northwest.
"He was open to considering additional cross-border access points for this emergency," WHO chief Tedros Adhanom Ghebreyesus told reporters.
'Conflict, Covid, cholera, quake'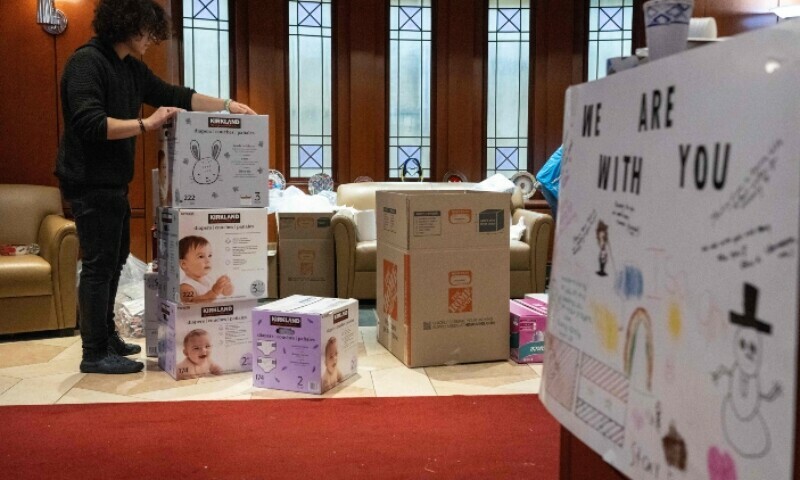 "The compounding crises of conflict, Covid, cholera, economic decline and now the earthquake have taken an unbearable toll," Tedros said a day after visiting Aleppo.
While Damascus had given the all-clear for aid convoys to go ahead from government areas, Tedros said the WHO was still waiting for a green light from rebel-held areas before going in.
Assad looked forward to further "efficient cooperation" with the UN agency to improve the shortage in supplies, equipment and medicines, his presidency said.
He had also thanked the United Arab Emirates for providing "huge relief and humanitarian aid", with pledges of tens of millions of dollars.
After days of grief and anguish, anger in Turkiye has been growing over the poor quality of buildings as well as the government's response to the country's worst disaster in nearly a century.
Three people were put behind bars by Sunday and seven more have been detained — including two developers who were trying to cross into the neighbouring ex-Soviet Georgia.
PM Shehbaz visits Turkish embassy
Meanwhile, Prime Minister Shehbaz Sharif visited the Turkish embassy and lauded Turkiye's support to Pakistan, saying that "we are like family, whatever we can do we will spare no effort at all [to help]".
Talking about aid cargoes being sent to the country, the prime minister said Pakistan was also exploring the option of sending more items via rail and would do its best to send winter tents by aeroplanes.
PM Shehbaz asked the Turkish envoy to inform the government about his country's needs on a daily basis, saying he would be "grateful" for an early conveyance so the National Disaster Management Authority could be apprised appropriately about required items.
Foreign Minister Bilawal Bhutto Zardari, Finance Minister Ishaq Dar and other federal ministers were also part of the visit. The foreign minister said PM Shehbaz wanted to visit Turkiye "as soon as that is appropriate".