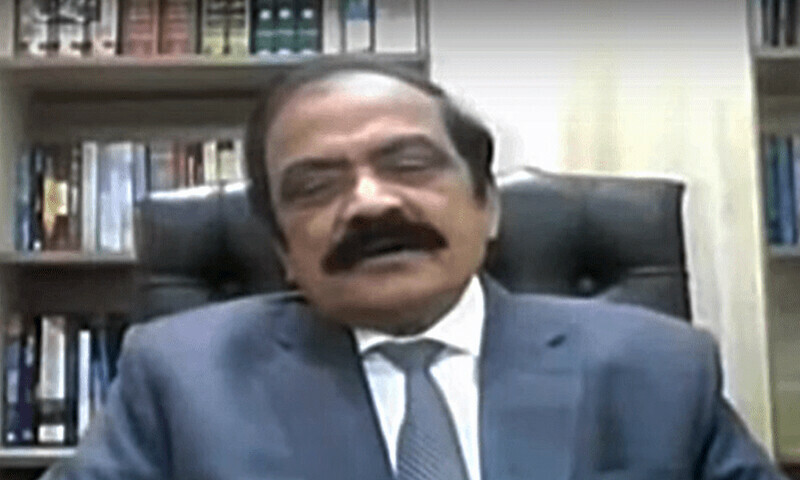 Interior Minister Rana Sanaullah has claimed that former army chief retired General Qamar Javed Bajwa and former Inter-Service Intelligence (ISI) Director-General Lieutenant-General Faiz Hameed had been "facilitating" PTI Chairman Imran Khan until their retirements last year.
Talking on Geo News' programme "Naya Pakistan" last night, the minister said: "[…] Gen Bajwa or Gen Faiz Hamid used to facilitate him — this fact is clear as day." His comments followed party Senior Vice President Maryam Nawaz's assertions on Thursday when she said the government's rule "began on November 28", the day of Gen Bajwa's retirement.
In recent months, the PTI chief has been increasingly vocal about Gen Bajwa's alleged aid to his opponents — mainly the PPP and PML-N — in his ouster in April last year, more so after the general passed the baton to his successor.
In a video address in December last year, he said: "One had hoped the new military leadership would have immediately disassociated from the eight months of Bajwa's fascist actions against the PTI, the media and critical journalists."
A day later, former Punjab chief minister Parvez Elahi had reiterated his son Moonis Elahi's statement that Gen Bajwa had nudged the PML-Q — the PTI's allies till date — to support Imran and his party.
Moreover, the former army chief had admitted the military's interference in the country's politics when, in his farewell address, he said the "army's interference in politics for 70 years" made it the target of criticism. On the same occasion, he had then announced that the military would "never interfere in any political matter".
During his interview yesterday, host Shahzad Iqbal asked Sanaullah about his thoughts on PML-N senior leader Maryam Nawaz's remarks that her party's government started after Nov 28, 2022, as prior to it there were PTI's patrons in the establishment.
The minister answered: "As you know, their (PTI's) facilitators got done in November [last year]. Before that, [he was facilitated on] how to do the long march, when to do it, where to take a stop, in how many days to reach; everyone knows all these things [so] what is something new that Maryam has pointed out?"
When asked about the cabinet's authority, Sanaullah asserted: "The cabinet was ruling as well, Shehbaz Sharif sahab was also the prime minister; all matters were [accordingly conducted] but he (Imran) was also receiving facilitation."
"This puppet (Imran) was being saved and also being made to dance. He has been dancing till Nov 26 by sometimes holding a long march or besieging Islamabad; there was some force behind it."
Answering the question of how the facilitation was being provided, the PML-N leader claimed Imran was being made to do "all agitation" and was "being provided with all the consultation".
Sanaullah then proceeded to comment on the army chief's appointment, which had become a much-discussed "controversial" issue involving the government and the opposition.
Pointing out the minute details of the PTI's long march — such as the party caravan stopping multiple times along their route, "going back and forth", "to reach on a certain date and not the other" — he claimed that all these aspects were "relevant to the appointment of the army chief".
When the host asked about the possible benefit to the alleged facilitators as they were "already retiring", the minister retorted, "Who told you they were retiring?" […] No, they were absolutely not [retiring]."
He then hesitated to elaborate upon his remarks saying: "I told you what you asked."
"No, no, they had to retire as the retirement date approached. […] The person who has gone, talking about him right now is not that [important]. It is their (PTI's) work that it was another matter when they were in power but now don't get tired of hurling abuses at them."
Sanaullah then proceeded to assert that it was because his party was in power that they "failed" Imran Khan's long marches in May and November last year.