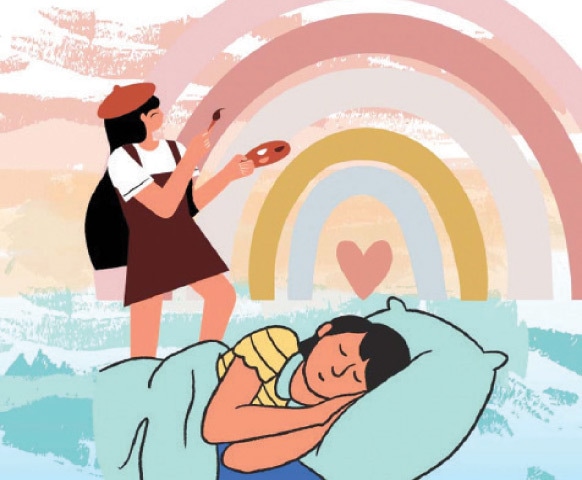 "Good evening, dear youngsters! You are all aware of the fact that we are gathered here for a cause. Dear future doctors, engineers and artists, today, I am going to request to the pride of Pakistan, the young lady, Tania, to come to the stage and share her glorious journey of becoming one of the most successful artists of our country."
As the announcement stopped, there was applause. Tania, who was sitting in the middle of the crowd, smiled and got up. Slowly she made her way towards the stage.
She held up the mike, and started: "My juniors, I am feeling grateful for such an overwhelming response from all of you. There are some very important things that I want to share with you all. I belong to a middle-class family and I was a mediocre student. Like most parents, my parents also wanted me to become a doctor, but after repeating my MCAT for two years, I failed to get admission in any medical college. I was totally disheartened, my parents felt gloomy. Everyone called me a loser. I felt like my whole life was torn apart.
"I used to cry in my room and didn't know just how to make my parents happy and how to restart my life. But one day, I discovered my inner talent — drawing.
"I was good in drawing, so that day, out of stress and boredom, I started drawing and painting, I gave vent to my inner feelings on the canvas and felt quite relieved after doing so. And I didn't stop there, I kept on drawing and painting, and over the next few days, I realised that nature has planned something different and special for me.
"My family encouraged me to show my art to the world on various social media platforms, and I did. I was nervous at the start but, when I saw people appreciating my work, I felt encouraged and pushed myself to the limits. In just a couple of months, I started my online business and it is now running successfully. Today, my paintings are exhibited and sold not only in my country, but abroad too," Tania stopped and sighed. The hall echoed with applaud for Tania's success.
Tania smiled and started again, "My young friends, from my story, you can learn to be motivated and, most importantly, be dedicated. I believe that one can do wonders in the world if he /she is self-motivated. Good luck!" finished Tania and a deafening applaud followed.
"Tania, Tania! Madam, it's already noon, when are you going to get up?" her elder sister said sarcastically. Tania opened her eyes and looked around confused.
"Oh my God, it was just a dream!" Tania said and suddenly jumped out of her bed. Tania's sister broke into laughter.
"Well, not really, dreams can come true. They just announced the result and you have won the first prize in the national art competition. Your dream is turning into reality," Tania's sister announced with joy.
"What? Really, I cannot believe this!" Tania said excitedly.
So, dear readers, don't be afraid of dreaming. Live in your dreams because big dreams lead towards big success. Dream what you want and you are halfway there! n
Published in Dawn, Young World, January 28th, 2023