THE WEEK THAT WAS
Aik Thi Laila | Express TV, Daily 8.00pm
This short, snappy serial could easily have been a movie with a little more effort, but we will take what we can get when it is this entertaining. Where is Laila (Iqra Aziz) and why did she disappear? Inspector Sajid (Yasir Hussain) and Constable Ruqaya (Maham Amir) want answers. What follows is at times hilarious and at times sentimental, but always an intriguing journey through the shifting perspectives and half-truths told by the people in the missing girl's life.
Yasir Hussain impresses as both actor and director, giving life and energy to Faiza Iftikhar's well-written script. Spot-on performances by a pitch-perfect cast and a fast-moving narrative make this an easy show to watch. The only complaint is the slip into pandering to the moral majority that had been happily ignored with unblinking, deadpan humour for most of the episodes. This is a not-to-be-missed serial that reminds us that dragging a story 30-plus episodes does not make it better, when it can be efficiently done in six.
Tinkay Ka Sahara | Hum TV, Mondays 8.00pm
Vasay (Sami Khan) is a wealthy man but his hubris and violent nature lead to the accidental killing of an innocent bystander Hammad (Haroon Shahid). Writer Zanjabeel Asim explores the aftermath of this tragedy and the way the Islamic concept of Qisas can be both a burden and easement for those involved.
Hammad's wife Qadar (Sonya Hussyn) refuses to forgive Vasay, but Hammad's greedy brother and sister-in-law convince his easily manipulated mother to accept the blood money. In an unusual turn, the writer shows Vasay as a helpless victim of a strong judiciary that will execute him without a maafi nama, something that is completely divorced from the ground reality of Pakistan's legal system. Vasay's family and the greedy relatives cut Qadar out of the equation, nullifying her legal marriage and, from next week's teasers, it seems as if Vasay escapes punishment.
Vasay's wife Hooriya had once been the chief victim of his abuse but has no qualms about ruining what little remains of Qadar's life to win her husband back. Despite the interesting concept, the writer's penchant for stretching her stories to breaking point and some equally slow-paced direction dilute the strength of the story.
Pinjra | ARY, Thursdays 8.00pm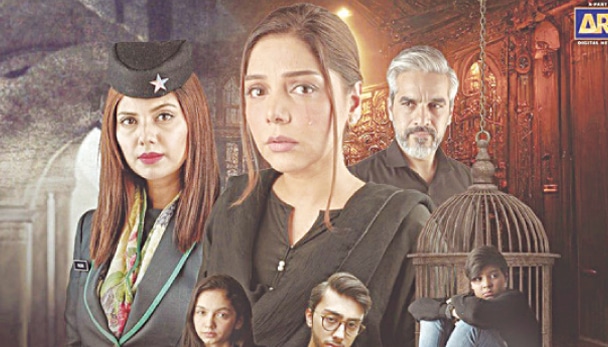 A terrible accident at a fancy private school leaves one boy dead and another accused of his murder. Abaan (Ahmed Usman) defends his sister from her secret boyfriend and drug dealer. To escape, the older boy jumps from a height and dies. So begins every parent's nightmare, as Abaan is put on trial, then remanded in an adult jail because of the wealth and strong political influence of the victim's family. Abaan's family strains at the seams and the authoritarian regimen put in by his father to ensure his children's success turns out to be their downfall.
Still, there is hope in the way Abaan manages to survive and how his siblings pull together in tough times. Asma Nabeel's incisive script is a window into the labyrinth of the flawed educational and justice system which becomes a puppet of the already privileged. This is a story that focuses on the dilemmas of modern parenting, giving audiences an alternative to the usual shaadi-go-round and zaalim saas-plot formulas. Excellent performances from Omair Rana and the entire cast do justice to the multi-layered characters.
What To Watch Out For (or not)
Pyari Mona | Hum TV, Coming soon
Sanam Jung stars as Mona, whose weight has become the biggest issue in her life. Is being skinny the only way to be pretty, or happy?.
Published in Dawn, ICON, January 22th, 2023