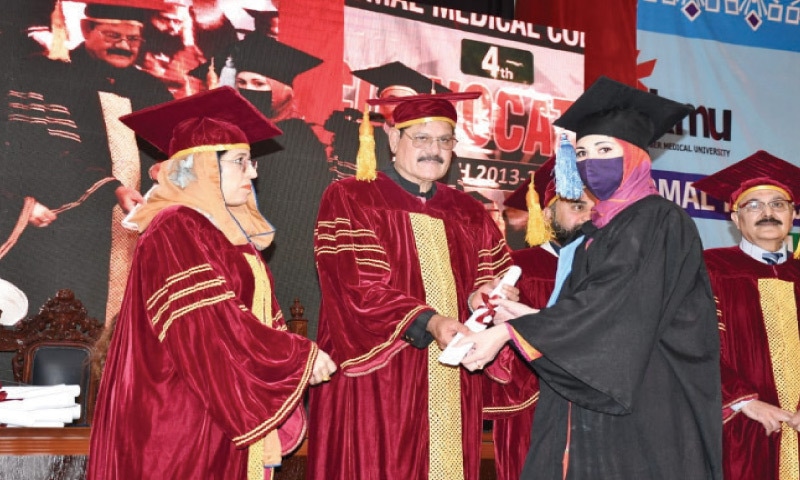 DERA ISMAIL KHAN: The acting governor of Khyber Pakhtunkhwa, Mushtaq Ahmad Ghani, has said that PTI has no problem with the appointment of chief of army staff (COAS).
"We want the appointment of COAS on merit," he told journalists after attending the convention of Gomal Medical College (GMC), Dera Ismail Khan, as chief guest on Tuesday.
Degrees of Bachelor of Medicine and Bachelor of Surgery (MBBS) were conferred on 117 graduates at the convocation. Students, parents, Khyber Medical University Vice-chancellor Dr Ziaul Haq, Commissioner Amir Afaq, Deputy Commissioner Nasrullah Khan and Regional Police Officer Mohammad Saleem Marwat also attended the convocation.
Speaking on the occasion, the acting governor urged doctors to behave politely with patients. He said that provincial government was taking tangible steps for the development of southern districts.
Acting governor confers degrees on 117 graduates at Gomal Medical College convocation
He said that government had planned to establish a dentistry college and a kidney centre in Dera Ismail Khan. He said that a cardiology centre was already approved for the district.
"We have no problem with the appointment of chief of army staff. But we want the appointment of COAS on merit," he later told journalists.
Mr Ghani claimed that the entire province saw development and prosperity in the government of PTI. "Lift Canal and DI Khan-Peshawar Motorway projects are included in CPEC," he added.
He said that the 'imported' government was a guest of few days. "We want democracy. We neither want martial law nor any other type of dictatorship. Snap election is the only solution to all problems," he added.
The acting governor said that PTI was not responsible for terrorism, financial crisis and social problems as it was the responsibility of the federal agencies and state institutions to stop infiltration of terrorists from Afghanistan.
Earlier, GMC Principal Dr Naseem Saba Mehsud said that the college was playing vital role in the field of medical education. She said that 1,677 graduates and 437 gold medalists of the college were serving ailing humanity in the country. She said that 29 foreign students were also studying in the college.
Dr Naseem said that Dera Ismail Khan had six surgeons and consultants in nephrology and urology. She stressed the need for setting up a separate urology ward and operation theater to meet the needs of dialysis patients from the southern districts and adjoining areas of Punjab and Balochistan.
She said that a kidney centre should be established in Dera Ismail Khan for which all resources and manpower were already available.
She said that GMC was the first specialised centre for Covid-19 in the country after the outbreak of the pandemic. She said that Mufti Mehmood Hospital and GMC were badly affected by the recent floods but the students showed courage and rescued not only 200 patients in the hospital but also shifted more than 400 victims safely to the district headquarters hospital and other safe places.
Dr Nassem said that GMC would organise an international conference titled 'New horizon in medical sciences' in February 2023. She added that delegates from all over the world would participate in the conference.
Published in Dawn, November 23rd, 2022