'Glamorous' is how many would describe Seemi Pasha. It's an adjective that has firmly stayed by her side from her modelling days 30-odd years ago to present times, when she's become one of TV's most popular on-screen mothers.
Back in her modelling days, Seemi tells me that debutant designers and make-up artists would splurge on a shoot with her in order to make a splash, before opting for less expensive, lesser-known faces in subsequent campaigns. Now, casting directors on TV zero in on her when they are looking for a candidate to play the rich, modern mother.
There are variations to the roles that Seemi usually enacts: the phuppo (paternal aunt) who lives in Dubai, the rich friend preaching morality, the modern matriarch with either very progressive values or with the most nefarious secret inclinations.
It is only occasionally that Seemi gets to test her acting mettle with less affluent, relatively rustic characters. Around the time I interview her, she is experiencing some of these rare career opportunities.
She was once one of the original fashion supermodels of Pakistan. Now, she is very much in-demand in television dramas as an on-screen mother. How has Seemi Pasha dealt with the transition? How does she cope with the demands of a very different kind of glamour? And what keeps her going?
"There is this one serial in which I am acting with Anmol Baloch and playing a suffering, very poor woman," Seemi tells me. "Anmol said that the director was initially apprehensive that I may be too glamorous for the part."
Seemi is, in fact, part of a whopping three serials, being shot simultaneously, where she is playing a poor woman. She tells me that she's enjoying the change in characters and, of course, the frenzied shooting schedules are all in a day's work for her. As an in-demand on-screen mom, she is quite used to ricocheting from one drama to the other, one set to the other, with barely a weekend in the middle offering breathing space.
"There are so many dramas being shot and schedules can be quite hectic. The recent rains in Karachi particularly skewed our schedules. Shoots were cancelled for several days and, now, we have to make up for the lost time by working for longer, as well as on weekends."
She continues: "There was a time when I would refuse to work on weekends. My sons were young and my weekends would be dedicated entirely to my home. But now, my sons have grown up and have children of their own. My house is in order and I don't mind it if I have to sometimes forsake a Sunday for a shoot."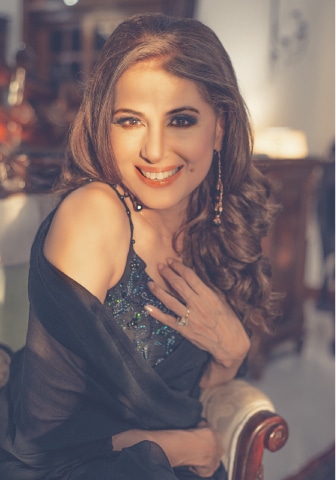 This is how my conversation with Seemi proceeds, yo-yoing from in front of the camera to the clutches of domesticity. Work and home form the cogwheels that run her life, working efficiently and hardly ever interlinking.
"I am very conscientious about keeping work and home separate," she tells me. "The key is to be very organised. In the morning, I attend to my household chores and, then, I leave for the set. Then, on returning home in the evening, I am back to making sure that everything is functioning normally. My husband and my sons would get bored if I came home and went on and on about my work!"
Her experiences as one of Pakistan's foremost models reflects in how she looks on TV: beautiful, graceful, with a spot-on fashion sense. Why, right from the beginning of her acting career, has she always been cast in maternal roles?
"I think it's because I never shied away from discussing my family life," she says. "I frequently talked about my sons in my interviews and posed with them for pictures in magazines. I did this deliberately, because I wanted to project myself a certain way. I didn't want to give people any wrong ideas about me. You know how people can be …"
Yes, we all do know, although very few actors state this out loud.
She adds, "But I enjoy playing these roles. There are different shades to every character. There are times when I have to cry on set and I am just able to do it, naturally. I'll think about something sad or about the situation in the drama and the tears will just come, especially in the first cut. It takes practice, experience.
"And I like working with diverse storylines. I have acted in comedies as well but, perhaps, serious dramas have been more successful and are therefore remembered more."
Does TV acting pay well? "Yes, but for me the main priority at this point in my life is to stay busy. I am not big on socialising and enjoy my time with close friends and family. Work gives me energy and excitement."
Does it also give her stress, though, I probe. She works with huge ensemble casts which often include certain young actors who are notorious for their on-set tantrums and late timings. How does she deal with TV's young and terrible? Seemi laughs.
"Somehow, they are always very respectful towards me. I am very punctual and particular about fulfilling my commitments. As a result, my co-actors respect me. I am allotted a shooting schedule where I don't have to wait for other actors to turn up for a scene. I am not a difficult person. I am quiet on set and I don't throw tantrums, but I do know when to put my foot down."
You make it all sound so hunky-dory, I comment to her. Seemi finds this funny. "If you're professional about your work, things tend to move more smoothly."
We snake back towards the past: did her career move just as smoothly back when she was one of Pakistan's very first models, seen on magazine covers month after month, wearing brands that have now become some of fashion's most established veteran names?
"Yes! It was hard work but I always enjoyed it," she says. "My career as a model started off accidentally. I was teaching at a Montessori for a few months and one of my friends there asked me to model for her brand. The shoot got printed in Women's Own magazine, after which I got a call from SHE magazine. I just kept getting more and more work after that.
"I got to look good, wear beautiful clothes and was paid for it — it was fun. My husband took it lightly at that time. We didn't know that modelling and then acting would become full-fledged careers for me."
She muses, "You know, some days ago, a young actress who was working with me asked me if it's better to marry someone from within the industry or from outside it. I told her that someone from outside the industry was definitely better! It's difficult when both husband and wife are encountering the same people, the same politics."
How was modelling different back then? "It's evolving," she observes. "From my own experiences, I think that we all went the extra mile to be creative. There was this one time when I shot with Frieha Altaf deep within the Khewra Salt Mines for the show Lux Style ki Dunya, and we had some very spooky experiences!
"Then, there was a shoot for a cable company, where my clothes and hair all had to be fashioned with cable. Nabila was onboard as stylist for that shoot and it was photographed by Asif Raza, and they both wound cables around me for different looks, creating a bustier, a dress, a shawl and an elaborate Egyptian hairstyle!"
Seemi continues to reminisce. "In another shoot, I worked with the late Sadia Ashraf for a diamond jeweller. She covered me entirely with black polish and then placed the diamond jewellery on me. The results were extraordinary. There are so many great memories that I have from my modelling days. Some of the models, such as Tania Shafi, Iraj Manzoor, Vaneeza Ahmed, Sabina Pasha, Sonia Mehnaz and Zoella were my favourites."
All through her professional career, she has been lauded for her beauty. Now that she is getting older, does she feel the urge to turn towards cosmetic procedures to retain her youth?
"I haven't done so yet," she admits. "I am afraid of unnatural processes, but a lot of people now tell me about procedures that work wonders…," she trails off for a moment. "The thing is, I don't obsess too much over looks. I prioritise happiness."
And what keeps her happy is the work-life balance that she has managed to master; multitasking from domestic duties to being a doting grandmother to being a hit TV mom. Despite being ubiquitous in TV dramas, she is hardly ever seen at industry soirees or award ceremonies — why?
"I do make the occasional public appearance but, yes, they hardly ever take up my free time. I have always made sure that I don't let my field take over my life, the way it has with so many of my peers. In this work, right now, even the chaiwala calls me 'Apa'. Tomorrow, if the producer kicks me out, no one will even greet me.
"Mein Waheed Murad ki tarha iss profession ki khaatir khudkushi nahin karna chahti [I don't want to commit suicide because of this profession, like Waheed Murad]. The day I stop enjoying my work, I will leave this profession without any regrets."
It doesn't look like she'll be leaving any time soon though. For as long as TV dramas will require a glamorous matriarch, Seemi Pasha will remain the foremost choice.
She acts well but, more than anything else, she wields glamour well. After all, she's had over three decades of experience doing so.
Published in Dawn, ICON, November 20th, 2022