Not many art enthusiasts had known much about Frida Kahlo until the release of the film Frida in 2002, in which the Mexican actress Salma Hayek had magnificently played the title role. She was even nominated for the best actress Oscar award for her performance.
At the moment, the Galliera Museum of Paris, already reputed for its exhibitions on unusual and often eccentric themes, is running a show of Kahlo's work. The Mexican painter, who had lived a revolutionary life until her death at age 57, created original works that no critic has been able to connect with any traditionally known art movement.
While looking at Kahlo's paintings it is shocking to realise that her birth and her entire life were followed by tragedies, although she had the courage and talent to turn these disasters into unprecedented artistic creativities. Born with a unibrow and later, as she grew up, having a faint line of hair above her upper lip, she was, in addition, the surviving victim of a polio epidemic at age six.
Later, still a teenager, she would be involved in a disastrous traffic accident which gave her a limp for the rest of her relatively brief lifetime. Spending many days in a coma in a hospital, she famously declared on waking up, "I am not dead yet and I have only one reason to go on living… painting!"
Globally celebrated Mexican painter Frida Kahlo's works and items of everyday use are on exhibit together for the first time in Paris
While still in her bed in the hospital and looking at the mirror in front of her, she would create a number of self portraits, never forgetting for a moment her unibrow and the hair on her upper lip.
When Diego Rivera, the most celebrated Mexican painter of the time, saw one of her works, he was enchanted but also puzzled by it. He lost no time in paying a visit to Kahlo and later described her paintings as "full of vital sensitivities and enriched with an unbelievable faculty of observation."
Following their encounter, Frida and Diego immediately fell in love and married in 1929. They would travel together to various foreign cities, including New York, and meet celebrated painters of the time, such as Pablo Picasso, André Breton and Vassily Kandinsky, who would all be impressed by Kahlo's creations and encourage her to keep on painting.
Later, the couple moved to San Francisco and was introduced to the American art circle. The six months spent in the city proved to be a highly productive period for Kahlo who would, still working in the United States, develop a folk-art style. She participated for the first time in an important show when her paintings turned into the most attractive part of the annual exhibition of the San Francisco Society of Women Artists.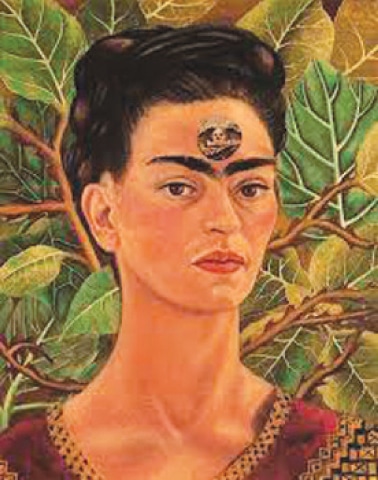 Even following her rather early death nearly seven decades ago, Kahlo's exhibitions continue to take place in many countries of the world. The cities where she stayed and worked still keep paying homage to her extraordinary talent. One street in San Francisco and quite a number of them in various towns of her own home country are named after her.
'Frida Kahlo, Beyond Appearances' is running at the Galliera Museum in Paris from September 15, 2022-March 5, 2023
The writer is an art critic based in Paris. He may be reached at zafmasud@gmail.com
Published in Dawn, EOS, November 20th, 2022