"Around Zindagi Tamasha there is a dedicated anxiety which kind of keeps happening but I'm trying to keep it at bay," says filmmaker Sarmad Sultan Khoosat over a zoom call from his home in Lahore. He has a couple of weeks' worth shadow of a beard. He is very articulate, calm and composed, but also visibly low-key stressed.
But this isn't the kind of 'positive' stress one associates with a music or a film release that's been a long time coming — this is a film that was supposed to be released two years ago. The joy and the anticipatory excitement felt by a filmmaker normally associated with film releases is missing.
Sarmad does seem hopeful, but also very cautious. And rightly so. Soon after the film's premiere in the Busan Film Festival in 2019, where it won the prestigious Kim Ji-seok Award, the crew released the first trailer of the film ahead of its domestic release in 2020.
And then all hell broke loose.
The trailer indicates a deeply religious-looking person [Arif Hassan], a naat khwaan, apologising on camera for an offence he's committed but we don't know what that is. He is heckled by his neighbours, he clearly has a tense relationship with his daughter [Eman Suleman] and his wife [Samiya Arif] is unwell — whether it's over his purported crime is unclear.
Sarmad Khoosat's 'Zindagi Tamasha' has had a very rocky history, running into political controversies and problems with its expected release two years ago. Now, as the possibility opens up once again about it making it to cinemas, what does the director feel about the film's, and his own, journey?
He's also threatened by a conspicuously religious person. What we do know is that there is a video about what the man has done that has gone viral.
A religious-political group took the trailer as a personal attack and admonishments were issued, statements were made, protests were held, censor boards that had previously approved the film, rescinded their permissions. The film's director-producer, Sarmad Khoosat, received a flurry of death threats, deactivated his social media and went underground.
He later resurfaced, slowly, and we saw him act in a play, work on an experimental acting livestream production for Justice Project Pakistan, and he released his third film, Kamli, to rave reviews earlier this year. Another film produced by his production house, Joyland, won the Jury Prize in the Un Certain Regard category at the Cannes Film Festival this year and is Pakistan's official selection for Oscar consideration. Things were definitely looking up. Except for the limbo that Zindagi Tamasha (aka Circus of Life) seemed to be in.
It didn't seem like the Zindagi Tamasha would ever find a release in Pakistan. But here we are, two years later, faced with the possibility that we will be able to see it in cinemas very soon. I don't want to give a definitive date, because with this film, you never know.
Sarmad feels the same. "I'll be honest, there is a dark shadow of a doubt which is there," he says. "With Zindagi Tamasha I also feel there is a time-space for things to be shared. So, I do fear that it's almost been three years since the postponement. Now, if I include the year we took on production of this, this film is already four years in the making and the troubles that it went through."
But the film has to be released now or never. "Either share now or completely give up on it," he says. "This has never happened to anyone, so I'm looking for a definitive conclusion and for such uncertainty to be out."
Excerpts from the rest of the conversation:
There are so many people that have opinions about what this film is and yet they haven't seen it. How has that been for you?
SSK: Initially, it was definitely fear and a lot of resentment towards what are these projected assumptions, which almost became very serious allegations — it was between disrespecting ulema, to religion in general, clerics, and then also a line or two out of context from the trailer. But a few months after this, the pandemic happened. It gave me time to reflect.
What do you think people got wrong about it?
SSK: This was some exceptional trailer cutting. It gives so much to play with for anyone who watched it. The whole thing [trailer] should be knitted in a way that it creates curiosity and doesn't give away the whole plot's summary.
With this, there were plots they thought the film had, which were definitely not there. For example, beginning with the scene where there's a DVD shop-owner and the main character and he are having a conversation. The main character says something, which is perhaps off-scene in the trailer, and the shop-owner says, "Tell me what was the last Aasia film that you have seen?"
Now, Aasia is, in fact, a legendary film diva, a leading actor from yesteryears. And conveniently they thought I was talking about Aasia Bibi. There was a whole theory that this film disrespects religion, we are politically trying to make some [noise] against the TLP [Tehreek-i-Labbaik Pakistan], and hence, in comes blasphemy, in comes Aasia Bibi — it was as bizarre as that.
And of course, there are mentions of things in trailers. They are not essentially supposed to be the main theme line. For example, there's a thing about how a person says, "Ierray maulvi bachay baazi kartay hain." [What about those clerics who molest children?]. And suddenly everybody thought, 'Oh that's the theme of it'. How can a line become the theme of the film? Also, haven't we read all that [child molestation] in newspapers? It's a conversation that's extremely uncomfortable but that conversation happens.
Then, there was a poster in which Eman Suleman is standing behind Arif Hassan [who plays the main character] and she has this chaadar draped over. And suddenly the whole situation was also analysed as if there was some incestual rape involved or something.
That is so bizarre. How did you end up countering all of the wild theories people had?
SSK: I mean, what are people projecting? We also took all sorts of chaotic routes to debunk it, counter it, beginning with many prominent journalists that were dissecting it. Then Abba [actor Irfan Khoosat, Sarmad's father] went on this live show [Zara Hat Ke]. The whole thing had really hit the fan. Abba was scared, he was nervous. So, his go-to technique to resolve that was to give the whole plot away.
But at that point even I didn't know what turn life would take. Then we prepared for a release another two years later, which was earlier in March, which was postponed for completely different reasons.
I want to say, on the record, that no this film is not going to give you a thorough counter-narrative on extremism. It's not that angry or stabby a film that I'm spewing hate against extremism. Yes, I hate extremism but I was also scared that the whole identity that the film has now, the narrative around it, I don't know if it lives up to it.
But, no, of course we're talking about blasphemy. [But] it's not about questioning the law. I don't think I, as an artist, am in a position or at a stage in my life where I start talking about it. No, it's not child molestation. No, it's not about incest.
It's like you're being forced to give the whole plot away.
SSK: I really don't know how to honestly debunk everything about the film. And then you know, again, the 'funding' narratives. It's a small indie film and with the kind of millions of rupees worth of publicity it got, [there were people saying]
Aap ko tou kisi NGO ne support kiya hoga. Bahar ka paisa [you must have been supported by some NGO, foreign funding] etc.
Producers in any other country would be over the moon with the attention the film got.
SSK: Allah bhala karay aur Allah hifazat mein rakhay [God bless and keep safe], I don't wish it upon the worst of my foes or enemies, what we had to go through.
I know you disappeared for a while but when did you feel like it was okay? When did the sentiment or vibe change and you felt it's safe for you to release the film?
SSK: It took a while. It took the whole of 2020. What really gave me a nice distraction, a focus shift, was Kamli. I had shot it right before the first intended release of Zindagi Tamasha. I started working on the post-production of Kamli and felt like, now, just let Zindagi Tamasha be.
Around 2021, when life started getting back to some form of normal, post-pandemic, I think it was something like a reclaim, a re-owning of hope. This is still my film. It can't be dumped like that. And [distributor] Nadeem Mandviwalla came into the picture and he showed interest in releasing it. That made me confident. But yes, it took about a year or a year-and-a-half to really recover from it.
It is very courageous of you to restart activity around releasing the film, after getting such immense hostility, death threats and backlash that had forced you to go underground after the initial trailer launch in 2019.
SSK: Bizarre things also happen. Not-so-much-a-gentleman had given a statement that this film would release over his dead body. And one year later, he passed away.
It was around the same time that the film had been sent for Oscar consideration, without ever having been released in Pakistan.
SSK: I remember, Sharmeen [Obaid-Chinoy, the president of the committee] and I having a conversation. I told her that she needs to delay this, because the timing is very weird. The timing is almost bizarre and insensitive. I'm not rejoicing over this.
What did the censor boards want censored in Zindagi Tamasha?
SSK: With Zindagi Tamasha, all three censor boards never had any video cuts in it. They just had beeps because we used strong language in a couple of places. Those I was willing to let go of, and beep away. My only problem was I referenced some of his [Not-so-much-a-gentlemen's] really iconic slurs, because I thought they had become a part of our popular colloquial language. I didn't think that was offensive. I'm not really pointing a finger at him. They have become memes. It's a commentary.
For cuss words in the film also, my thing was, Punjabi men are having a spat, a proper brawl with each other. What are they going to do? Do maan behen ki gaali. That's what they're going to do.
Did you have to make any changes or re-cut the film for it to finally be released now?
SSK: It's unheard of that you get so much time with your finished cut. I got three years. I took a cut to Busan which was really long. It was about 2.5 hours long. I brought it back. I had some time before the Pakistan release. I edited some bits out. I'm one of those people that usually hates it or I just see the flaws. I think I grew an objective distance from it also.
Now, in a way to re-own it, and also considering attention spans, I have re-edited it, but not because of any censor constraints. I wanted to bring the duration down, so now it's a two-hour long version.
Whatever the censors demanded were very few audio beeps. Those were incorporated happily. It does take away from the texture, but it doesn't harm the overall narrative.
With Zindagi Tamasha unable to find a cinematic release for almost two years, were you ever tempted to release it on any major streaming platform?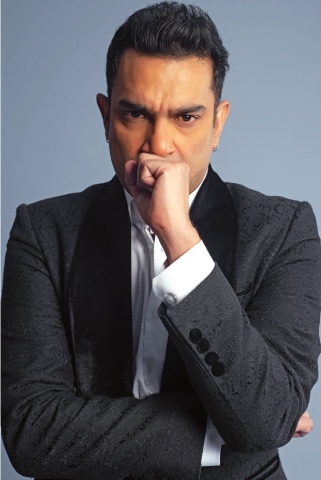 SSK: For someone who has done TV all his life, for me, this film was very important. Manto was an accidental film. This was technically my first feature film. For me, a film is not just what I've made but the experience that is around it.
To give up on a theatrical release came with a lot of hurt and heartbreak. I started pitching it to leading platforms through aggregators but that's another convoluted, very discouraging route. I do think these [platforms] give an audience an access which is otherwise not possible.
I made this film to be seen. And even if it takes putting it on YouTube now for people to watch it. Money I've lost, I've mourned my whole journey with it, is done. It's there, I want people to watch it. I did become very emotional at some point.
Did you ever come close to pushing that 'publish' button on YouTube?
SSK: I think we even ended putting it up as a private link. We put it on a private link on YouTube because of one festival that had a problem accessing our other links. I kept telling Nadeem, my post-production guy, "Push the button. Publish it." [At least] If nothing else, that would pacify, and let them [those protesting against the film] be disappointed that this is not what they were thinking.
Are these films — Manto, Kamli, Zindagi Tamasha, Joyland etc — purely a labour of love or are they also commercially productive as well?
SSK: I would love to believe that that kind of added joy comes with them, but no. That is why I tried to contain the budgets for both [Kamli, Zindagi Tamasha] of them. Geo financed Manto. But that too was not a very expensive film. Kamli barely broke even. We didn't get any money. Perhaps we should've re-strategised things and gone for a global release.
The main point of beginning this journey is labour of love. And that's why I oscillate between [thinking] 'This is my free world where I do what I want to do', and then 'I'll pick up some TV work to make ends meet'. At least with these films so far, the commercial aspect has not been the most encouraging.
Now that Zindagi Tamasha is due to be released, what will you be working on in the near future? Do you have a new production lined up?
SSK: God forbid, if this time round something happens… if it's halted or stalled again. Zindagi Tamasha has given me a mental block, too. I want it to be out of my system. I still feel like making a film is still, time and energy wise, the least demanding of the jobs. This whole releasing, promotions and all, they drain something out of you. It's not the most likeable part of the job.
We released Kamli earlier and now we have two more [Zindagi Tamasha and Joyland] releases. After that… I've been working on things, ideally it is another feature film, somewhere brewing quietly, sometimes bubbling quite ferociously. It's happening.
Do you think it's dangerous being a filmmaker in this day and age in Pakistan?
SSK: It's dangerous to be honest. It is. And not just in my line of work. Unless you've tempered your intentions with something — then you're fine. But anytime you're being honest, there would be antagonism, unnecessary criticism etc.
A few years ago, I thought it's only criticism, the things people say, and you can cut them off sometimes. You are affected by them but you find your own solace somewhere. I never associated the word 'danger' with my journey but, yes, it has become dangerous.
Published in Dawn, October 23rd, 2022