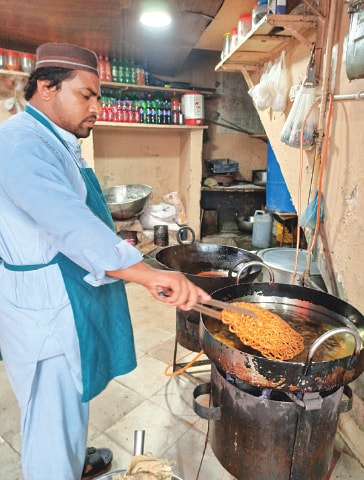 While upsizing a meal is a popular option at most international fast food franchises, how does one react to the sight of an upsized version of the jalebi, packed in what looks like a regular-sized pizza box?
Scratching your head? It does exist — I can assure you of that.
I first heard about the jaleba from a friend, who orders it quite regularly along with others in his school teaching staff. Then, I heard another friend waxing eloquent about it, and that's when I decided I had to visit the place and see for myself what the fuss is all about.
The source of the jaleba is situated right in front of the landmark barbeque and nihari restaurant Ghaffar Kabab House in Karachi's Delhi Mercantile Society, a stone's throw away from the Ferozabad Police Station. Upon reaching the place following the directions of my friends, at first I was left a bit confused, because there are two similar sounding outlets facing each other — Burhani Good Luck Foods (BGLF) and the Real Good Luck Food by Sheikh. And both make jalebas.
You've heard of common jalebi but there exists another in Karachi, the big daddy jaleba, that comes in its own pizza-sized box!
But since the latter only caters to orders placed for events, or prepares its version of the jaleba only if you place a takeaway order over the phone, and the owner was also unavailable on the day of our visit, the only option left for the photographer and me was to try the jaleba at BGLF.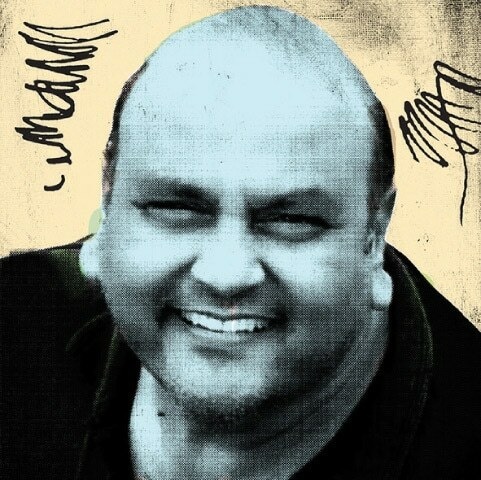 The jaleba batter is like any other jalebi batter and the process is also exactly the same. The only difference lies in its humongous size. So why the need to make a bigger jalebi, you ask? Well, someone, somewhere, probably got just a wee bit bored making regular jalebis and decided to go rogue and invent the jaleba instead. Blame it on a kink!
The big daddy jaleba comes in its own cardboard box and is available for the princely sum of 300 rupees. In these inflation-riddled times, it's certainly not for the faint-hearted. As for how it tastes, well, it is just as sweet, crispy and syrupy as any well-made jalebi. The only difference is in the size, otherwise take my word for it, a jalebi known by any other name (read: jaleba) is just as sweet.
And if things get a bit too sweet for your taste buds, there are always the yummy-looking savouries at BGLF to change the taste in your mouth.
So embark on a jaleba adventure and remember to take your family or friends along. You'll certainly need all the help you can get to polish off this giant of a jalebi.
The writer is a member of staff. He tweets @faisal_quraishi
Published in Dawn, EOS, September 4th, 2022