"Note my name, please. I didn't get anything to feed my family," Sahib Khatoon urged Dawn. Zahida Naich interjected to concur with her viewpoint. When asked about accounts of their ordeal, these flood-affected people were under the impression they were speaking to a government representative compiling data to provide them succor.
Some minors virtually demanded money. Haggard men waited for boats to take them to the water-sieged areas to provide food to their family members, who stayed back to protect their properties. According to a displaced woman, those operating the boats were themselves stealing. "They are trying to get anything they can lay their hands on," she says.
These people, on a hot and humid Saturday, were being evacuated from Khairpur Nathan Shah, a city of Dadu in the north of Sindh around 200km from Hyderabad, ravaged by torrents from Balochistan and incessant rains.
Read: Satellite photos show extent of flooding in Pakistan
For the past few days, the N-55 part of Indus Highway has remained cut-off from the rest of upper Sindh as well as Balochistan and Punjab provinces. This strip beyond the signboard of Goth Yusuf Naich remained virtually closed. Marooned men, women and children were being ferried to safer areas along with their goats.
Khairpur Nathan Shah is witnessing the same fate it did during the 2010 super floods.
Boats are being commercially run; their owners appear to be making an extra buck while "cashing in on" the miseries of the flood-hit population. Those who left the city even before the deluge hit ended up on the roadsides of Indus Highway along with their livestock and cattle so they could frequent their villages. Each person is charged Rs200 per trip and, according to another local, "if you book a whole boat you may have to pay Rs25,000".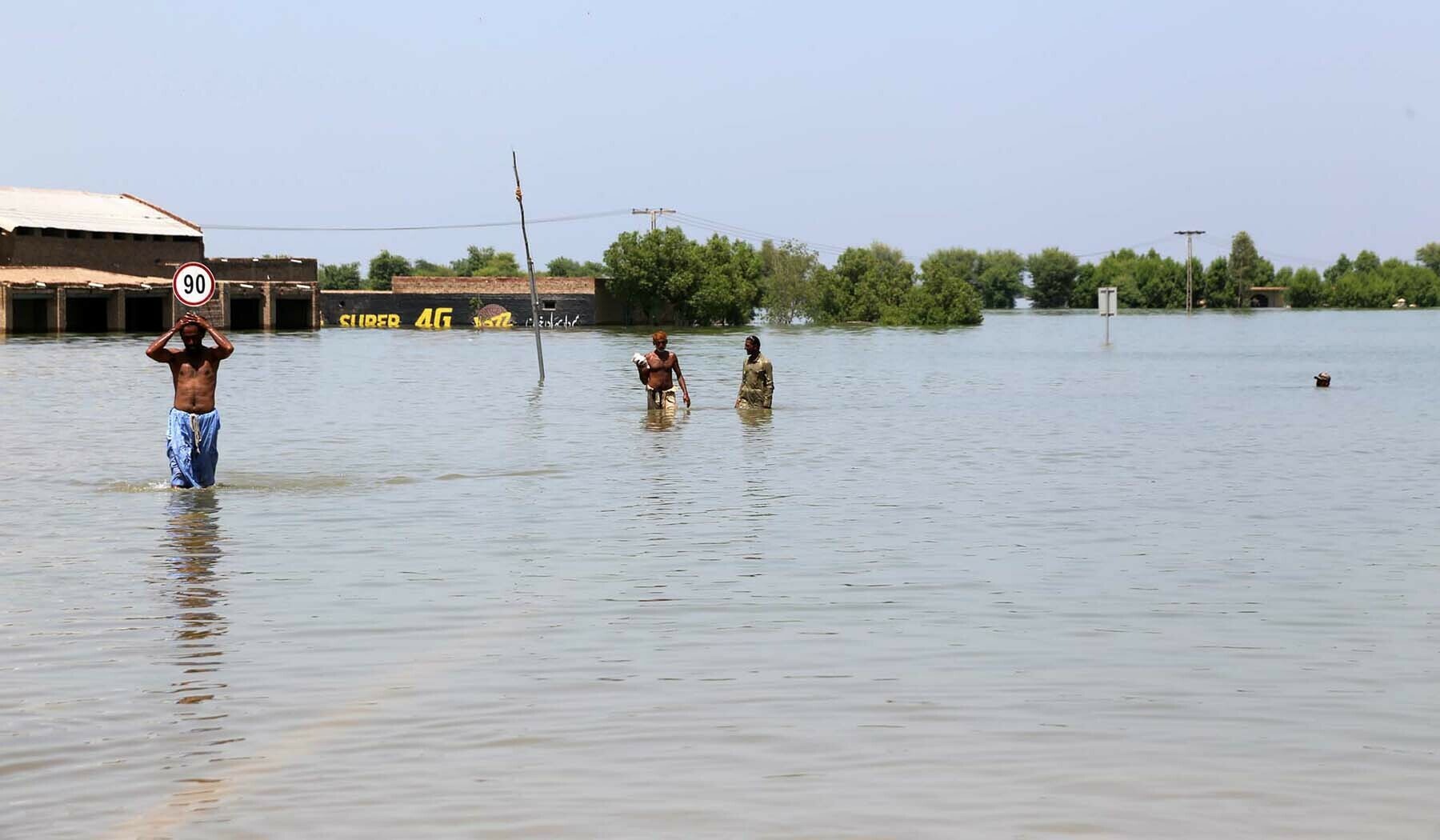 The dwellers feel that in view of the 2010 floods, the deluge in the city would take a considerable time to recede and once Manchhar Lake is offloaded into the river. They aren't wrong, but the Indus is swollen and passing through the peak of a second high flood of over 0.5m cusecs.
"We are left to fend for ourselves," screams a woman while beckoning me in Seraiki. A naked-eye observation shows the water could be around 10ft deep.
Volunteers of charity organisations were present in the city but felt handicapped in providing assistance to the marooned population — a major chunk of which has left, though several hundreds are still said to be staying behind for some reason. "It is difficult to enter the area with huge quantities of ration bags of 25kg each," said Abdul Karim from a charity organisation.
Also read: Flood aftermath: Tired of being cut off, residents forge their own path in parts of KP
Many locals moved towards Hyderabad and other districts after having been displaced by floodwaters, which submerged Khairpur Nathan Shah after breaching the Flood Protection Bund that otherwise protected the upper Sindh districts.
Amir Ali Jokhio, a resident, put the estimated trap­ped population at 50,000. People were staying in patches of dry land or elevated surfaces in villages. Electricity supply was affec­ted except for those with solar facilities.
The rescue operation in the area was, apparently, hit by a lack of coordination. "Rescuers need a coordinated effort, which seems missing," Jokhio added. He believed local volunteers were there to guide officials in the affected area, but their services were not being utilized in the desired manner.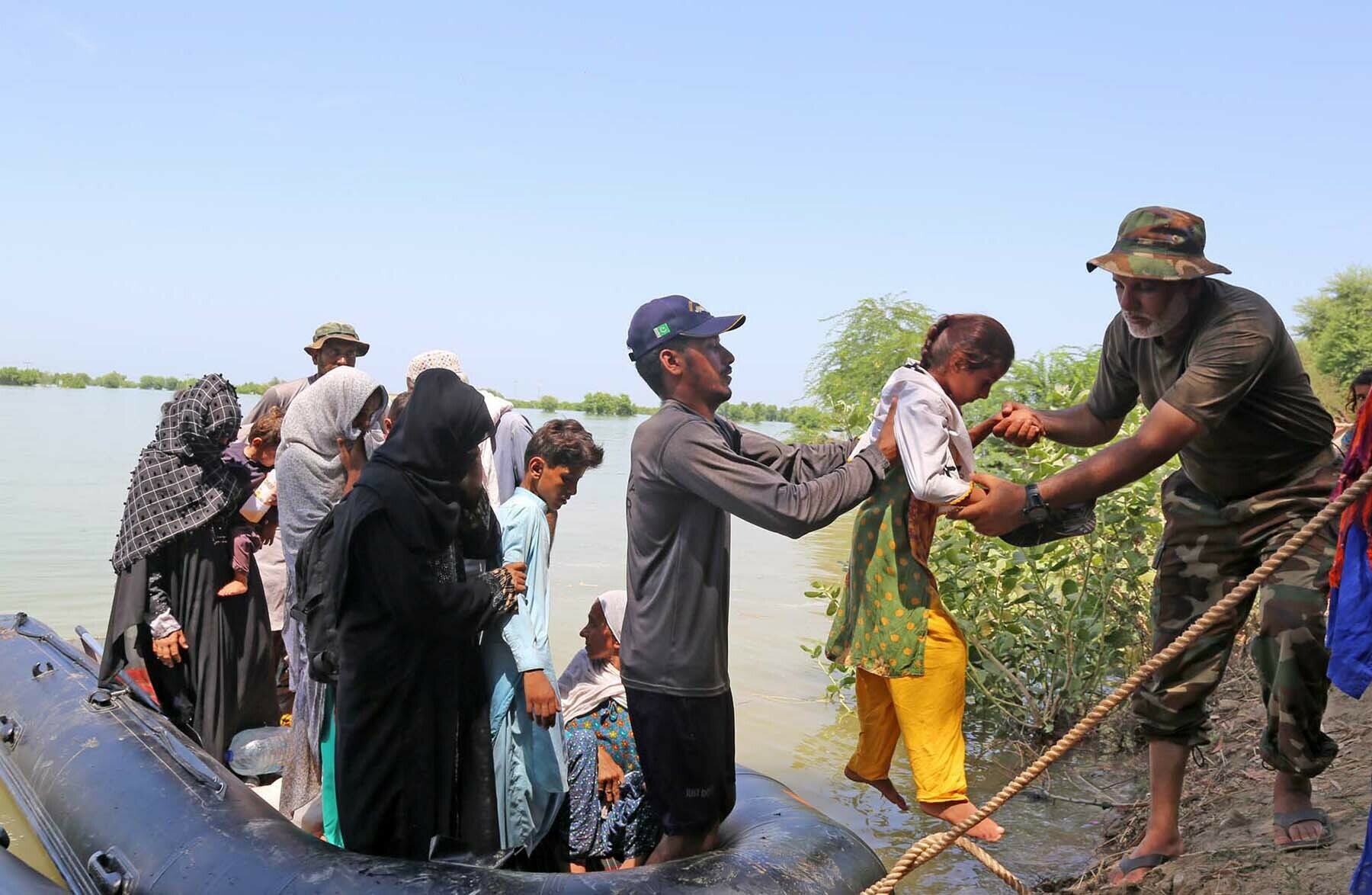 "We have rented a tent for Rs200 per day to shelter ourselves and our cattle. Animals need fodder which I bring from another area," complained a young Moin Naich. "We were lucky we left our village Arzi Naich on time, but ended up on the road under the open sky," he bemoaned.
Rangers personnel were there. So were navy officials with a couple of hovercrafts for evacuation. One official was overheard telling a resident, "Given its shape, a hovercraft cannot access narrow streets. But our smaller boats are rescuing people and we are trying to enter with hovercrafts from another location."
The National Highway is witnessing heavy traffic with long queues of vehicles since closure of the N-55 stretch of the Indus Highway.
Back when he was the Sindh government's planning and development adviser in 2010, economist Dr Kaiser Bengali had suggested solutions for facing disasters of such epic proportions. But to no avail.
"Torrents need to be channelized and trained horizontally. We had discussed Sindh's left bank's drainage issues as well in the Hakro river context [in lower Sindh]. Sadly, I feel after six months we will forget this flooding and its fallouts like we did in 2010," he said disappointingly.
Sindh Provincial Disaster Management Authority Director General Salman Shah suggested: "Water is to be drained out. The irrigation department is pondering over how to dispose of it through its natural route. The Indus is already in heavy flood Sukkur downstream. Such huge quantum of water standing in KN Shah won't evaporate, while people need relief."
Published in Dawn, September 4th, 2022