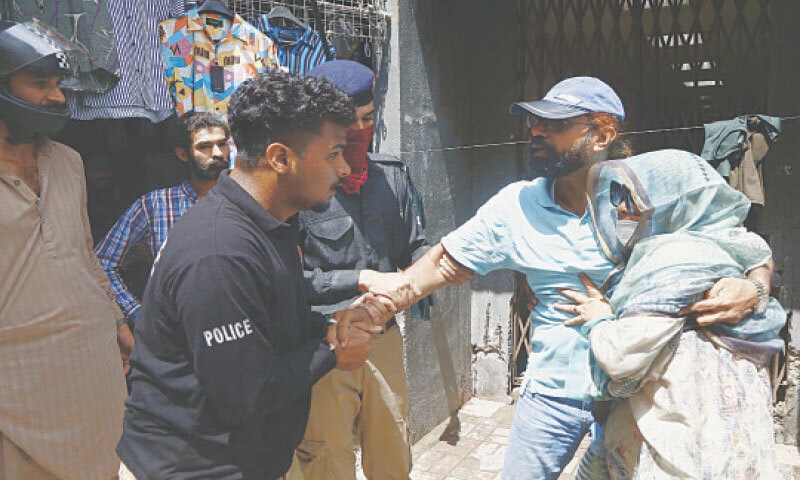 KARACHI: Seventeen activists of the Altaf Hussain-led Muttahida Qaumi Movement were arrested after they, along with scores of women and children, tried to hold a demonstration outside the Karachi Press Club for release of missing persons.
Saddar SP Ali Mardan said that former MPA Nisar Panhwar and 16 others were arrested and booked under Section 147 (rioting), 149 (every member of unlawful assembly guilty of offence committed in prosecution of common object) and 153 (wantonly giving provocation with intent to cause riot) of the Pakistan Penal Code at the Artillery Maidan police station.
Requesting anonymity, another police officer told Dawn the protesters carrying portraits of MQM founder Altaf Hussain raised slogans in his favour and delivered "provocative" speeches. "Since [carrying] pictures of Altaf Hussain is banned, the area police took into custody 17 persons and lodged an FIR against them," he said.
Earlier, witnesses said that scores of MQM-L workers and supporters, carrying national flags and placards converged outside the Karachi Press Club. They were led by former lawmaker Nisar Panhwar and seasoned politician Momin Khan Momin.
The protesters chanted slogans like 'Long live Pakistan, Long Live Pakistan Army and Sindh Rangers', 'Consider Mohajirs as Pakistani as well!', 'Give us an opportunity to celebrate Independence Day!', 'End ban on our Quaid!', 'Remove restrictions and open the gates of Nine Zero!', etc.
"We want to tell the institutions that we have given sacrifices for the country," said speakers, adding: "We have never spoken against the institutions as we respect all institutions of Pakistan."
They demanded that they be 'forgiven' like former president Asif Zardari and former prime ministers Nawaz Sharif and Imran Khan.
However, a heavy contingent of police deployed around press club took into custody many protesters.
Meanwhile, the coordination committee of the MQM-London said in a statement said that the MQM was not allowed to hold a 'peaceful' protest on the occasion of Independence Day.
Terming the police action against protesters 'double standard', the party said those who used foul language against Pakistan Army and national institutions were allowed to hold rallies while MQM-L workers despite carrying national flags were not allowed to hold 'peaceful' demonstrations. The party demanded immediate release of the held workers.
Protest in Hyderabad
A fairly large number of women, men and children gathered outside the local press club to hold a demonstration for the recovery of missing persons.
The supporters carried placards and chanted slogans in favour of Altaf Hussain. They carried national flag as well as party flags. They left the scene after a few minutes of activity Police and Rangers were present there but they did not chase the protesters.
Published in Dawn, August 15th, 2022