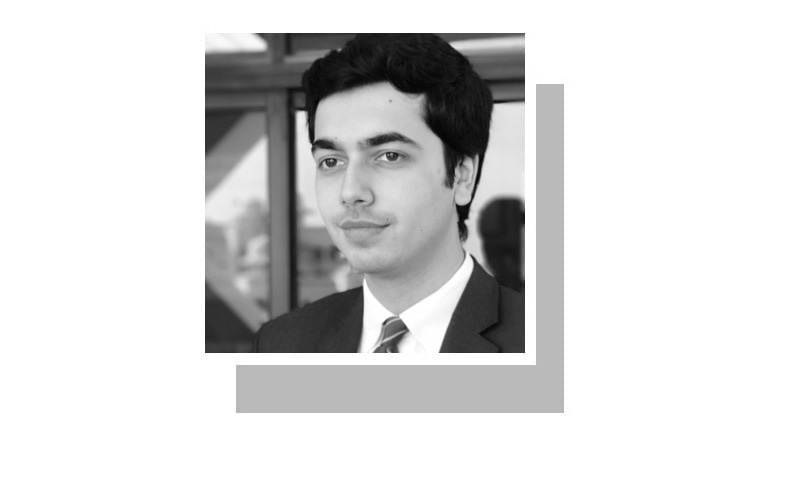 THERE'S an old story from 1989, about a vote of no-confidence not unlike the last one. As the move against Benazir heated up, and the Punjab gormint packed away its MNAs in Murree resorts, one gentleman flipped, only to flip back.
Crying 'bachao, bachao,' Khurshid Cheema, the hon'ble member from Sialkot, dashed from the Muslim League benches to the safety of the PPP's. He said his life had been threatened. Nawaz Sharif, who never saw a PM he didn't try to hurl overboard, went ahead with the vote anyway. It failed. Benazir survived, only to fall seven months later.
It's something of the same story today. Throughout our history, the minus-one dance has been a three-step rumba: step one is to have the allies break away. Step two is the establishment installing a visionless, power-hungry patsy, who can lend a fig leaf of political representation. Step three is to keep the forever-IMF-ers in reserve, to fend off the economic crash that will likely result.
Read: After SC opinion on Article 63-A, what's the status of Punjab CM election?
On that note, the hallowed name of Hafeez Sheikh is already ringing from our bell towers for the millionth time, a green light for more loans to pay off the loans we took for our earlier loans.
The dissidents' issue shouldn't have made it to court.
Scoring all three steps will be a slew of cases in the Supreme Court, which is where our political class resolves most of its parliamentary business. The latest question, one that should have never made it to the court, is the role of the dissident voter. Depending on where one stands, those that revolt against party boss are either feckless lotas, or conscientious objectors. But the Supreme Court's short order, issued recently, may still be standing when today's tug-of-war has died down. Hence this piece.
To recap: around the same time as when the PTI government came under threat from a vote of no-confidence, the president sent a reference to the Supreme Court. Islamabad wanted its opinion on two questions about Article 63A: whether an MNA voting against his party's direction could be disqualified for life, and whether his vote, tainted as it was, could even be counted in the first place.
Neither conclusion is written in the law: Article 63A says that members who vote against their party in four scenarios — election of the PM or CM, votes of confidence and no-confidence, money bills, and constitutional amendments — may be de-seated if the party head so chooses, via the ECP. The defector can appeal to the Supreme Court.
Read: ECP de-seats 25 dissident PTI MPAs for defection
That's about it. In the entire life of 63A, not a single one of our lawmakers' debates — from those of Mian Sahib's men in 1997 to Raza Rabbani's in 2010 — say that the vote shouldn't be counted. Nor do any of the law's previous versions: not in 1962, and not in 1985. The closest thing is a long-repealed law on votes of no-confidence from the Zulfi Bhutto years (Article 96), which said that a member's vote would be discarded if the majority of his party hadn't also voted against the PM.
Not only was the law scrapped — finding no mention in our current Constitution — it was widely bashed by the members at the time. "The limitations … are so extensive, so unheard-of," said Bhutto's ex-law minister, Mahmud Ali Kasuri, on March 5, 1973, "that once a person has become the prime minister, it will not be possible to remove him."
Jinnah aide Shaukat Hyat went further: "A suggestion came that we will soon give up that monstrous suggestion of depriving [the] representatives … aren't they going to their electorate to do their duty to the sovereign people of Pakistan … or are they going to do their duty just to a handful of waderas or party lords?"
The Supreme Court has disagreed: by a 3-2 majority, it ruled that dissident votes won't count. "Defections rightly stand condemned as a cancer afflicting the body politic," the short order holds. "They cannot be countenanced."
The court has linked 63A with Article 17, and the rights of political parties. Yet those parties are made up of members themselves, all of whom come with the right to dissent. Not least, cancelling out such votes would mean rendering much of Article 63A redundant, making the only parliamentary means of removing a prime minister near impossible, acting as a steroid shot to the party head, and upending the backbencher for good.
But supporters of the majority ruling gesture out the window to a Pakistan in meltdown and a rupee in freefall — courtesy defectors as honourable as PTI-Sugar's luckless stooges (rightly de-seated by the ECP on Friday). All said, the last vote of no-confidence is proving to be some of the dumbest shadow-engineering this country has seen in years.
What of exceptions though — of actual idealists? When this writer made the case for a member in the vein of M. Hamza, the incorruptible member from Toba Tek Singh, undaunted ally of Fatima Jinnah, lone voice in the assembly against bolstering religious offences, and fierce critic of every single treasury bench, from Ayub's to his own, a colleague laughed, "This country lost its Hamzas a long time ago." Nevertheless.
The writer is a barrister.
Published in Dawn, May 22nd, 2022