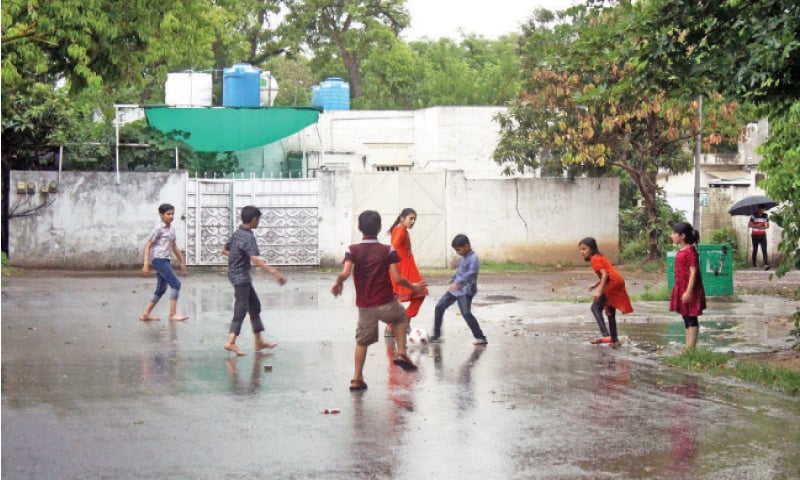 RAWALPINDI: Heavy rain and strong winds lashed the twin cities bringing the temperature down from 40C to 28C, however, life was thrown out of gear.
According to the Met Office, both cities will continue to see rain from time to time until Tuesday. Rainfall started at 4pm. Gusty wind sat a speed of 80 kilometres per hour (40 knots)blew away some temporary shelters and trees.
The office recorded 3 millimetres ofrainat Chaklala, 1mm at Shamsabad in Rawalpindi and 3mm at Islamabad International Airport and 2mm at Zero point in Islamabad. According to an official, a westerly wave is present over upper parts of the country and likely to persist during the next few days.
The weather advisory stated that this wave will persist till May 24 and will lead to rain, dust and thunderstorms in Islamabad, Rawalpindi, Chitral, Dir, Swat, Mansehra, Kohistan, Abbottabad, Haripur, Peshawar, Swabi, Nowshera, Kurram, Kohat, Waziristan, Bannu, Mianwali, Sargodha, Khushab, Attock, Chakwal, Jhelum , Hafizabad, Mandi Bahauddin, Sialkot, Narowal, Lahore, Sheikhupura, Faisalabad, Jhang, Toba TekSingh, Kashmir and Gilgit-Baltistan (Astore, Ghizer, Gilgit, Diamer, Hunza and Skardu) particularly during afternoons and evenings.
The temperature will drop during the forecast period in most parts of the country, the advisory stated, adding a relief from the heat wave is expected in most parts of the country however water stress will continue.
Wind storms may damage vulnerable structures in upper Khyber Pakhtunkhwa, Islamabad, upper Punjab, GB and Azad Jammu and Kashmir during the forecast period.
The highest temperatures recorded were: 49C in Jacobabad and Dadu (49C), and 49C in Sibbi, Mohenjodaro, Larkana, DG Khan and Rahim Yar Khan.
On the other hand, frequentpowercutscontinue to be a problem for residents especially during the night. According to officials from the Islamabad Electric Supply Company (IESCO), the rain andgustywindswere the reason behind the frequent power cuts.
It must be noted though that the power cuts have been happening even before weather conditions changed.
Published in Dawn, May 20th, 2022