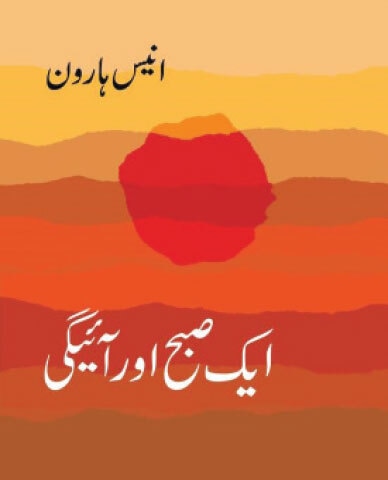 The pangs do not subside easily when a new country is birthed. Midnight's children could feel the trauma years later, coming of age as they did in the 1960s and witnessing new agonies the country went through.
Former caretaker provincial minister of Sindh, Anis Haroon, was one of them. She belongs to the first generation of political activists in Pakistan, who utilised all available channels of communication in order to connect with the common people in Pakistan.
Be it journalism, Haroon was there. Be it the struggle for defending human rights, she was — and still is — at the forefront. When she witnessed the abuse of women's dignity and violations of their rights, she took up the challenge. By teaching and writing, she passed the torch to the younger generation. While doing all this, how could she not associate with peace activism in South Asia? So there she was, as a flagbearer of harmony among neighbouring countries.
Among Haroon's earlier books is a compendium of real-life stories titled Bara Hai Dard Ka Rishta [Great is the Relationship of Pain], and her autobiography Kab Mehkay Gi Fasl-i-Gul [When will the Flowerbed Flourish].
Her books reflect our times in Pakistan, particularly in Karachi. When the military dictatorship of Gen Ziaul Haq threw this largest metropolis of Pakistan into a conflagration of ethnic strife, by directly as well as indirectly promoting conflict, Haroon was one of those fearless activists who challenged the strong arm of authoritarianism and violence.
>
Then, in the 1990s, when the city was going through the worst violence in its history, Haroon led members of the Women's Action Forum (WAF) and the Human Rights Commission of Pakistan (HRCP) into the dark alleys of Karachi as they sought to meet the women affected by the violence.
Bara Hai Dard Ka Rishta documents harrowing stories of the families that were shattered by the senseless violence of mid-1990s Karachi. Just two years — 1994 and 1995 — took the lives of more than 3,000 people, sending their families reeling from one unspeakable tragedy to another. Many homes lost more than one member.
Haroon embarked on a journey to meet the women who had lost their brothers, fathers and husbands to violence. Most of those killed were political workers, but many others — who had no political affiliations — also died.
Haroon collected these stories by meeting women in courts, in the corridors of jails, in their dilapidated shelters and on the streets. Some of the women had nowhere to go, and had resorted to making garbage dumps into makeshift homes, where they could put their children to bed.
In those earlier stories, Haroon commands a gripping writing style that compels one to keep reading. Her diction moves you to tears, unless you have a heart of stone. Women and children, whose male family members received dozens of bullets in front of their eyes, opened their hearts to Haroon, who had the strength and the will to put it all down on paper.
In a sensitive reader, the poems will arouse anguish. For an activist, they will serve as a prompt to raise voices.
Haroon's latest book, Aik Subha Aur Aeygi [Another Dawn Will Come] is a poetic version of the horrifying stories she knows. A sensitive storyteller and poet who experiences life with all its harsh realities, the poems are, in a way, a narration of her own pains and she is sharing them with readers. Her verses clearly show threads of an active life, of a busy journey, but rather than revolving around just herself or her family, they embody the sorrows of an entire generation in Karachi that was left widowed and orphaned.
In a sensitive reader, the poems will arouse anguish. For an activist, they will serve as a prompt to move and raise voices in protest. Take, for instance, this loose translation:
This is Karachi/ Severed arms, decapitated torsos
The city has to visit the graveyard everyday/ It is tired of bringing up bodies
Wants to rest for a while/ But no, there is no respite
Here, you can feel the contortions of a city struggling with itself, and at the mercy of the powerful. Haroon delineates a picture that is vivid and vitiating, showing people who struggle to survive, but whose vitality is sapped by the violence imposed on them. When Haroon sheds tears, you can't hold yours either. Even so, her poetry also tells the story of humanity's strength, that pushes people to live on, and live with hope.
She also exposes those who get pleasure from their victims' miseries:
We have won/ And we have destroyed
Children's joys/ And future generations
And the sanctity of the soil/ We trade in death
And the pale faces of the sick/ We promote pestilence
And beg in the name of self-reliance/ We have won
These and many other poems echo the pangs of the people. Reading Haroon is like listening to the cries of a sensitive soul that can be anywhere in the world. There are many who have written and preserved the sad saga of Karachi, but the profundity with which she pronounces her anger is unique. She weaves human tragedies into the fabric of social ones. You may argue about the genre of her poems and may place them in the category of blank verse or prose-poetry, but the beauty of her lines is not in their metre, but in their context.
Haroon has a keen observation and a pen whose incisions are accurate and precise. Her words create an image that will stay with readers for long. Take, for example, the poem 'Shanaakht' [Identity]:
My city has become a city of tents/ In front of every bungalow
Belonging to a superior government officer
There is a green tent erect/ There are guards around
How influential is the owner/ You can gauge by his guard
Is he with a gun, or without one?/ How harshly does he question
One wonders how Haroon is able to give expression to something that we observe nearly every day, but don't utter a word about. Her poetry is without pretensions and does not employ ornate language; it is plain and powerful.
Her work with civil society organisations has enabled her to reach out to people, especially women in some of the most violence-prone areas, and this experience has enriched her voice. But it would be wrong to assume that all her poems are from urban areas — she can relate equally to women from remote villages and high mountains as well.
Although not an established poet in the strictest sense, Haroon's imagery and metaphors qualify her as a poet of considerable merit. In a sense, her three books mentioned here form an impressive trilogy that presents her life's woes and work in a manner that is not necessarily linear, but does have interconnections.
In addition to poetry about violence in Karachi, she has also penned verses promoting peace between Pakistan and India — understandable, as she has long been an active member of the Pakistan-India People's Forum for Peace and Democracy and is a promoter of tolerance in society. Let's conclude with some lines from 'Borders':
Links of history, civilisational relations
Centuries old connections/ You cannot bury under stones
As you can't confine the sunlight/ That brightens both homelands
**All translations are by the reviewer*
The reviewer is a columnist and educationist based in Islamabad. He can be reached at Mnazir1964@yahoo.co.uk and tweets @NaazirMahmood
Aik Subha Aur Aeygi
By Anis Haroon
Badalti Duniya, Islamabad
ISBN: 978-9697751520
140pp.
Published in Dawn, Books & Authors, February 6th, 2022