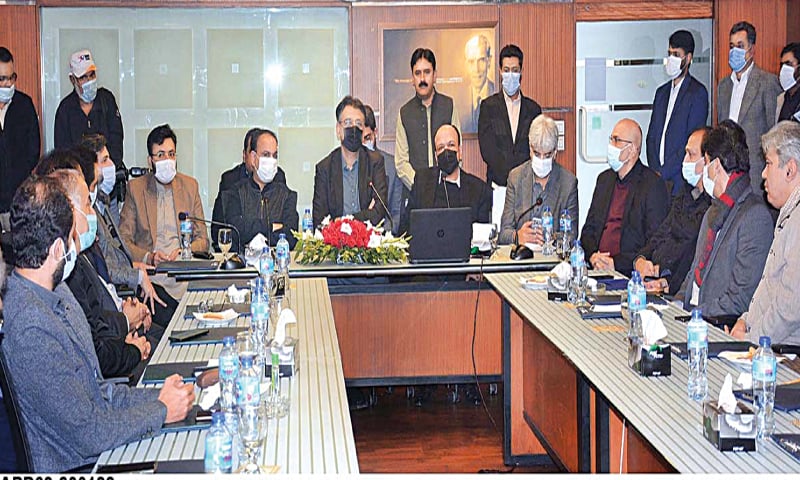 LAHORE: Federal Minister for Planning, Development, Reforms and Special Initiatives Asad Umar has said that sustainable export-led growth was the only way to put the country in the right direction.
Addressing members of the Pakistan Textile Exporters Association (PTEA) at its head office in Faisalabad on Thursday, he said the government was making all-out efforts to increase the country's exports.
"Our real target is to achieve sustainable growth in exports, as it is the only recipe to cope with the economic miseries of Pakistan," he said.
The minister assured the exporters he would talk to the finance ministry and the State Bank of Pakistan (SBP) regarding the insufficient allocation of export re-finance.
Asad Umar stresses need to diversify, promote small and medium enterprises
"I assure you that I will soon take up the issue of insufficient allocation of export re-finance with the finance ministry and the SBP," he said.
He congratulated the exporters on achieving the highest ever 18.28 per cent surge in exports in the 2020-21 fiscal year despite the adverse impact of the Covid-19 pandemic.
Mr Umar said the world's major economies shrunk mainly due to Covid-19, but Pakistan showed tremendous performance in increasing the exports, while the competing regional economies of India and Bangla­desh remained in the negative zone.
"All credit goes to our valued exporters who performed extre­mely well even in challenging times of the pandemic," he added.
The minister emphasised the need to focus on diversifying and promoting small and medium enterprises, hoping that these two segments would lead Pakistan towards economic heights.
Earlier, PTEA chief Khurram Mukhtar commended the government's policies that he believed helped boost exports. "Despite strict fiscal constraints, timely and appropriate policy measures taken by the government resulted in a V-Shaped economic recovery," he said.
Published in Dawn, January 21st, 2022
Follow Dawn Business on Twitter, LinkedIn, Instagram and Facebook for insights on business, finance and tech from Pakistan and across the world.