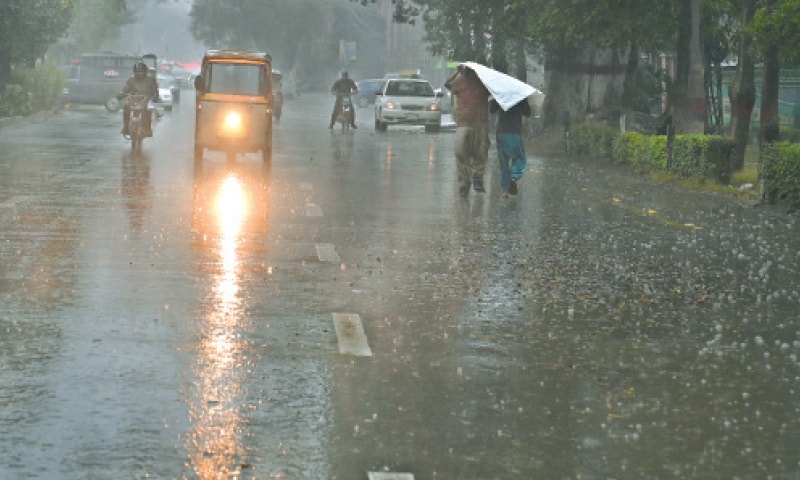 LAHORE: With more than, on average, 20 millimeters of rain lashing the entire Punjab in the last 24 hours, it not only broke weeks long dry spell, refreshed weather, pulled pollution levels down and supplemented much needed water supply for standing crops.
According to the weather pundits, the current rain-producing system is now drifting towards India, but another system is following that would persist for another four days over the province and keep causing rains.
According to the Met officials, the current system produced rain 20 to 40 millimeters of rains all over the Punjab in the last 24 hours (Wednesday). "Lahore had 37 millimeters of rain by 6pm on Wednesday, and it was expected to continually shower for next three days before the entire system moves towards India. However, another longer cloud system would replace it by Thursday morning — means more rains for the country and province," says one of the officials.
Though the rain caused problems for low lying areas farmers, however, were the happiest lot. With country suffering over 30 per cent water shortage, and wheat crop being at crucial stage, this spell could not have been timelier.
"With late sown wheat in the central Punjab region even partially missing first watering due to canal closure, the crop was in for trouble," explains Abad Khan – a farmer from the central region of the province. It will benefit the crop in three ways: water supplement, nitrogenous impact, and making urea application effective. It will not only save farmers millions of rupees, which, they, otherwise, had to spent on pumping out water for crops, rain would also push moisture levels up and sustain them for a longer period of time to keep the crop healthy. It will not only benefit wheat, but sugarcane and fodder as well.
Despite 24-hour rain, the pollution level in the city remained in the "unhealthy" category. According to the private agencies, the city pollution was still 153 – though much reduced if compared with around 500 marks on bad days, but still fell in the "unhealthy" category.
On Wednesday, rain was heavy and wind speed was around 18 kilometers per hour. Both, rain and wind are environment sweepers but were not able to do so in case of Lahore and most of the province. Only its northern areas like Rawalpindi and Islamabad saw the levels dropping below 100 mark. The rest of the province was much above that level, and unhealthy for humans. Right now, there is no stubble burning and brick kilns adding to pollution. It means vehicular pollution itself is enough to keep environment unclean and must be dealt as the culprit, he concludes.
Published in Dawn, January 6th, 2022